Thrilling fun for BMX riders and skateboarders
At the Daniel Dhers Action Sports Complex in Holly Springs there are only two rules: Be safe and be courteous. Even the law of gravity is more of a guideline.
On a recent afternoon, about a dozen riders of various ages on various wheeled things zoomed down, around and up — definitely up.
Daniel Dhers, international BMX star and five-time X Games gold-medal winner, opened this complex in May 2014 as a place for himself and fellow professional stunt riders to train. But he also wanted to spread the sport to younger riders. About 1,000 visitors a month now bring their skateboards, bikes, inline skates or scooters to the 37,000-square-foot facility to ride around and have fun.
Extreme sport enthusiasts Cade Kelly, left, Clark Harrington and Jacob Teachout are regulars at Daniel Dhers Action Sports Complex, which includes 20,000 square feet of indoor riding terrain.
"I think they love the freedom that this sport has," said Dhers, who grew up in Venezuela and Argentina. "That's what caught my attention. They don't have a coach telling them to do 20 reps of this or that. You just go out and ride."
Dhers' partner and business advisor, Abel Zalcberg, says it was important to ensure that the facility is safe for kids, professionally run, well-maintained, and that all riders are welcome. Unlike many skate parks, there aren't separate sessions for bikes and skateboards.
"We want them all to play together," said Zalcberg, founder of OFM Inc. in Holly Springs. Some kids come in with a skateboard, a bike and a scooter. They also swap equipment and borrow from each other, he says.
The complex is built for 4-year-olds to 50-year-olds, with 20,000 square feet inside and 17,000 square feet outside. Riders can begin on the low ramps and work up to more challenging obstacles that attract pros from around the globe.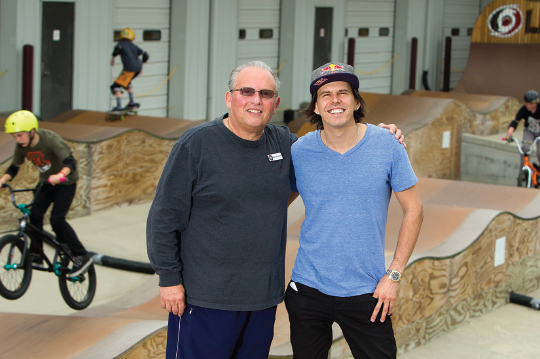 Abel Zalcberg, left, heading into retirement when he met professional BMX rider Daniel Dhers, right. "There was a connection between Daniel and I, right away," said Zalcberg. That connection led to a business partnership.
"To see the little kids ride, it's crazy," Dhers said. "Because I still practice almost every day, I ride with whoever is out there. Like at 6 p.m., I'll go and ride. It's cool to see the little ones come up and be able to learn."
Four-year-old Jensen Anders is one of those little kids. Jensen, who started riding at the facility last fall, beat out kids twice his age and size to take first in his division at the Trans Jam competition in Athens, Ga., in April.
"I was very nervous when Jensen first started going there, just because he's my son, and he's four," said Carrie Anders, Jensen's mom. "But he obviously doesn't realize how little he is."
The older kids have been surprisingly supportive, she says. "I would expect the guys to say: 'Hey little kid, get out of my way!' But they've been so great. If he falls, the guys come over and pick him up and say, 'Try again dude!'"
Anders has also noticed a marked improvement in Jensen's confidence in the past few months. "He used to be a lot shyer than he is now," she said. "He has definitely come out of his shell."
The 17,000-square-foot outside course Is open until nightfall. Eventually lights will be added so riders can use the space until the facility closes, Dhers says.
As Dhers walked the facility, Jensen called out, "Hey Daniel, watch this!" before speeding off a ramp.
"I think it builds their confidence too, in their mind," Dhers said. "As a kid I realized that. I feel like anything I would like to do in life, I'll most likely be able to do it. I defy gravity all day, so sitting in an office is a little easier."
See the Stunts
The Daniel Dhers Action Sports Complex and Sk8-Cary are partnering for several demonstrations in the area, called the Bangers and Smash Tour.
June 17 at Sk8-Cary, pyramid with rail
July 1 at DDASC, small mini ramp
July 15 at Sk8-Cary, mini ramp
July 29 at DDASC, A-Frame section
Rain dates: June 24, July 22
Makeup events will be held at Sk8-Cary.
Daniel Dhers Action Sports Complex
171 Tradition Trail #207, Holly Springs
(919) 557-8088
ddasc.com, facebook.com/danieldhersasc
Teens Back APEX'S Trackside Skate Plaza
Apex skateboarders are eagerly awaiting the August opening of the Trackside Skate Plaza, because this is not just another town facility — it will be their park.
The 13,000-square-foot, four-tiered skate plaza adjacent to Hunter Street Park in downtown Apex will mimic street skating conditions with ramps, railings and steps. Planned amenities include a solar-powered charging station, decorative specialty tiles, a performance pavilion and a competitive bowl. The unstaffed, free facility is designed so the town may eventually use the space as an outdoor event venue.
The skaters were involved from the beginning. In 2013, the town revamped its master plan and John Brown, director of Apex Parks and Recreation, says it was clear the town needed more activities for teens. At the same time police and downtown business owners were seeking an appropriate place for skateboarders to congregate. Complaints were common about teens riding up and down Salem Street or in front of the Chamber of Commerce.
A skate plaza seemed a good way to address the two needs.
With input from the skateboarders, Cary-based CLH Design drew up a draft plan for a park on Hunter Street. This design was then refined by Team Pain, a Florida company renowned for building skate parks.
Kyle Denis of Apex Outfitter and Board Co. organized about 65 teens and other adult skateboarders to address the Apex Town Council. Denis says this show of support from the teens was key to getting the skate plaza approved.
"I don't think the town would have approved the project if we hadn't shown up," he said.
The council appropriated $635,000 for the project, with the intent that the community would chip in additional funds to add all the "bells and whistles," said Brown.
With help from the nonprofit Citizens for Apex Parks, teens sold "Adopt-A-Skateboarder" T-shirts for $100 and manned booths at local events such as PeakFest and the Peak City Pig Fest. CAPS spearheaded efforts to sell naming rights to the park. Donations came in from businesses, the Apex Chamber of Commerce and other community groups.
Including all the donations, sponsorships and in-kind gifts, the project will wind up costing close to $1 million, Brown says. The in-kind donations include construction staking, concrete, tile, landscaping plants, benches and granite skate surfacing.
"We've had a lot of local businesses and firms that have really stepped up to help with this project," said Brown. "It has truly been a community project."
Angela Reincke, president of Citizens for Apex Parks, says the teens will help landscape the skate plaza once it is open, and hopefully will continue to have a vested interest in the facility.
"People think of skateboard kids as doing vandalism just because of what they're doing," she said. "They're not out there trying to wreck curbs and railings. It's just the way the whole sport developed; that's where they skate, on those elements. So (it's about) getting them into a place where they can do that and be safe and people aren't trying to chase them away."
Trackside Skate Plaza
apexnc.org/485/Trackside-Skate-Plaza