Outdoor music and movies make for easy livin'
Bare feet and sunsets are good for the soul. Add awesome music and award-winning films, and you've got the perfect summer.
Western Wake has all the ingredients for this season's outdoor entertainment, from intimate garden concerts to shady lakeside leisure, to big-name stage and screen productions.
"Summer is such a wonderful time to get outdoors and enjoy a variety of activities, and hearing music and seeing movies in a natural setting is a perfect way to celebrate nature, join friends and neighbors and just relax," said Lyman Collins, cultural arts manager for the Town of Cary. "We're fortunate to have such a wonderful variety of places that such entertainment can happen."
So kick off your shoes, stretch out on that blanket and start enjoying everything summer has to offer, at venues you just won't find anywhere else.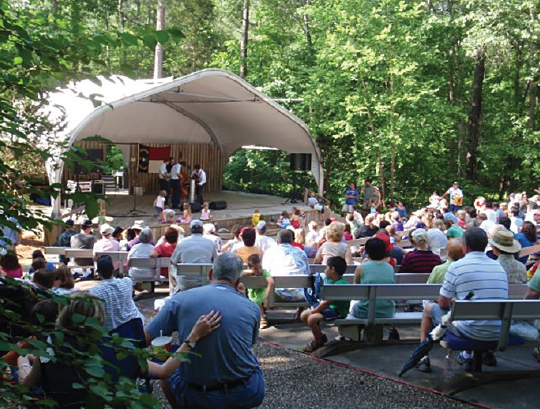 Sertoma Amphitheatre, Cary
The Events: The Sertoma Spring/Summer Series runs through Aug. 8, featuring performing groups like the Triangle Brass Band, Triangle Wind Ensemble, and the Blu-Bop tribute to Bela Fleck & the Flecktones.
While You're Here: Nestled inside Bond Park off High House Road, this intimate venue welcomes food and friendly dogs on leashes, but no alcohol.
"Sertoma Amphitheatre allows us to offer a wide range of free concerts that showcase our own local performing arts groups like the Cary Town Band," Collins said. "In addition we partner with Pinecone, the Piedmont Council of Traditional Music, to feature up-and-coming bluegrass artists like this year's Moore Brothers Band or duo Lynda Dawson and Pattie Hopkins.
"Even if you're at the park to fish or go boating on the lake, it's hard not to get drawn into the amphitheater by the music, and since it's free there's no reason not to stay and enjoy. That's what we call serendipity!"
FYI: Concerts are free; bleacher seating available, or bring your own chair; (919) 469-4069 or townofcary.org
Nature Park Amphitheatre, Apex
The Events: New this year, the Apex Movies & Music in the Park Series runs through Oct. 3, featuring various films and bands including Swift Creek Band, ReggaeInfinity, and East Coast Rhythm & Blues.
While You're Here: The newest addition to the town's parks system, the Apex Nature Park features 160-plus acres of play space, including disc golf, multi-use trails and environmental education stations, and a dog park.
FYI: All shows begin at 7 p.m., and admission is free. Lawn chairs and blankets welcome, no pets or alcohol. The park is located at 2600 Evans Road. For movie titles, call (919) 249-1120. apexnc.org
Page-Walker Arts & History Center, Cary
The Events: The free Starlight Concert Series takes place in the gardens of the center on the fourth Friday of each month, now through September. Upcoming shows include A Celebration of Bluegrass, Jamrock featuring authentic reggae rhythms, and Craicdown.
While You're Here: Check out the herb garden and the Page Smokehouse. Listed on the National Register of Historic Places, the Page-Walker was built in 1868 as a railroad hotel by town founder Allison Francis Page. It's now home to the Cary Heritage Museum, monthly art exhibitions and classes.
"The Page-Walker Gardens provide our most intimate setting of all, with seating space for around 200," Collins said. "This free Starlight Concert Series features Celtic music plus jazz plus reggae. Also, we provide a showcase for our own talented young musicians who have participated in Page-Walker's Bluegrass Summer Camp, where they learn from master musicians provided by Pinecone."
FYI: All Starlight concerts start at 7 p.m. Food and lawn chairs are permitted, but no alcohol or pets. (919) 460-4963 or townofcary.org
Downtown Cary
The Events: The Final Fridays art crawl is the signature event of Cary Art Loop, and is held on the final Friday of each month from 6 to 9 p.m., showcasing local art and music in various venues.
While You're Here: Extended hours at participating galleries, restaurants and shops, plus free C-Tran bus service, offer opportunities to explore new places in and around Cary.
FYI: Final Friday events are free; caryartloop.org
North Carolina Museum of Art, Raleigh
The Events: Dance in front of the stage at the museum's shaded amphitheater in a summer concert series featuring performers like singer-songwriter Neko Case and Brandi Carlile.
The museum's outdoor cinema offers a summer film series showing classics such as To Kill a Mockingbird and 2015 Oscar-winner Birdman.
While You're Here: Stroll the Museum Park — featuring more than a dozen works of art and 2 miles of trails, it's the largest museum art park in the country.
FYI: Picnics, blankets and lawn chairs welcome; alcohol and snacks available for purchase. Concert tickets start at $21 for museum members/$26 for non-members, children 6 and younger admitted free; reserved seating starts at $30/$35. Films are free for members, $5 for non-members and free for children 6 and younger. ncartmuseum.org
Downtown Fuquay-Varina
The Events: The Follow Me to Fuquay-Varina concert series wraps up on June 18 with the band Smile, from 6:30 to 9:30 p.m., at Centennial Square, 102 N. Main St.
Also, Art After Dark art walks happen on the second Friday of each month, and include the outdoor local Artists and Crafters Market.
While You're Here: Check out two downtowns, each with walkable restaurants and specialty shops, or visit Mineral Spring Park at 105 W. Spring St., site of waters once believed to offer healing powers. A trio of relocated historic structures on South Fuquay Avenue serves as a museum complex featuring local treasures like an 1898 organ and 1950s jail cells.
FYI: Free concert; beer and wine available for purchase. No coolers or pets. fuquay-varina.org. For Art After Dark info, see fvartscouncil.org.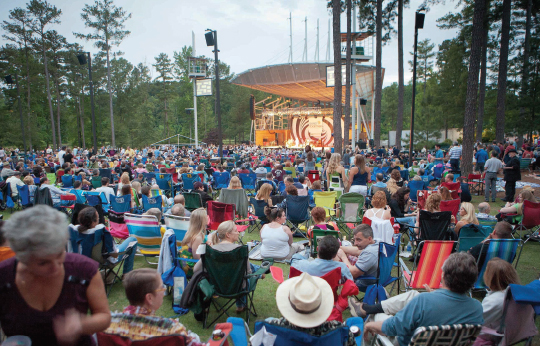 Koka Booth Amphitheatre, Cary
The Events: The summer home of the N.C. Symphony, its Summerfest Series runs through July 9 with family-friendly performances like An Evening of Broadway or Symphonic Wizardry, featuring the music of Harry Potter. All concerts begin at 7:30.
Movies by Moonlight run through Aug. 21 and begin at dusk, about 8:30 p.m., offering a range of films for adults and children. This season's titles include Brave, Hunger Games and Gone Girl.
While You're Here: Set on 14 wooded acres on the banks of Symphony Lake, you can stroll the 1.8-mile greenway encircling the lake from dawn to dusk. Tailgate in the parking lot with friends, or dine under the stars with locally-catered picnic options, café menus and even table service.
"As the largest of Cary's outdoor venues with a capacity of 7,000, Booth Amphitheatre feels remarkably intimate and we're able to offer an incredible variety," Collins said, citing national tours ranging from Weird Al Yankovic and Alabama Shakes to Garrison Keillor and Culture Club. "And this year, as part of the celebration of our 15th season, the Movies by Moonlight series includes films that opened in 2001 plus wonderful family films and recently-released favorites."
FYI: Picnics, blankets and lawn chairs welcome. For Summerfest, gates open at 5:30 p.m. Advance tickets start at $28; student tickets are $15, and children under 12 are admitted free on the lawn. ncsymphony.org
Movies by Moonlight tickets are $5, children under 12 admitted free; a portion of proceeds benefit WakeMed Children's Hospital. Beer and wine allowed; no pets. Rent a lawn chair for $5, cash only. Gates open at 7 p.m. boothamphitheatre.com.
Bass Lake Park, Holly Springs
The Events: Family Fun Nights take place on July 3 and Aug. 7, from 6 to 8 p.m. Make arts and crafts, meet a live animal or borrow a rod and reel through the parks' free loan program, then enjoy children's concerts or a magic show on the deck overlooking Bass Lake.
While You're Here: Explore the greenway trails on foot or bicycle, fish the 54-acre lake for catfish, bass, bream and crappie, rent a boat daily through Labor Day, or visit the nature center for animal exhibits.
FYI: Family nights are free, with chairs and picnics welcome. Canoe and rowboat rentals are $5 per hour; johnboat rentals are $10 per hour. The park is located at 900 Bass Lake Road. (919) 557-2496 or hollyspringsnc.us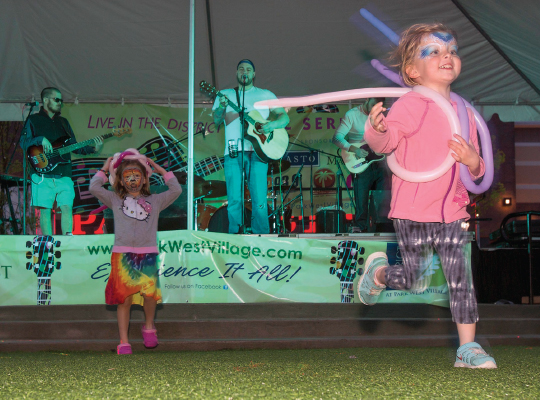 Park West Village, Morrisville
The Events: The LIVE in the District concert series runs Thursdays through June 18, from 6 to 8:30 p.m., featuring bands like Four Founders and Groove Town. Free face painting and balloon art for the kids, plus beer and wine sales to benefit local charities.
While You're Here: Shop at major retailers, and enjoy more than 20 dining and snack spots and a 14-screen movie theater.
FYI: Concerts are free, and take place on the lawn in front of Stone Theatre/Park West 14. Lawn chairs and blankets welcome. parkwestvillage.net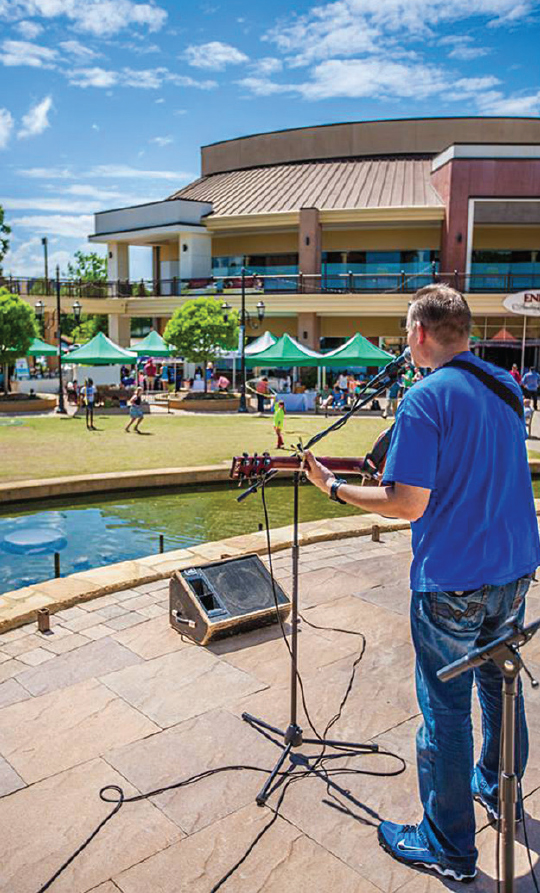 Photo above courtesy of Waverly Place
Waverly Place, Cary
The Events: The Wind Down Wednesdays concert series runs June 3 through July 29 from 6 to 9 p.m., featuring bands like The Embers, The Magic Pipers and Band of Oz.
While You're Here: Featuring fountains and bridges, this open-air center boasts unique specialty shops and numerous dining options (some offering Wednesday specials), family-friendly playgrounds and Splash Pad water play.
FYI: Concerts are free. Lawn chairs welcome. No coolers, but snacks and water for young children are allowed. Beverages and handheld food stations available. waverlycary.com
Walnut Creek Amphitheatre, Raleigh
The Events: If you're looking for high-profile performers, here's where you'll find them this summer, from Tim McGraw to Kid Rock to Steely Dan.
While You're Here: People watching is a favorite pastime, as crowds can reach up to 20,000. Tailgating and grilling are popular, but note that open container ordinances are in effect. Once inside the venue you can snack on an assortment of hot and cold concessions; beer and wine available.
FYI: Staff recommend arriving at the appropriate I-40/I-440 exit at least 1.5 hours before show time due to traffic delays. Parking is in nine adjacent lots; a parking fee is included in the price of each ticket. livenation.com/venues