Life outdoors helps build competent kids
Noah and Rachel Thomas of Apex can pitch a tent and catch a fish, and know which bugs and snakes are dangerous.
Ages 10 and 12 respectively, the siblings have been camping in a six-person tent or a tow-along pop-up trailer with their dad, Colin, since they were toddlers.
"These are life skills. They've learned how to work together to haul our gear to the campsite, and they know their tasks," said Colin Thomas. "My son could build a fire at age 6 with pine cones and twigs; I can hand him a lighter and he knows not to play with it.
"You instill that trust in them and they appreciate that, and the family interaction."
Evan Higgins began camping with his parents at 5 months. Now age 5, he can cite tips: Don't leave food out, or the raccoons will get it. Bring a tarp in case it rains. Pour water on your fire when you're done roasting marshmallows.
Evan's dad, Sean Higgins, says lessons learned outdoors will last a lifetime. He should know: As an interpretation and education program manager for North Carolina State Parks, his job is to help share the story of each park and guide visitors to discover their own meaning in nature.
"When you take kids outdoors, into the dirt and trees and leaves, they're totally engaged and really enjoy that new setting," said Higgins, who recently introduced his 9-month-old twins to camping too. "A tree trunk is a whole new world for a dump truck or a Barbie doll. It all encourages creativity with nature — and it's spectacular family time."
S'mores & Dominoes
Ranger-patrolled and alcohol-free, North Carolina State Parks are family-friendly places to camp, Higgins notes. Statewide, the parks offer more than 3,000 campsites available by advance reservation.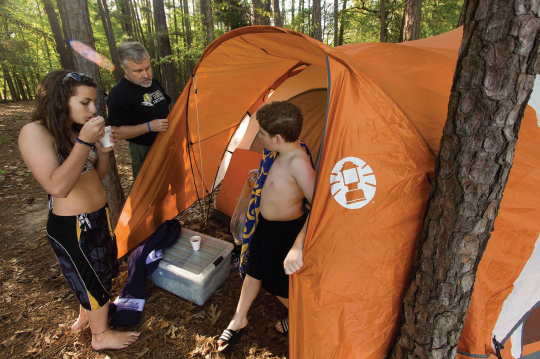 Colin Thomas, center, checks on daughter Rachel, 11, and family friend Will Burke, 12, after the youngsters pitched their tent at Jordan Lake.
A Junior Ranger program, for kids ages 5 to 12, features a self-guided book available online or at park offices, with the chance to earn patches at each park. You can find out more, or reserve a campsite, online at ncparks.gov.
Higgins says family campouts don't have to be complicated, but fun and flexibility are musts.
"If it's your first time, practice in the backyard or camp at a park close to home," he said. "The first experience has to be positive: the temperature has to be right, the kids need to be comfortable, and the parents not stressed.
"If you have toddlers, skip the campfire till they're in bed, then build one for your own quiet time.
"One night of camping is good for beginners. For longer trips or vacations, you can split things up and stay in a hotel on alternating nights."
Leave the video games and iPads at home when camping, Higgins recommends, and incorporate activities and foods that are reserved specifically for this family time, such as dominoes and s'mores, to make the experience unique.
"Make it fun. Sing while you hike, and play games on the trail like Squirrel Scramble, where kids run from one tree to another, or hide plastic lizards and insects for them to find. Invent stories, and add to them.
"Make it a point to see the sun set, and take a twilight walk," he said. "Look for the first stars of the night, and watch the moon rise. How often would you do that at home?"
For summertime camping, state parks like Jordan Lake and Falls Lake offer swim beach campsites. Or set up camp just in time for dinner and head home before the heat of the next day — it's still fun.
Group Camping
Paul Bryant of Garner has been tent camping with his daughter, Parker, since she was 6 years old, through the Y Guides program offered by YMCA of the Triangle. Parker is now 15.
"I was an Eagle Scout, and grew up camping," said Bryant. "The Y Guides program has helped me transfer those skills to my daughter, from preparing for a campout to fire-building, knots, cooking and surviving in the elements.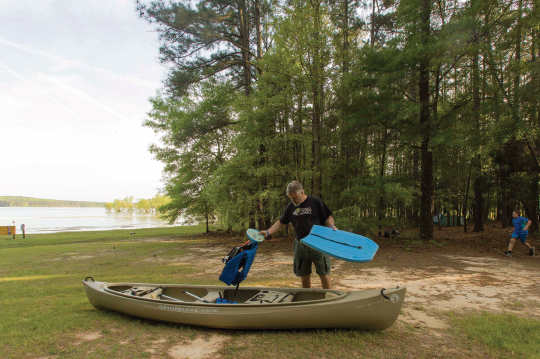 Colin Thomas readies his canoe as Jaden Grobbelaar, 9, plays at their Jordan Lake campsite.
"It's helped her build confidence and relationships," Bryant said of the experiences. "Parker has acquired leadership skills that she's using to volunteer at Y camps now, and she's flourishing in high school. It's been tremendous for us."
The Y Guides program, for children in grades one through three, builds father-child relationships through activities including camping. It continues for older children as Trailblazers, offering more challenging experiences while promoting leadership and service. Learn more at yguides.ymcatriangle.org.
Imagination
Whether single-family or group camping, simple and comfortable are the keys to a successful trip, these dads say.
"My kids have learned that by packing lighter, they can go further," Thomas said. "We hike, ride bikes, fish, and they always find friends.
"On one campout it was raining and I was thinking, 'I need to keep them warm and dry,' but they had so much fun playing in the mud. And they learned to start a load of laundry when they get home!"
The Bryant family prefers camping over a hotel, when traveling.
"It's a lot more fun, and you can usually get closer to the attraction, like a zip line canopy tour or amusement park, for less money," Bryant said.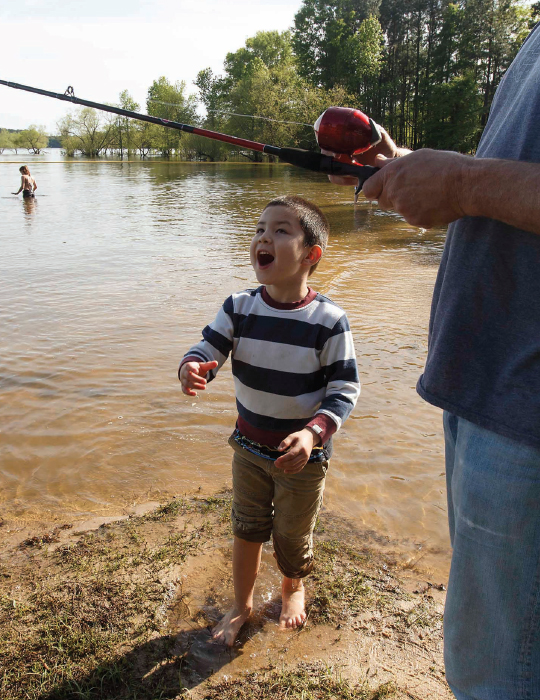 Colton Henry gets some fishing tips from his grandfather, Bob Henry. Water activities like fishing and swimming are a must for summer camping trips.
Staying in campsites with electricity and water minimizes necessary gear, he adds. Must-haves for his family include a tent, cots or air mattresses, sleeping bags, a cast iron Dutch oven and a camp grill, chairs or a hammock, and a pop-up canopy for weather.
"Fancy gear is aimed toward hobbyists," Higgins noted, "or people strapping on a backpack and hiking the Appalachian Trail for two weeks. We're just looking to go out in nature.
"A Pack 'n Play (travel play yard for babies) sets up nicely in a tent, and a head lamp keeps your hands free for the kids. Bring your own pillow, and some dry socks in a Ziploc bag. Bring gallon jugs of water, silverware and bowls, wet wipes, a tablecloth, extra tarps and rope, insect repellent and sunscreen.
"And keep it all in a separate tote or container, so you don't have to reassemble your gear each time. You'll be ready to go!"
Keep meals simple too; even hot dogs or spaghetti taste great when prepared outdoors.
You can drive in to most state park campsites, Higgins says, and keep your food and gear in your car. For walk-in sites away from your vehicle, use a wagon to tote gear.
"With some experience, you can try parks with more rustic sites such as Hammocks Beach State Park (in Swansboro) where you have to take a ferry to camp on the island, or camp a mile up at Mount Mitchell State Park (in Burnsville). Work your way up," Higgins said.
"Kids do wonderfully when you go camping and leave all that 'stuff' behind. Going back to basics really opens up their imaginations."