Be thankful Jonathan and Maggie Pierce didn't take "no" for an answer.
After more than 20 banks turned down their request for a loan to open a startup restaurant, the newlyweds turned to friends and family to invest in their vision.
They sold shares in the restaurant for $500 each and raised more than $100,000, marking a pivotal moment in their entrepreneurial venture.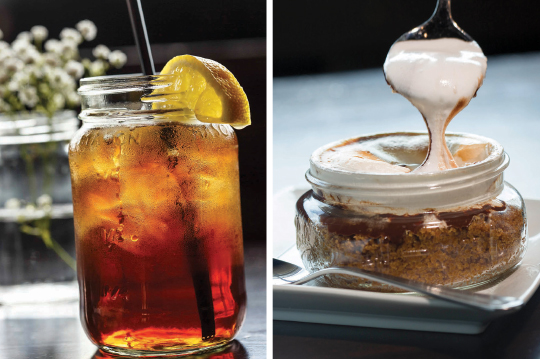 Left: All beverages, including iced tea, beer and cocktails, are served in Mason jars, giving the restaurant a homey appeal.
Right: For dessert, the S'more in a Jar is served warm, so the marshmallow and chocolate melt together.
There's more proverbial blood, sweat and tears to the story than space allows here, but in January 2015 The Mason Jar Tavern opened its doors. Business at the Holly Springs eatery has been flourishing ever since.
The Pierces, both graduates of N.C. State University, believe their up-and-down experiences validate how God has led them through an intensely emotional journey.
"We're so thankful for the way the community has embraced and supported us so far," said Jonathan with a down-to-earth graciousness that belies his 25 years. "It's like we've received a big bear hug from Holly Springs."
Southern Hospitality with a Modern Twist
The Mason Jar Tavern is a relaxed, neighborhood-friendly outpost featuring Southern hospitality with a modern twist. Even the restaurant's name suggests an unpretentious air of warmth and charm.
"Jon's family grew up drinking out of Mason jars, so it's really nostalgic for him," Maggie explained. "We wanted to create something that people could connect with before they even walk though the door. I can't tell you how many people have said, in essence, 'We came in because we like the name.'"
Approachable regional cuisine and efficient, friendly service keep patrons gratified and loyal. Veteran chef Chris Tucker, a Virginia native who worked closely with Jonathan at Ruckus Pizza, Pasta and Spirits in Cary, is at the helm of the kitchen.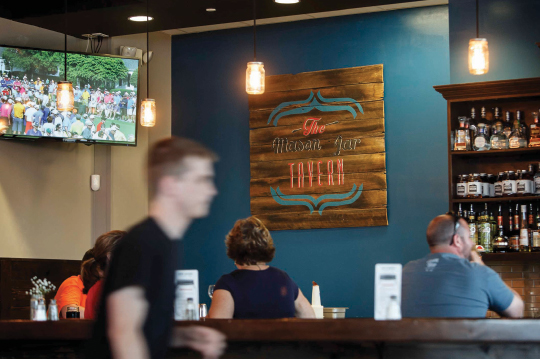 "Bringing chef Tucker on was a huge gain for us, because he's not afraid to take some risks," said Jonathan.
Evidence of Tucker's experimental nature emerges in entrées like shrimp 'n' grits permeated with pimento cheese, peppers, onions and country ham, delivering diverse layers of flavor and texture.
Seared sea scallops are paired with edamame succotash and parsnip purée. Exemplary buttermilk fried chicken and waffles arrive with bourbon-infused maple syrup and honey butter.
"It's all about the seasoning in the breading with the chicken," Tucker revealed.
"He definitely knows how to elevate traditional dishes and make them stand out," said Jonathan, who spent his formative years in the North Carolina mountains. Everything from salad dressings and sauces to burgers and sandwiches is crafted with precision.
Beyond the Ordinary
Unconventional appetizers such as buffalo chicken egg rolls, corn fritters and fried mac-n-cheese bites make you realize every aspect of the menu is well thought out.
Want a beyond-the-ordinary sandwich? Order the Turkey Delicious Melt heaped with golden delicious apples, Vermont cheddar and honey mayo on sourdough.
"It's my mom's recipe," said Maggie, 27, an environmental engineer by day who appears entirely comfortable hanging with staff, customers and her husband on nights and weekends.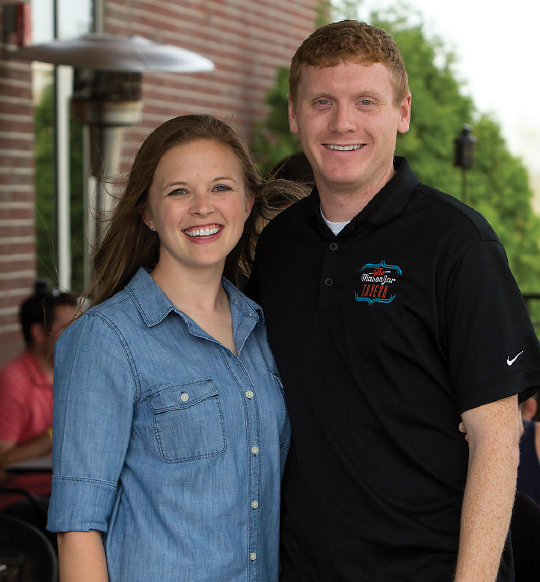 Jonathan and Maggie Pierce, above, sold shares of their restaurant to family and friends in order to open. Now the Holly Springs eatery welcomes patrons from the neighborhood and beyond, above.

Salads exceed expectations. Flank steak on fresh greens comes with blue cheese crumbles, sliced apples, walnuts and red onions. A smoked freshwater trout Caesar is filled with Parmesan, bacon and red onions. And then there's the refreshing strawberry spinach salad with feta.
The house specialty burger is crowned with blue cheese, red onions, lettuce and a sweet-and-savory "bacon jam," a merger of slow-cooked caramelized onions and bacon. Yeah, it rocks.
Pastry chef Brian Moore capably plays up sweet concoctions from lemon biscuit strawberry shortcake to peanut butter bomb pie. The star of the dessert portfolio, though, is the über-rich S'more in a Jar, which is delivered warm.
Not surprisingly, all drinks are poured into — you guessed it — Mason jars. The house Bloody Mary features fresh mozzarella, a boiled shrimp, pickle, olive, lime and celery with an Old Bay-seasoned rim.
The blood orange margarita is made with Jose Cuervo Tradicional tequila, blood orange purée, house sour mix and a rock salt rim. More than 20 beers are served on tap, many of which are local craft brews.
The restaurant's décor reflects minimalistic functionality.
The house specialty burger is topped with blue cheese, red onions, lettuce and "bacon jam."
"Every wall and wood surface was painted or stained by someone we know and love," said Maggie. Jonathan's cousin handcrafted the bar and tables. His sister and her business partner snapped photos of Mason jars that adorn the dining room walls. Pictures of Holly Springs captured by Maggie's father hang in the hallway.
A large community table flanked with red metal stools provides ample room for hanging out.
"We welcome families here, but we also want the bar crowd," said Maggie. "Everyone can feel comfortable here."
Well-trained servers and support staff keep tables turning. Upbeat front-of-house manager Emily Freund ensures that guests enjoy their dining experience.
"She always walks into the room smiling," said Jonathan. "That's infectious."
The Mason Jar Tavern is open daily for lunch and dinner. Enjoy the cozy covered patio anytime and live music five nights a week. Just be sure to go early to get a seat.

The Mason Jar Tavern
114 Grand Hill Place
Holly Springs Towne Center, Holly Springs
(919) 964-5060
themasonjartavern.com