The front door of Doherty's Irish Pub & Restaurant displays a Gaelic phrase that reads, "Céad Mile Fáilte." This common Irish greeting means "a hundred thousand welcomes."
What a fitting salutation: Doherty's nabbed the Maggy Award for Best Neighborhood Bar as voted by the readers of Cary Magazine. With locations in Cary and Apex, the establishment is regarded as a welcoming part of the local dining scene.
"Our places are known for character, personality and warmth," said founder Michael Doherty, who runs the restaurants alongside co-owners Duke Elliott, Donavan Favre and Sami Taweel. "We are hands-on owners. I'm behind the bar four nights a week, and when our guests come in we call them by name."
It's not uncommon to see genuine fondness on display. A server greets an incoming patron with a hug. A bartender asks a customer how her ailing mother is feeling. On a rainy day, Doherty walks an elderly couple to their car with a large umbrella in tow.
At the Apex Doherty's, patrons can hear live Irish music on Thursday evenings.
"We have a true family atmosphere across the board," explained Doherty, who emigrated from Ireland to the United States 27 years ago. At that time, Doherty was 21 years old and dreamed of opening a traditional Irish pub where people could enjoy a kindhearted, comfortable atmosphere. He helped birth Tir Na Nog Irish Pub in downtown Raleigh and then opened Connolly's Irish Pub in Cary, which ultimately became  Doherty's.
Regular patrons and staff members alike find Doherty's to be a hospitable gathering spot. Kent McIver from Apex comes in most days for lunch.
"What's nice about this place is it's very homey, and everybody gets to know you," he said.
New York native Kim Gruver frequents the pub about three times a week.
"The first time I sat down, the staff introduced themselves and asked me my name. They've treated me like family ever since," she said.
Doherty knows running a successful business involves treating people well, starting with his staff.
At Doherty's, batter-fried whitefish is served with hand-cut fries, green beans, tartar sauce and malt vinegar.
"I always try to do things like thanking members of the team when they finish their shifts and telling them when they do a good job. If you take care of the staff, they will take care of the customers. We've been blessed to have a great staff."
"The owners here really care about people, and I get paid to work with my best friends," said bartender Andrea McGhee, who has worked with Doherty for 15 years extending back to the days of Connolly's Irish Pub. "I feel privileged to be a part of this and would never work anywhere else."
On the Menu
In addition to providing a community environment, it's also essential to deliver first-rate provisions.
"We pride ourselves in serving scratch-made food," said Taweel. "Our menu covers all the classics like bangers and mash, shepherd's pie, corned beef and cabbage, and gold-standard fish and chips."
Salmon is grilled and brushed with a cider and whiskey glaze. It is served with sautéed spinach, a scallion and cheddar potato cake, and finished with a sprinkling of pecans.
Standout appetizers include Irish egg rolls filled with corned beef, sauerkraut and Swiss cheese, and brisket nachos with beef brisket braised in Guinness beer served over house-made potato chips with cheddar, tomatoes and horseradish sauce.
The bill of fare extends beyond the more traditional Irish offerings to nouveau- inspired selections such as cider and whiskey glazed salmon; herb-crusted Celtic chicken cordon bleu; and Gaelic steak medallions with mashed potatoes and asparagus.
Even dessert is impressive. Simple, yet far from understated, the best-selling chocolate mousse is a light, fluffy concoction crafted with a trace of Bailey's Irish Cream. It provides the perfect conclusion to the overall dining experience.
Of course, a reliable taste of Ireland does not end with the food, and Doherty's passes the test when it comes to libations. The pub features over 20 beers on draft, including several local brews and the quintessential Irish dry stout Guinness.
"There's an art to pouring a proper pint of Guinness, and it's imperative for us to make sure ours is always on point," said Doherty.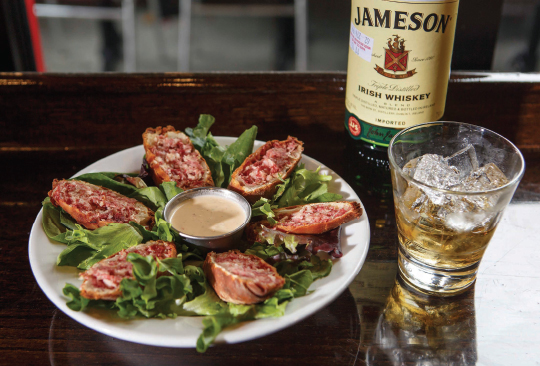 Irish egg rolls are filled with corned beef, sauerkraut and Swiss cheese.
What's more, the bar offers a diverse selection of 29 Irish whiskeys spanning the time-honored standards to the connoisseur's choice. Frequent bar customers may even receive a special crystal drinking glass with their name emblazoned on it.
Daily specials include $3.50 North Carolina pints on Mondays, $2 off Irish whiskey drinks on Wednesdays, slow-cooked prime rib dinner on Thursdays and an ultimate Bloody Mary bar from noon until 4 on Sundays. Live Irish music with no cover charge happens on Thursday evenings in Apex, and Friday and Saturday evenings in Cary.
Doherty's inside space features high-backed booths with stained glass inserts, dark woods, a striking wrought iron Celtic triquetra, or Trinity knot, and quarter barrel signs on the wall. Patio seating is accessible when weather permits.
Doherty's is open daily for lunch and dinner. Sunday brunch involves everything from a traditional Irish breakfast and corned beef hash to pancake platters and omelettes. A kid's menu encompasses Irish and American options. Private dining and meeting spaces are available. Reservations are accepted.
Doherty's Irish Pub & Restaurant
1979 High House Road, Cary (919) 388-9930
5490 Apex Peakway, Apex (919) 387-4100
dohertysirishpubnc.com
Restaurant Row: Doherty's Irish Pub & Restaurant