Jonathan Pierce, co-owner of The Mason Jar Tavern, wants his food to take center stage. Or in this case, a Blueberry Mint Moonshine cocktail.
Best New Restaurant, Best Appetizers, Best Place to Get a Cocktail, Best Dessert: The Mason Jar Tavern
The Mason Jar Tavern in Holly Springs nabs the contest-wide spotlight with first-place Maggy wins in FOUR categories: Best New Restaurant, Best Appetizers, Best Place to Get a Cocktail and … Best Dessert.
"I've never worked at a place where desserts were such a high percentage of sales — 3 to 4 percent when normally it's 1 to 2 percent," said owner Jonathan Pierce.
At TMJT, the Manhattans are served in Mason jars, the house burger is topped with bacon jam, and bourbon-infused maple syrup lands alongside the buttermilk fried chicken and waffles.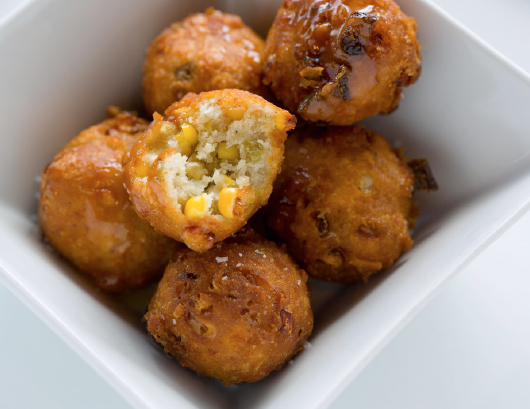 The Mason Jar Tavern's corn fritter appetizer is served with smoky honey sauce.
Pierce says while he campaigned slightly for the Best New Restaurant award, "We didn't even tell the staff or our family to vote for us. That's what is most gratifying, that we have so much community support. We are pleasantly surprised, for sure.
"We feed a thousand people a month, and I'll go home thinking about the one person who wasn't completely happy," he said. "So the awards reinforce that we are doing things the right way."
Hot gossip: Pierce started his restaurant career at another Maggy fave, Ruckus.
New too: Honorable mention honors for Best New Restaurant go to Toast Café, offering gourmet breakfast and lunch fare, and Totopos Street Food & Tequila, a cantina-style hotspot whose name is Spanish for corn chips.

Best Barbecue: Danny's Bar-B-Que
Living high on the hog is easy at local icon Danny's Bar-B-Que, winner in the Best Barbecue category for the seventh time in our 11-year Maggy history. Locations in Cary, Morrisville and Durham offer chicken, ribs, pork, beef and turkey, all slow cooked on an open pit of hickory wood and served up with original sauces.
Got kids? The Piglet Menu goes beyond most in its menu options, so little ones don't get left out of the pig-out.
Did you know? "Danny" Thompson is a transplant from Jacksonville, Fla.
Barbecue buffs voted N.C.-based chain Smithfield's Chicken 'n Bar-B-Q as honorable mention, along with newbie The Blistered Pig Smokehouse in Apex, which serves pasture-raised meats and a menu that's homemade right down to the pickles.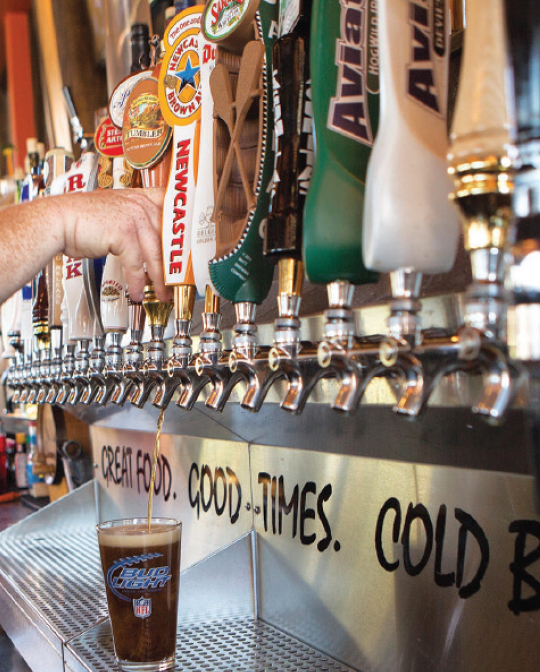 NOTEWORTHY: Kudos to the establishment earning the highest number of honorable mentions: Ruckus Pizza, Pasta & Spirits, with six — count 'em, six — wins. This restaurant lives up to its feisty name, giving the competition a tough run in most of these categories: Best Outdoor Dining, Most Kid-Friendly, Best Neighborhood Bar, Best Appetizers, Best Place to Get a Cocktail, and Best Pizzeria.
Best Bakery: LaFarm Bakery & Café
Best Vegetarian Menu, Best Mediterranean Restaurant: Neomonde
Double winner Neomonde first hit the Maggy list in 2008, and has been there ever since! This year, the Saleh family-owned eatery with a Morrisville HQ earns Best Vegetarian Menu and Best Mediterranean Restaurant honors. That's likely thanks to votes cast by its loyal Neomonde Nuts, many now in their second generation of enjoying authentic Lebanese fare like the triangle-shaped Spinach Fatayer, tabouli salad and mamoul cookies, made from matriarch Cecilia's recipes.
Making Lentil Salad at Neomonde.
Translation: Neomonde means "new world."
Incognito: Christopher Saleh, VP of retail, has a gold record for two songs he wrote with Nelly on Universal/Motown Records.
Breadwinner: Neomonde began as a bread-baking wholesaler in 1977, and opened its first takeout-only deli in 1989.
Best Italian Restaurant, Best Wine Selection: Daniel's Restaurant & Catering
Cary Magazine readers confirm the widespread rumors: Best Italian Restaurant is Maggy legend Daniel's Restaurant & Catering in Apex, which has landed the leading role in this category every single year since, well, forever. Pasta, hand-stretched pizza, scratch-made desserts … that's amore! And an $8 weekday lunch deal offers a new menu item each day. Scandalous!
What do 11 Maggy wins in a row mean to you? "This is our 20th year," said restaurant owner Daniel Perry. "It's great to be part of the community and its growth. We've seen kids grow up and now bring in kids of their own."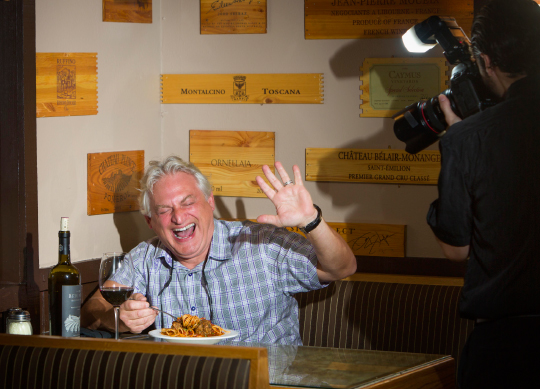 Daniel Perry smiles for the camera, but he says the real star is the quality food that Daniel's Restaurant & Catering has been serving for 20 years.
What's the secret of your success? "Daniel's offers consistency, value and quality. We are still serving real food, not frozen or out of a box. We make our own sausage; we grind our own meat for the meatballs."
Perry continues to improve the customer experience; to accommodate larger groups, he recently enclosed the restaurant's outdoor patio.
Daniel's also garners cheers for Best Wine Selection, its first-first place since 2007, and honorable mentions for Best Dessert and Best Caterer.
What about Best Wine List award? "Realistically Angus Barn has the best wine list in the Triangle, but for us to be thought of in that way is great," Perry said. "I mean, we do have a great wine list; we have over 1,000 labels on the list right now."
The write-in nature of this year's Maggy contest helped in this category, he says: "When people don't have the choices — a, b or c — they actually have to think about their vote."
Placing just one vote apart as HMs for Best Italian Restaurant are Enrigo Italian Bistro and Bocci Italian Trattoria & Pizzeria. Best Selection of Wines mentions go to Angus Barn and, in a tie vote, Café Caturra and Lucky 32.