Best Active Adult Community: Searstone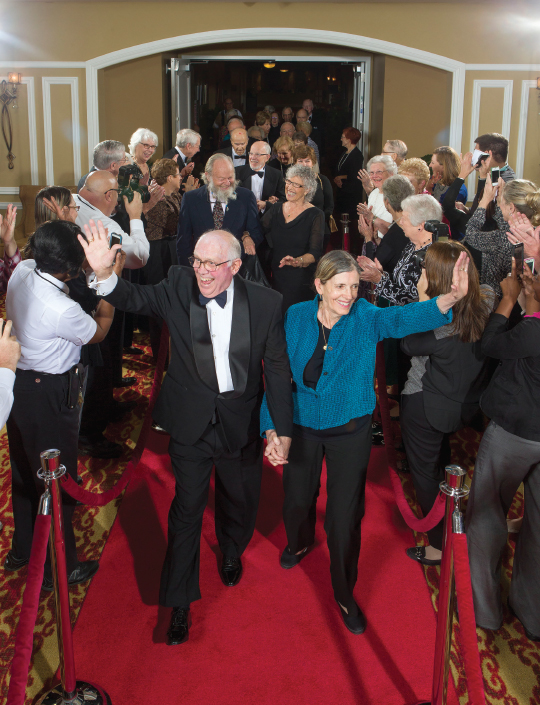 SearStone residents glammed up to help celebrate the community's Maggy Award for Best Active Adult Community. Vern and Renny Pike are first coming down the red carpet; behind them are Margaret Moore and Harry Dougherty.

Best Place to Take Children: Kids Together/ Marla Dorrel Park
Back in 1994, Kristin Holcombe and Helen Rittelmeyer, ages 7 and 6, helped round up support to build Kids Together Playground at Cary's Marla Dorrel Park, which returns to the Maggy list this year as Best Place to Take Children.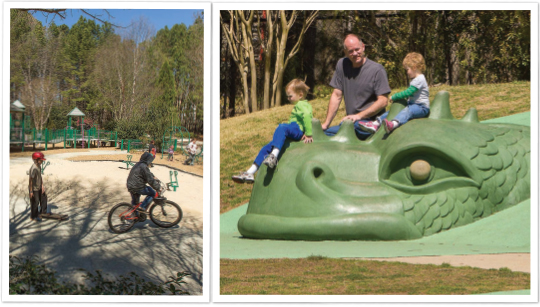 For years, families have enjoyed Cary's Marla Dorrel Park, which has many fun features including KATAL the dragon, above.
Built for accessibility, the wheelchair-friendly playground offers swinging, sand scoopers, and the oracle bench, where kids can converse via trumpet-shaped tubes. Its plants and rolling hills are meant for interactive play, as is climb-on sculpture KATAL the dragon, short for Kids Are Together At Last. And coming soon is a misting garden!
Tattletale: Park namesake Marla Dorrel, a former Cary councilwoman, loves birding and has traveled the world in pursuit of it, to places like Tanzania, New Zealand, Machu Picchu in Peru, and Antarctica.
Best Coffeehouse: The Wake Zone Espresso
The place may have a tropical vibe but if you're looking for a margarita, you're barking up the wrong palm tree at this Best Coffeehouse. After 2010 and 2012 Maggy honorable mentions, this year The Wake Zone Espresso in Apex for the first time brews its way to the limelight.
"We are very honored to win Best Coffeehouse — we have been trying for seven years!" said owner Mark Hollamon.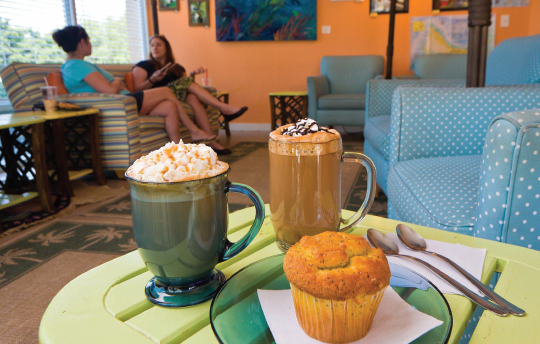 Success has its perks at The Wake Zone Espresso in Apex. "We are very honored to win Best Coffeehouse — we have been trying for seven years!" says owner Mark Hollamon.
In addition to pouring only 100 percent organic coffee, here's what helped earn your votes:
Wednesday Happy Hours: "We've been doing this since the beginning, to get customers to come in and try our drinks at a price that they're not scared of," Hollamon said. "We also want to give the best customers a coffeehouse can have a day a week to show we really appreciate them. The response has been awesome!"
Most popular: The Wake Zone Mocha. "Hot, frozen or iced, it is the one, awesome with white chocolate, caramel sauce and a shot of love. People also love the seasonal drinks like pumpkin lattes, peppermint mochas and gingerbread lattes, all served year-round."
Behind the scenes: "I'm a purist — straight espresso. I have two at 6:10 a.m., and the other two come when I can, before 9 a.m. I like my coffee in the freshest and hottest way!"
Close calls: Just four votes separate Best Coffeehouse honorable mentions, Crema Coffee & Bakery and Common Grounds Coffee House & Desserts
Best High School Principal: Matthew Wight, Apex Friendship High
Talk about a fan following — Principal Matt Wight has done it again! In his first year at the new Friendship High, Wight holds on to earn top billing as Best High School Principal, after four straight wins in this category while he previously served at Apex High.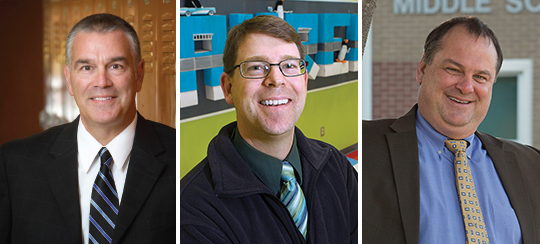 From left, Matthew Wight of Apex Friendship High – Best High School Principal; Burt Batten of Laurel Park Elementary – Best Elementary School Principal; and H. Trent Evans of Reedy Creek Middle – Best Middle School Principal.
Separated by just one vote are the principals voted as honorable mentions: Karen Summers of Green Hope High and Jason Curtis of Cardinal Gibbons High.
Best Preschool: Primrose Schools
No paparazzi, please: Kids are the megastars of smart at Primrose Schools, landing at the head of the class almost every year since the onset of the Best Preschool category in 2010. Independently-owned, five-star accredited school locations dot Western Wake, going beyond ABCs to teach phonics, creative arts and even foreign language. And because character counts, children learn to help their communities via food drives and other service projects.
Rhonda and Elliot Blades, parents to three Primrose alumni, traded high-level careers to become owners of two local schools. Why?
"The rapid development that takes place during the first five years of a child's life is critical to success in life," Rhonda said, "and early educators play a pivotal role in fostering this growth. In addition to critical thinking skills, we focus on character development and life skills such as friendship, generosity and honesty. Our goal is for every Primrose child to develop into a well-rounded individual with a love of learning and life."
Best Fitness Club and Best Kids' Program for Sports: YMCA of the Triangle
Been to the Y lately? You're not alone. Readers declare YMCA of the Triangle as Best Fitness Club yet again, and Best Kids' Program for Sports, proving the Y offers something for everyone. With busy branches in both Cary and Apex, you can run and jump to your heart's content no matter your age, with the help of group fitness classes, personal trainers and free orientations.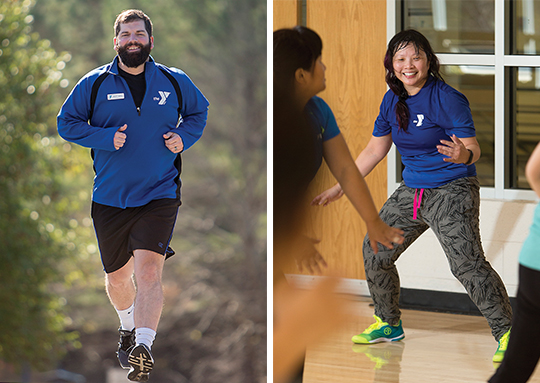 From left, Matt Wall, Wellness Center director and Caroline Lin, group fitness instructor.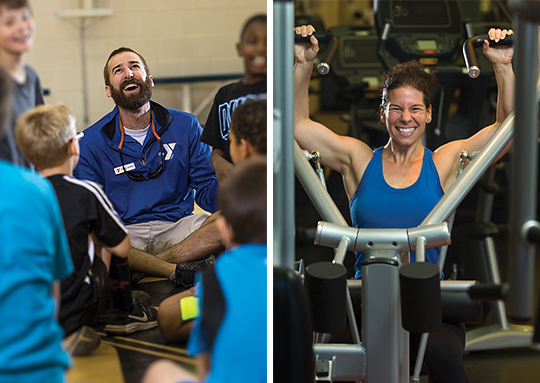 From left, Michael Warren, youth director, and Amanda Dismukes, group fitness instructor.
Basketball? Water polo? Racquetball? Jump rope? It's a big YES to all of the above, designed to make you feel fabulous!
Fun for everyone: Caroline Lin, group fitness instructor, had so much fun as a member that she started teaching — Zumba, Hip-Hop and Zumba Kids.
"I work full-time, but I teach here because I love it so much," she said. "People are so happy here. I smile a lot, but I smile so much because it's so fun."
Great people: Michael Warren, youth director, says being named Best Kids' Program for Sports is "awesome! It really speaks to the quality of our programming and our staff."
Best Golf Course: Prestonwood Country Club
Voters who enjoy hitting that little white ball chose Prestonwood Country Club as Best Golf Course, the club that's hit a Maggy hole-in-one every year of the contest but one, when it garnered honorable mention.
Matt Massei, general manager at Prestonwood, explains why golf is so hot here:
"Prestonwood affords golfers three courses that offer a variety of challenges for all skill levels. With a selection of five tee boxes to play from and consistent quality conditions, it's an ideal place for all golfers," he said.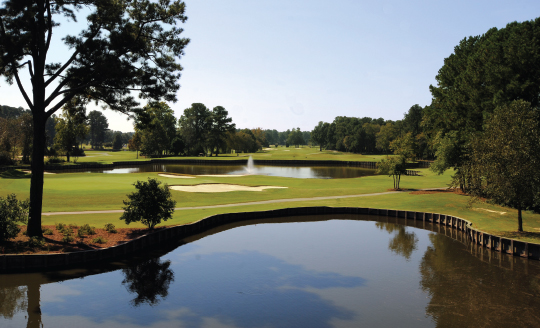 For 2016, Massei notes new additions to the club's ever-expanding offerings.
"2016 will see the addition of junior golf programs 'We Grow Golf' and 'AimPoint Green Reading,' to an already extensive list of teaching programs," he said. "And our team of golf professionals consistently promotes and offers programs to introduce the game of golf to new players of all ages."
Championship courses: Three, each 18 holes and ranked among the top 100 in N.C.
Home to: The SAS Championship
Indoor Learning Center: State-of-the-art, with video monitoring and the latest training aids
Honorable mentions for Best Golf Course go to MacGregor Downs Country Club and Knights Play Golf Center. Fore!