What's New at Your Favorite Nonprofits?
In the 2016 Maggy Awards, three nonprofits reflect what it means to be voted the Best Nonprofit in our community: Winner Dorcas Ministries, and honorable mentions Western Wake Crisis Ministry and The Carying Place.
These organizations work toward making our community a better place by helping those in need around us. With the help of volunteers, each of these nonprofits is also expanding so that they will be able to reach more people in 2016.
Dorcas Ministries
Dorcas Ministries was founded in 1968 and has since been providing outreach programs for the Cary community such as food pantries, adult education assistance, childcare scholarships, and Jobs for Life classes, all funded with the help of its popular thrift store.
Dorcas hopes to show the love of Jesus Christ by serving people in need through crisis relief, and by encouraging self-sufficiency.
"If you're at a point of need, that's what we're here for," said Howard Manning, executive director of Dorcas Ministries.
In 2016, Dorcas is working toward diversifying its organization. Through connections with several new community partners, Dorcas will be able to expand its already successful services and programs.
"In early 2016 we should be opening a health clinic at Dorcas Plaza," Manning said. This clinic will be made possible through a partnership with Advance Community Health, and represents a longtime Dorcas goal.
Dorcas is also partnering with the North Carolina Baptist Men's Association to provide a dental bus in the Dorcas plaza, this coming April. This will allow people who cannot afford dental care to be able to get the help they need. This service has been successful in the past, Manning says.
"While we are expanding our services, we are not abandoning our core services," he noted.
Dorcas is also making moves toward systemic change in 2016.
"One of the biggest changes we've been able to make is expanding our services from just being a crisis relief agency to an agency that can now offer our clients tools to move from dependency to self-reliance," Manning said.
Dorcas has hired a full-time case worker who can offer more financial counseling to teach people how to better manage their budgets.
Manning says Dorcas is grateful for all of the support it receives from the community, as he works toward recruiting more volunteers for the new projects Dorcas has coming up.
"In no way, shape, form or fashion could Dorcas be what it is today if we didn't have our volunteers," Manning said.
dorcas-cary.org
Western Wake Crisis Ministry
Since 1983, Western Wake Crisis Ministry has become a great asset to our community, as it continues to provide crisis relief to more than 200 families each month.
"Our mission is to provide assistance and outreach to families in need in Western Wake County," said development director Lori Towner. "It's neighbors helping neighbors."
Considering that 98 percent of all donations go to program services, it only makes sense that WWCM is working on expanding its programs in 2016.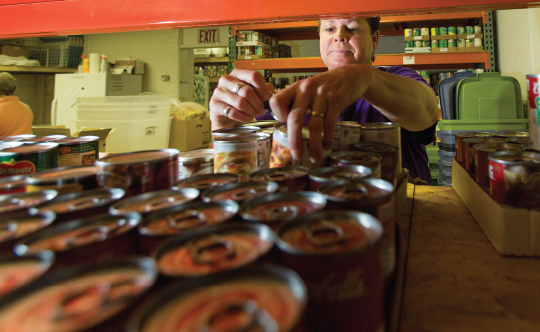 Volunteer Becky Vickery works in the food pantry at Western Wake Crisis Ministry. The nonprofit group hopes to move to a larger facility in 2016.
The Elder Aid Project is a program that will match elderly men and women with volunteers in the community so that they can interact and form friendships.
The group's Jobs for Life program assists members of the community with work readiness skills and provides mentoring for those who need it.
"It creates an environment where you're learning skills on how to interview, how to write a résumé, how to sell yourself in an interview," Towner said.
These programs will open up new opportunities for the community to get involved.
In 2015 alone, WWCM assisted more than 2,399 households with their emergency needs. Towner acknowledges that without volunteers, the organization would not be able to provide the way that it does.
"When someone comes to you saying, 'I want to help,' you want to engage them and make sure it is a fulfilling engagement," she said.
The nonprofit's core services such as its food pantries, employment connections and seasonal programs, will be available to the community as usual.
WWCM is also moving to a new location due to growth, which Towner says should be up and running near Thanksgiving of 2016.
wwcm.org
The Carying Place
The Carying Place has helped working homeless families become more financially independent since 1998 through providing affordable housing as well as job and mentor opportunities.
"Our main mission is to empower working homeless families with budgeting and money management," said executive director Leslie Covington. "We want to empower them to not only get out of homelessness but to avoid it in the future."
The biggest news for The Carying Place in 2016 is that it has acquired new property for client use, proof that the organization is looking to reach more families in need.
"Growth is the biggest thing for us right now," said Covington; The Carying Place served its 350th family in 2015.
Improving its programs and services is also a priority for The Carying Place in 2016.
"We're fine-tuning everything so that we can do our jobs better," Covington said.
Staff has been hired recently to put these plans into action as well as to create new positive energy within the office environment.
Financial counseling continues to be a major service, which demonstrates one of the Carying Place's main goals: to break the cycle of poverty.
The Carying Place is also hoping to update the way it operates by incorporating more technology into the organization.
Fundraisers, such as the annual Benefit Auction in April and the annual Carying Place 10k or 5k Run, Walk & Dash in September, will be held again this year to provide fun events for the community and to help raise money for the organization.
thecaryingplace.org