Best Eye Doctor: Dr. Don Cloninger, Eye Care Center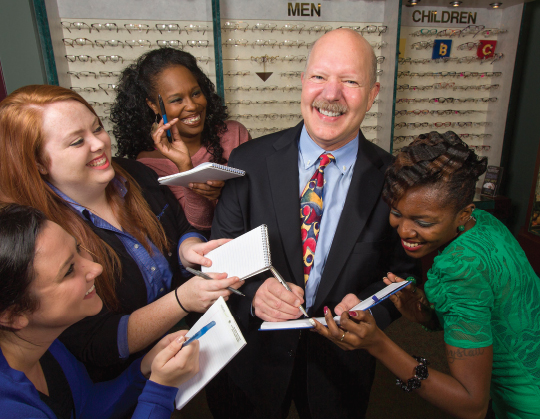 Dr. Don Cloninger of Eye Care Center in Cary has lots of fans including, from left, Josie Daveiro, Allison Newell, Evelyn Dixon and Crystal Conner.

Best Plastic Surgeon: Dr. William T. Stoeckel , Wake Plastic Surgery
In the You-Look-Fabulous category of Best Plastic Surgeon, in the limelight is Dr. William T. Stoeckel of Wake Plastic Surgery, reprising his winning role from 2013. But the work of this surgeon goes well beyond skin-deep.
"Patient satisfaction is a constant reward in the work I do," Stoeckel said. "One of the richest rewards comes from the opportunity I have each year to help with a children's burn reconstruction team in Bolivia. Despite the language barrier with both the children and their parents, their gratitude for my efforts is clearly communicated.
"One of the children whose hand deformity I helped repair on one of my first missions trips found me several years later and gave me a simple handshake with his now functional hand. Nothing needed to be said. The handshake and smile said it all."
Fun facts:
Born: Lubbock, Texas, into an Air Force family
Valedictorian: Dayton Christian High, in Ohio

Best Dentist: Dr. Bobbi Stanley, Stanley Dentistry
In one of the Maggy Awards' biggest twists, perennial honorable mention Dr. Bobbi Stanley of Stanley Dentistry has claimed the Best Dentist title!
This category typically attracts large numbers of reader votes, and this year was no exception. Stanley and her team, which includes her husband, Dr. Robert Stanley, offer services from routine cleanings to cosmetic and medical dentistry. And if you're nervous, they're equipped to provide IV sedation!

Best Spa: The Umstead Hotel and Spa
The Umstead Hotel and Spa will make you feel like the star you are, with its simply divine spa treatments such as the most-often-requested Buttermilk & Honey Wrap, and the Valmont Facial.
Spa guests come from near and far, says spa director Carolyn Doe, locals mostly on weekdays, and hotel guests on weekends.
Sneak peek: New for 2016, says Doe, is the Piedmont.
"This is a deep relaxation treatment which uses warm herbal tai compression balls to treat areas of concern and start the relaxation process," she said. "Stretches are included throughout the massage to release tension in the body, and aromas from the herbal balls relax the mind."
And, you get to take the herbal balls home to use in your bath!
Also new is the Monarch, an exfoliating, moisturizing "cocoon" treatment using essential oils with aromas and spices.
Best Spa honorable mentions are reserved for La Thérapie Spa and Massage Envy.
Best Veterinary Hospital: Town & Country Veterinary Hospital
An old Hollywood adage credited to comedian W.C. Fields says, Never work with animals or children.
That doesn't fly, bark or meow with pet lovers in Western Wake, where one of the Maggy Awards' biggest vote-getting categories each year is Best Veterinary Hospital!
And the winner, year after year? Town & Country Veterinary Hospital.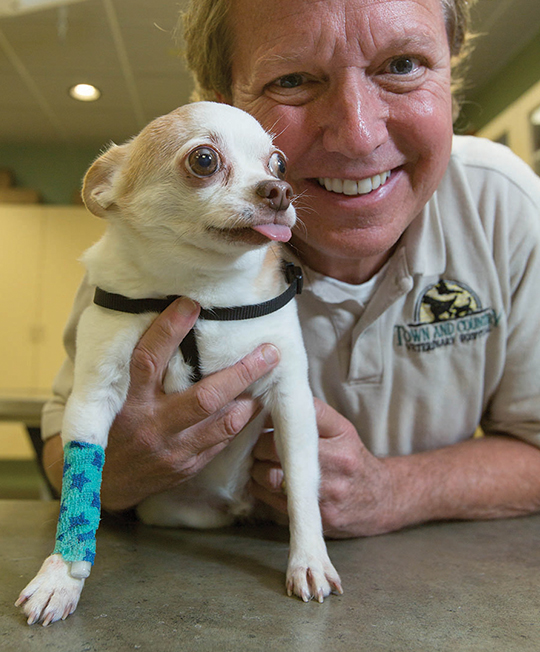 Dr. Nick Ashford, Town and Country Veterinary Hospital
From vaccines and nutritional needs to allergies and behavioral issues, Town & Country is our readers' choice for keeping Fluffy and Spot happy and well.
Inside scoop: Among the practice's five veterinarians, here's the breakdown of their own at-home pets.
11 dogs, including a border collie, a lab mix and four whippets
4 cats
Did you know: "Dog breath" is a sign of an unhealthy pet mouth? Pets can be allergic to pollen, grass and dust, just like their people? At age 7, pets can be considered seniors?
Town & Country also nabs an honorable mention as Best Place for Pet Services; winner in that category is Preston Animal Hospital.