In honor of National Mentoring Month, we've asked some of our Maggy Award winners for their thoughts on making 2016 your best year yet.
As we expected, they delivered — big time. From fitness to creativity, organization to maintaining a can-do spirit, here's our Maggy champs' winning advice … for your life!

BE BRAVE
Corrie Ismaili, Halie's Boutique
Corrie Ismaili is the owner of Best New Business Halie's Boutique in Cary's Parkside Commons. The shop, which opened in September, sells gifts, home decor, accessories and clothing, and its opening was inspired by a Hawaiian vacation with her husband and business partner, Steve.
As a fourth-generation business owner, Ismaili knows a few things about making the leap from idea to action.
"Plan, research and just go with it!" she advises. "When Steve and I started thinking about the store we wrote down our ideas, things we felt we wanted to be our true message. Then we researched. We didn't, and still don't, buy because everyone else is."
Ismaili has also learned how to face uncertainty, both in business and in life.
"Take risks. Life is short," she said. "You can continue dreaming and taking the backseat, but until you take on the challenge you will never know your true capabilities."
About Corrie:
Typical lunch: "A salad. That way I can eat a cookie with my afternoon Starbucks!"
Favorite superhero: "Audrey Hepburn, a woman of class and a fashion icon. She built herself at a time when women were told to stay at home and raise children."
Learned about risk: "To go with my heart and don't overanalyze. If you have to think too much about something, then it's not the right move."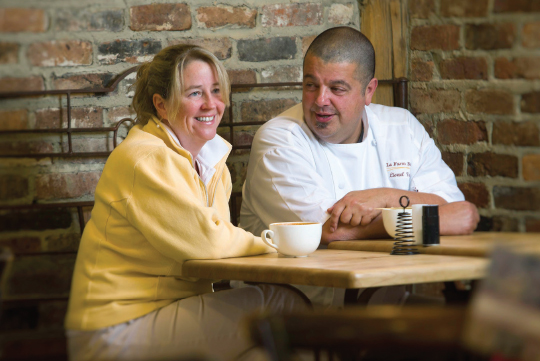 Missy and Lionel Vatinet have taken risks throughout their careers. "Fear and excitement are the same thing," says Lionel. "Everything we do does not succeed. We fail, but we get stronger."
Lionel and Missy Vatinet, La Farm Bakery & Cafe
Spend time with Lionel and Missy Vatinet, owners of La Farm Bakery & Café, and you'll find they are ever-mindful of serving their beloved community.
"To have a good company, you have to have strong discipline and practice it every day," Missy said. "You've got to have perseverance, and an inner passion to provide for someone else."
The Vatinets are also leaders within the baking industry, replacing all flours used at La Farm with locally grown and cold-stone milled organic, heirloom flours, for better nutritional value in the bakery's breads.
"We took a calculated risk," Missy said. "These flours cost three to four times that of the high quality flours we were using, and we can't pass that cost onto our customers. But we believe so strongly that it's better for our community, we jumped in 100 percent, and Cary embraced it."
Now they're planning a physical expansion of their business, with an anticipated opening in 2017.
"The people's excitement, it fuels us," Lionel said. "The ideas flow, and we talk about it, to do it or not. We research and when we travel, even for pleasure, we look to see what we can do better, what our community will love.
"Fear and excitement are the same thing," he said. "Everything we do does not succeed. We fail, but we get stronger."
About the Vatinets:
Stress-busters: "A good walk. Or working the dough. Let me bake, let me mix." – Lionel
Perseverance: Lionel's nickname, given to the Master Baker by French artisans' guild Les Compagnons du Devoir.
Best-played risk: "Choosing Cary (in 1999). This was not a nationally recognized food town, which was a challenge at Lionel's stature of the profession. We didn't know if customers would embrace this style of bread baking. They delivered." – Missy
Phillip Lin relies on Google Calendar to keep himself on track; he even schedules personal time. "I get so busy sometimes that I forget to focus on my personal care and family activities. So it's common for me to add 'family dinner' or 'attend school event' to my calendar. Family comes first, but sometimes it's nice to be reminded."
BE ORGANIZED
Phillip Lin, Catering By Design
This is the year you're going to get organized. (Yes, really.)
And if anyone knows organization it's Phillip Lin, owner of Catering by Design. One of his professed hobbies? Planning out the next 20 years of his life.
"Being prepared is to create a plan that's flexible and has a backup," he said. "There are three benefits to this approach: One, if things go wrong, you have a contingency so you don't make up tasks on the fly. Two, you're able to direct employees (Or family!) in a calm manner so that a project can be completed without distractions. And three, when tasks are well-planned, time and money are used most efficiently."
Here's how to create a plan that works:
"In the beginning, I spend time thinking critically about what creates a win for our staff, customers and business as a whole. (Again: Or family!) You can't expect to succeed if you don't plan," Lin said. "The biggest thing is making sure you know what worst-case scenarios are. If you set up your staff to win, then they'll take care of your customers. The business will grow as a result.
"You can't plan for the unknown, but a high-quality team can handle it. It's similar to building a house. You need to have a firm foundation to build or grow."
About Phillip:
Favorite organizational tool: "Google Drive to share documents and allow other staff and clients access. And Google Calendar; it's on my phone so I have access to it at all times. It's compatible with Waze and Google Maps for navigation to appointments as well."
On his list: "I get so busy sometimes that I forget to focus on my personal care and family activities. So it's common for me to add 'family dinner' or 'attend school event' to my calendar. Family comes first, but sometimes it's nice to be reminded."
On the unexpected: "The biggest thing to remember is not to panic. When your emotions are high, there is a greater chance that you will not make the right decision. Take time to lower your heart rate, and then deal with last-minute changes."
BE CREATIVE
Vicky Serany, Southern Studio Interior Design
Wishing you could be more creative?
Heed the advice of Vicky Serany, founder of Southern Studio Interior Design, a Best of Houzz award-winning firm which serves residential and commercial clients from its gorgeous studio in downtown Apex.
Serany and company recently worked alongside a team of creatives to build the Southern Living Inspired Home on Bald Head Island, and Southern Studio has been selected for SL's elite Designer Network.
"Anyone can be creative — absolutely! Everyone has unique talents and gifts, which allows each of us to be creative in our own ways," Serany said.
How?
"One, define what drives you and find your passion. It's much easier to be creative if your heart is in your work.
"Two, push the limits. At the start of any project, make it a goal to incorporate one new element and always challenge yourself to think outside the box.
"And three, when creativity eludes you and you've hit a roadblock, walk away. A fresh perspective always helps."
About Vicky:
Inspiration: "I'm always inspired by the exceptional, whether it's people passionate about their work, fine design and craftsmanship, or the beauty of nature."
Theme song: "Seasons of Love from the musical Rent … 'measure your life in love.'"
What's in her closet: "My day is filled with color, but my closet is filled with black and white!"
Amanda Kimball, Twisted Scizzors Salon
Amanda and Leroy Kimball, owners of Twisted Scizzors, have taken the Cary community by storm. For the fourth straight year the salon has earned Best Hair Salon honors, and has become known for its charity cut-a-thons and go-getting spirit.
With a new 'do every time you see her, and a sideline as a leading styling instructor, Amanda believes that creativity lies within all of us.
"Creativity is being able to think of new ideas, and implementing them," she said. "I believe that every human being is built with a creative bone somewhere in their body. It's just waiting to come out! Some people are more naturally creative; it just flows. Some have to work a little harder at it. With practice, a person will feel more creative and productive, more often."
To unleash that natural creativity, write down all of your ideas, Amanda says.
"Think outside the box. Do some research. And use your dreams — you can get a lot from a dream!"
About Amanda:
Inspirations: "My mentors in the hair industry. And all the good people do in this world; it inspires me to always pay it forward. If I see something that inspires me I will take it, change it and make it my own. I'm not one to plan. I just go for it!"
Theme song: "My Way, by Frank Sinatra."
TV: "My absolute favorite is NASCAR on Sundays. Go 88!"
Tondalaya Pearson, founder of Cary Dance Productions, finds inspiration in lots of places. "Bike rides, my students and staff (they are brilliantly creative!), traveling, food, fashion. I find inspiration everywhere!"
Tondalaya Pearson, Cary Dance Productions
You don't have to be a performer to be creative, says Tondalaya Pearson, founder and artistic director of Cary Dance Productions. Offering classes, private lessons and choreography development, the five-studio center has been training recreational and competitive dancers since 1995.
"It's really important for people to find their own source of inspiration. This can be music, art, food, nature, exercise … you name it," Pearson said. "Find something that moves you! Take your inspiration from one area of life and try to apply it to another area in a new or interesting way.
"Never underestimate your own creativity," she said. "Whether it's taking on a specific project, or finding a way to be creative in your everyday life, the pursuit of creativity is its own reward. We all have the potential to express ourselves through individual choices."
About Tondalaya:
Inspiration: "Bike rides, my students and staff (they are brilliantly creative!), traveling, food, fashion. I find inspiration everywhere!"
Theme song: Don't Stop Me Now by Queen
Planning: "You can't always wait for inspiration to find you, so planning is essential. At the same time, I always leave myself the freedom to go in a new direction if I see a new opportunity. Sometimes the last-minute changes turn out to make all difference." – Tondalaya Pearson
BE FIT
Beth Blount, YMCA of the Triangle
Beth Blount, a personal training coordinator at the Cary Family YMCA, says there's one thing you can do this year to boost your fitness: "Sit less and move more.
"Whatever that movement is … walking, running, yoga, Pilates, strength training, Zumba, et cetera," she said. "You don't have to spend an hour or more exercising to feel the benefits. The consistency is more important than the amount of time spent in each exercise session."
The benefits of regular exercise go far beyond the number on the scale, or the amount of weight you can squat, she adds: "Moving easier. Reducing the adverse effects of stress. Feeling better both physically and psychologically. Along with reducing your risk of cardiovascular disease, diabetes and cancer, these are great motivators for sticking with an exercise routine. Find something that you like to do and do it!"
About Beth:
Motivation: "I like who I am and how I feel much better when I exercise."
Fitness motto: "BALANCE. I exercise five to six days per week, but I balance my workouts between hard, moderate, recovery and movement."
Smart: "Who has time to spend hours in the gym? I love workouts that incorporate cardiovascular training and strength training. Balance this out with walking the dog and regular stretching, and I feel great!"
Patty Geiger, StudioVIBE
Once upon a time a synchronized swimmer and a math teacher, Patty Geiger is known for her passion for well-being both in and out of StudioVIBE, where her latest project is creating a mentoring program for aspiring yoga and Pilates teachers.
The first step to wellness? Setting a goal, Geiger says.
"Set realistic expectations of yourself and surround yourself with supportive, positive people," she said. "Set a goal and make it attainable, whether it's to try a new form of exercise, finish a 5K, hold a handstand or exercise four times a week.
"Having a workout buddy or attending classes with a teacher who is encouraging will help you stay committed and get to the next level. Avoid people who make you feel you are inferior, or who pick on you about your exercise or healthy eating habits. They're generally just jealous of your commitment!
"Movement heals your body, mind and spirit," Geiger notes. "If you want a sharp mind, if you need creativity in what you do, you have to move your body and definitely work on flexibility. Stiff bodies, stiff minds!
"If your breath and blood can't flow freely, then your body can't operate optimally. Breathe fully, stretch regularly, drink water (drink it, don't sip it!), and participate in functional movement."
About Patty:
Motivation: "Exercise keeps me sane and helps me with creativity, mental focus and mindfulness."
Fitness philosophy: "I believe in working hard, but not to the point that daily activities are painful the day after. Exercise intelligently; repetitive motion such as cycling, running or asymmetrical activities like golf or tennis will eventually lead to overuse injury. Pilates is all about creating balance and symmetry, undoing the damage caused by these activities and our "hunched over" techno-lives!"
Breakfast: "I have an amazing smoothie recipe using greens, chia seeds, avocado and fruit (not an abundance, though). I also strive for over 64 ounces of water by 10 a.m."
Bobbi Stanley DDS, Stanley Dentistry
If you're looking for that one great fitness booster this New Year, open wide, says Cary dentist Dr. Bobbi Stanley.
"Fitness is a big part of our life (at Stanley Dentistry). We believe in it so much that we pay gym membership for our team members," she said.
"Fitness is overall health, and oral health is an extremely important part of that. Bacteria from periodontal (gum) disease travels throughout the body and has been found to increase risk of heart attacks, diabetes, fatigue and don't forget — bad breath.
"So the one thing most important for overall fitness is daily flossing. It's quick, and should be easy to incorporate during our morning or evening routine. And the benefit to our health could be life-saving."
Stanley also knows first-hand the benefits of daily exercise.
"Most people complain that they just don't have enough energy to exercise. The great benefit of exercise is that it give you more energy," she said. "With this 'extra' energy, you are more productive.
"Exercise can help control weight and with that, many health issues plaguing our society today can be prevented. Lastly, exercise helps to improve mood. We all occasionally need an emotional lift or just to 'blow off some steam' after a busy day. Exercise has been shown to be the best way to achieve this."
About Dr. Stanley:
Motivation for daily exercise: "My love for my family; it makes me a better wife and mother. My oldest son wrote a letter to me this summer, saying, 'P.S. It's pretty cool that you're ripped too!' As a mother, life just doesn't get any better than that!"
Fave workout: "Weightlifting with HIIT cardio (high intensity interval training) a few times per week … weightlifting is excellent for increasing bone density, which many women struggle with as they age."
Everyday breakfast: "Four egg whites with spinach and green peppers, along with steel cut oats. It's a good balance of protein and slow releasing carbohydrates."
Go Get It: Life advice from our Maggy winners