Choosing the right European restaurant can be intimidating, but no need to worry. We've assembled bona fide Triangle-area sources of French, German, Italian and Turkish cuisine so you can relax and enjoy  authentic dining experiences without having to fly across the ocean.
Enrigo Italian Bistro, Cary
Now a popular fixture in Cary's revitalized Waverly Place, Enrigo Italian Bistro has undeniably hit its stride. Credit Chef Paolo Gavazza, who prepares food that's fresh and satisfying, from red-wine-infused authentic classics like Tagliatelle Bolognese to thin-crusted, mozzarella-laden pizzas.
"I cook what I love to eat," said Gavazza, a good-natured native of Rome. He prepares food using locally sourced ingredients, and what emerges from the kitchen is reminiscent of dishes he enjoyed back home.
Order the Straccetti con la Rughetta, veal sautéed in extra virgin olive oil and served with fresh arugula and a side of white onions, red peppers, thyme and capers.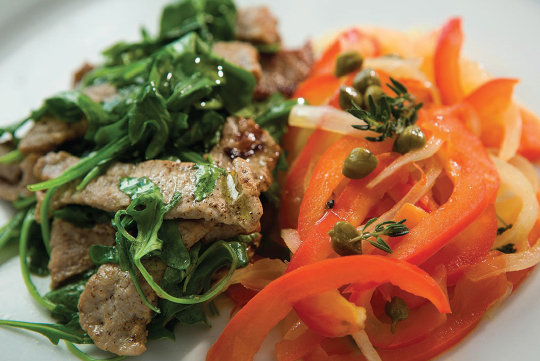 Straccetti con la Rughetta, veal sautéed in extra virgin olive oil, is served with fresh arugula and a side of onions, peppers, thyme and capers.
"It's a simple dish, but it's rich in flavor," Gavazza said with a smile.
Another well-regarded offering, Mezzaluna alla Salvia, features half-moon shaped pasta filled with ricotta cheese and spinach, sautéed with sage and light butter.
"It's served on aged Parmigiano Reggiano, and it is representative of the best food in Italy," said Gavazza, who moved to the United States early last year and now lives in Holly Springs.
Don't overlook dessert. Deliberate over the house-favorite tiramisu, chocolate Tortino or Tartelletta alla Crema Pasticcera and Frutta, which is  homemade shortbread and pastry cream, crowned with seasonal fruit.
The restaurant's floor-to-ceiling windows slide to create an open-air ambiance. A cozy, cement-floored dining room is nicely appointed with dark wooden tables and mosaic-tiled walls.
Occasional multicourse wine dinners allow Gavazza opportunities to go off-menu and be more adventurous. Enrigo accepts reservations for parties of eight or more.
German Grille, Cary
Just one step into German Grille and you'll feel  you've been transported to an Old World village. Abundant beer steins, lederhosen and colossal castle and Black Forest murals leave no doubt that you've come to the right place for brats, brew and a good time.
Paul Hoffman, erstwhile owner of the now-defunct Bavarian Brathaus, partnered with wife Jenny Hubert to open German Grille in early 2014. The grandson of a German butcher, Hoffman takes pride in making and serving authentic Bavarian-style cuisine.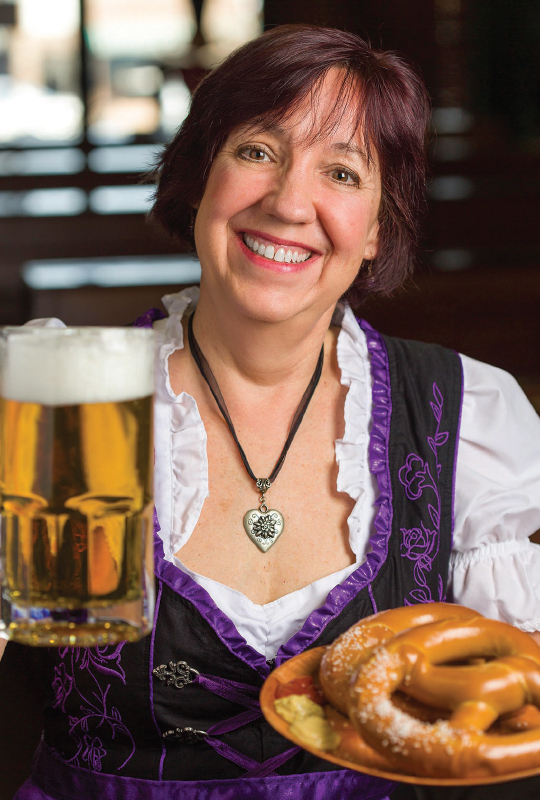 German Grille co-owner Jenny Hubert serves up a stein of beer and authentic German pretzels.
"We make virtually everything from scratch — including the handmade sausages, red cabbage, and all our sauces," Hoffman said. "We get our broetchen (bread) from a fifth-generation German baker in Southern Pines."
Among the stellar menu items is Oma's Sampler Platter, which contains roulade, a traditional German beef dish, sauerbraten and goulash served with spätzle (soft egg noodle) and red cabbage.
"This platter was developed by asking customers what they wanted," said Hoffman. "It comes with three distinctly different sauces, so people can try different things."
The specialty Holstein Schnitzel comprises sautéed chicken, pork, veal or eggplant topped with an egg, and comes with a side of gluten-free red Bolognese sauce or hollandaise sauce. Try the Drunken Bavarian Chicken, which is grilled herb chicken smothered in a scrumptious whisky mushroom sauce served alongside lumpy mashed potatoes, red cabbage, bread and honey butter.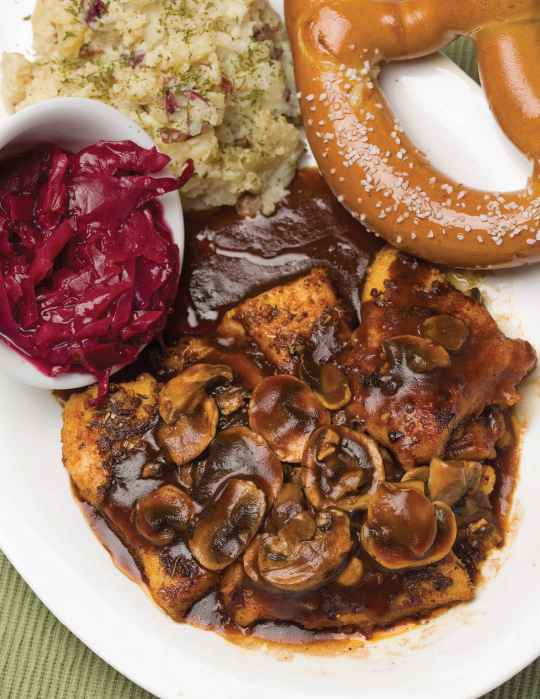 The Drunken Bavarian Chicken is grilled herb chicken smothered in  a whisky mushroom sauce served alongside mashed potatoes, red cabbage, bread and honey butter.
If you're not terribly hungry, consider a small-plate version of sauerbraten, Wiener Schnitzel or even the Drunken Chicken.
For dessert, choose Hoffman's self-proclaimed "best cheesecake in the world." He or talented assistant chef Alfie Potter bakes it without a crust, and it comes out like a soufflé.
Libations anyone? A well-curated assortment of German beers are available on tap and are served in nifty glasses kept in a converted buffet table that now serves as a chiller.
Coquette Brasserie, Raleigh
"Coquette is an approachable French restaurant," said Beth LittleJohn, the Raleigh brasserie's easygoing chef de cuisine. "People often think French restaurants are fancy and snooty and not relatable. Our food is comfort cuisine. It's homey, and it's not uptight. Our servers even wear jeans and button-down shirts."
LittleJohn, who grew up on a farm in Caswell County, has enjoyed cooking as long as she can remember. She received her culinary training at New York's esteemed Culinary Institute of America. After spending almost a year as Coquette's sous chef, she ascended to her current role.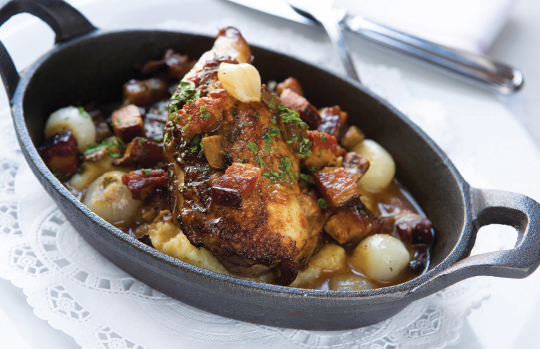 Coq au vin is a classic French chicken entrée layered with bacon lardons, mushrooms and pearl onions.
Today LittleJohn finesses traditional French dishes like beef bourguignon, pan-roasted duck breast and coq au vin, a classic French chicken entrée layered with bacon lardons, mushrooms and pearl onions.
"We marinate chicken thighs and breasts overnight in red wine," she explained.
Hors d'oeuvres like pan-seared foie gras, steak tartare and escargot also vie for attention.
"We use a classic interpretation by cooking the escargot in white wine and aromatics," LittleJohn said. "The butter we serve with it contains garlic, parsley and salt, and it's fantastic!"
Another starter, the petite tarte flambé, involves thin, flat bread created from house-made dough. The popular Alsatian is topped with caramelized onions, bacon lardons, ham and fromage blanc.
When it comes to dessert, look no further than the crème brûlée.
Escargot are cooked in white wine and aromatics and served with an herb and garlic butter.
"Everybody wants crème brûlée when they come to a French restaurant, and we offer a butterscotch-flavored brûlée that's very good," LittleJohn said.
Sunday brunch is a big draw, featuring $2 mimosas and a variety of eggs benedict dishes, quiches, crepes and more. Reservations are strongly recommended.
Be sure to check out Coquette's exquisite showpiece bar. It's handcrafted from French-imported zinc.
Bosphorus Restaurant, Cary
It's usually a good indicator that an ethnic restaurant is authentic when you walk in and see people of that particular nationality patronizing the establishment. On any given day upon entering Bosphorus, you're sure to find patrons of Turkish and Mediterranean descent.
Genial owner Mustafa Dilekogmu, along with his soft-spoken brother-in-law and cook Adil Berk, both hail from Turkey.
"We are a family-owned restaurant," said Berk. "Our secret is that almost everything is made from scratch."
A Turkish flat bread called pide is made fresh daily and served with every meal.
This includes the addictive Turkish flat bread called pide, which is served with every meal.
"We make the bread throughout the day, and people love it," Berk said.
For a solid starter, go for the stuffed grape leaves filled with rice, onions, pine nuts, currant, mint, dill weed and other spices. Want more variety? The house meze platter includes the grape leaves along with hummus, baba gounush, tabouli, ezme (tomato-based spread), eggplant salad and cucumber dip.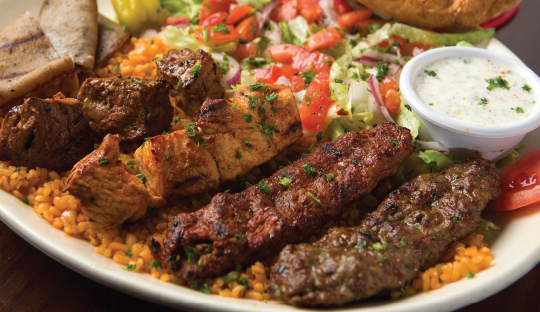 The mixed grill kabob platter incorporates lamb, chicken, kofta, adana and beef liver.
Entrée selections from gyros to lamb shish kabobs to Turkish pizzas give you plenty to contemplate. The mixed grill kabob platter incorporates lamb and chicken, kofta (spiced meatball), adana (ground lamb) and beef liver, and is served with bulgur pilaf, pide bread and grilled vegetables.
Top off the meal with a cup of Turkish coffee or tea and — of course — traditional baklava for dessert. For the uninitiated, baklava involves layers of thin filo dough covered with ground pistachios, walnuts and syrup.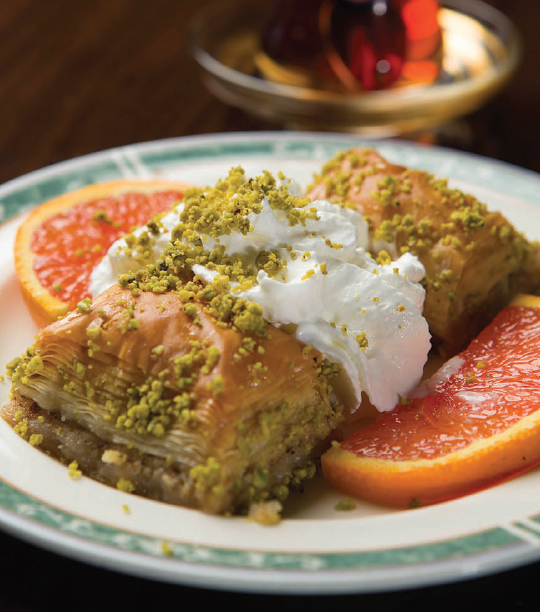 For the Bosphorus baklava, flaky filo dough is layered with ground pistachios, walnuts and sweet syrup.
A recently expanded dining room at Bosphorus is illuminated by pendant lights suspended above tile flooring and large, comfortable banquettes.
"We will also be remodeling the original dining room, but the food will remain the same good quality," Berk said.
Closed on Mondays, Bosphorus serves a special roasted lamb dinner on Sundays. Go early to ensure they don't run out.