If all you know about Haiti is the 2010 earthquake in Port-au-Prince, you're missing something: Namely Zorangé, a remote village with no resemblance to the city, where a Cary-based nonprofit is empowering citizens to improve their lives.
"History hasn't been kind to Haiti, but I believe Haitians can do," said Jean "Elade" Eloi, founder of the Hope for Haiti Foundation and a native of Zorangé who moved to the U.S. in 1982. "It's about how we come alongside them and collaborate so they can be the driving force behind changing their country."
Since 1999, Hope for Haiti Foundation has built an accredited school, including the only library and computer lab within a 50-mile radius, a medical clinic, trade school and church in Zorangé, all operated by 80 trained locals.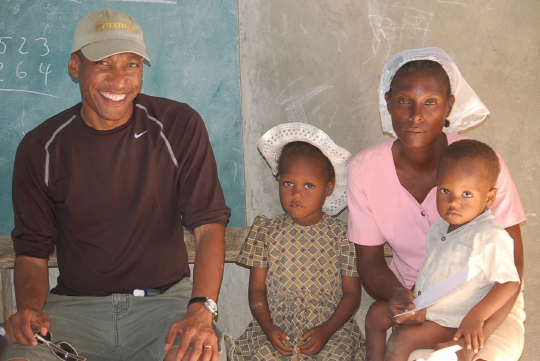 Jean Eloi of Cary, left, founded Hope for Haiti Foundation to empower Haitians to improve their own lives through education, medical care and more.
Special education teacher Julie Schultz, among a core group of 100 HFHF volunteers from the U.S., presents workshops to Haitian teachers on best classroom practices. Students at the HFHF school range in age from 3 to 13th grade, and some walk miles to attend.
"I've been going to Haiti since 2008 and see the kids moving up, and the teachers beginning to realize the impact they're making," Schultz said. "Now the children have expectations — they want to be doctors and lawyers, and they always say, 'I want to help my community.' That's ownership."
HFHF's school of more than 500 students has a 100 percent passage rate for sixth-graders and 90 percent for ninth-graders — numbers unheard of in a nation where only 50 percent of children ever enroll in school.
HFHF's trade school, meanwhile, teaches information technology and tailoring, with planned curriculum additions of English, carpentry and mechanics.
Board member Mark Martyak of Cary, an electrical engineer by trade, makes the trip to Zorangé at least once a year. It means rugged mountain terrain, roads slippery as ice following rains, and bathing in the river.
"Haitians are hard-working, generous people who take nothing for granted," Martyak said. "The Zorangé school was built by locals, who were offered 10 cents a bucket to draw water from the river a mile away. Some refused payment, in gratitude for knowing the school would help their children.
"We give them the tools, and they do the work."
Martyak's son, Boston architect Stephen Martyak, volunteered his skills in designing the Zorangé school and church, and is currently at work on HFHF's second school in Bainet, 11 miles away. This multi-purpose complex will host a university. The only other college option is in Port-au-Prince, where living expenses have kept many students from attending.
"We're removing the obstacle of lodging, to provide a great educational environment," Eloi said. "Obstacles can motivate you or paralyze you — you decide! Long-lasting change takes time to build. It requires determination, and the audacity to believe."
Saving Lives
Nurse practitioner Marlene Rickert is medical director for HFHF, which has clinics in Zorangé and Gandou that provide care from "suturing machete wounds to delivering babies."
Volunteers serve patients and train Haitian doctors to combat disease and malnutrition.
"I first traveled to Zorangé in 2010, after the earthquake," Rickert said. "It's interesting and challenging to transition from an overabundance of medical services here in the U.S. to the lack of even basics in Haiti.
"I've made my own traction device for a 9-year-old girl with a femur fracture, and have put a teenager with a deep tendon laceration on the back of a motorcycle to go down mountains and across rivers to the nearest surgeon. But I have also had the joy of telling a mother that her 2-year-old lived because there was a surgery team there that day."
The medical team, which includes Rex Hospital nurses and students from Campbell University's School of Osteopathic Medicine, made its third surgical trip to Haiti in February.
"Our goal to provide surgery was a request from the community in conjunction with the government clinic," Rickert said. "This collaboration allows people who did not have access to surgical procedures due to money or distance to have these done. Our goal is to expand our volunteer surgical team to provide two surgical trips per year."
Maternal mortality is of particular concern in Haiti, where women are 67 times more likely to die in childbirth as they are in the U.S. HFHF teaches preventive care and trains traditional birth attendants in the area to recognize pregnancy complications.
More Needs Met
Founded on Christian beliefs and initially funded by Hope Community Church, HFHF now partners with U.S. churches to offer training and support for pastors in Haiti's villages. Daily sermons and Bible readings are broadcast by radio.
HFHF tackles environmental projects too, raising funds to increase electricity to the Zorangé compound, and to install a pump system that will bring clean water to more than 700 people.
"The next need is always easy to come by," said Eloi. "We assess, and listen to the community in identifying steps, but we have to go slowly and maintain what we already have done."
For people seeking to help, Eloi said the need for financial donations to HFHF and sponsorship of children is a given; volunteers with skill sets like graphic design, marketing, teaching and medicine are always in demand.
Proceeds from local fundraisers (see box) will allow the work to continue, empowering Haitians to change their world.
"The Haitians are people with a zest for life," Eloi said. "They dream like we dream, for their children. And we work so that the next generation doesn't live the way this one has."
For more information, visit hopeforhaitifoundation.com.
Two ways to help
The 2015 Haiti Golf Classic Monday, May 4, at Lochmere Golf Club. Register now at hopeforhaitifoundation.com

The fourth annual Rock Your World event Friday, May 8, at RallyPoint Sport Grill in Cary. Rock Your World features Haitian foods, performances by the Davis Messina Band, Band of Brothers and Sidewinder, and a silent auction including two Fender Stratocaster guitars hand-painted by Haitian artists. rockyourworldraleigh.com