If relaxing is not your idea of a fun vacation, consider a trip to the Queen City of Charlotte. Home to all things auto racing, the Charlotte area is also the place where Olympians train, rollercoasters launch, and 2015 marks the start of an all-new sports team.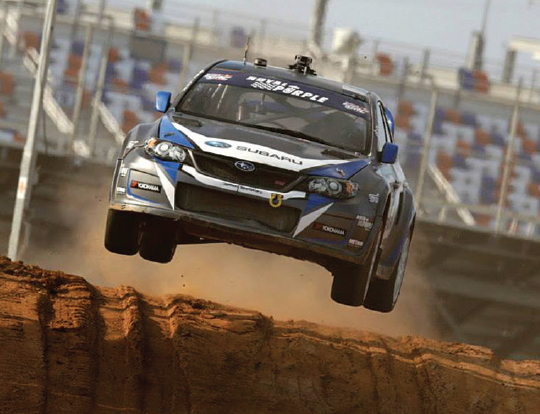 Here's a fun-filled sampler:
Glory Road: NASCAR Hall of Fame
Located in Uptown Charlotte, this 150,000-square-foot hall offers an interactive look at the history and heritage of NASCAR, from its roots in moonshine running to today's high-tech scene.
Full of racing artifacts and with a state-of-the-art theater, signature exhibits include Glory Road, a banked ramp leading to the second floor of the facility. Remodeled in 2014, Glory Road features 18 historic cars telling the six-generation story of NASCAR, and highlights 40 current and historic tracks.
Racing simulators provide a driver's experience, the Hall of Honor is where NASCAR Hall of Fame inductees roam, and most interactive of all is Race Week, with a behind-the-scenes look at how a NASCAR team prepares for race day.
The Rockin' & Racin' exhibit examines the music intertwined with NASCAR life over the past five decades, from rock to country and rap. Featuring more than 40 artifacts and seven cars, the four sections of the exhibit explore Racers Who Rock, Rockers Who Race, Rocking the Track and NASCAR in Song.
The NASCAR Hall of Fame is open daily; general admission is $19.95 for adults and $12.95 for children ages 5-12, with senior and military pricing and combo options available.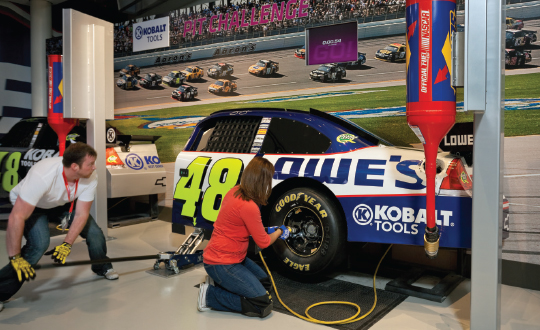 Go even deeper with the Racing Insiders Tour, covering the evolution of NASCAR and including visits to area race shops and attractions such as Penske Racing or Hendrick Motorsports. Tour is $90 for adults, $80 for children. nascarhall.com
Fun Facts
Meet the inductees! Open to the public, the NASCAR Hall of Fame Induction Ceremony is held in Charlotte every January; tickets start at $45.

The first African-American driver to win a premier series race in NASCAR was inducted into the NASCAR Hall of Fame this year: Wendell Scott

Each May for 30 years now, fans fill Uptown streets for the Food Lion Speed Street 600 Festival, a celebration of all things NASCAR; 600festival.com
Start Your Engines: Charlotte Motor Speedway
Charlotte Motor Speedway's 1.5-mile superspeedway has been the place to see the race for more than 50 years.
Host to three premiere NASCAR events each year — the NASCAR Sprint All-Star Race, the Coca-Cola 600 and the Bank of America 500 — the track is also the site of dozens of other events including a weekly short-track series for Legend Cars and Bandoleros, World Karting Association races, and some of the largest car shows and swap meets in the U.S.
Encompassing nearly 2,000 acres, Charlotte Motor Speedway has more than a one-track mind: It boasts a 2.25-mile road course, a six-tenths-mile karting layout and a quarter-mile oval within its walls, and a one-fifth-mile oval just outside Turn 3.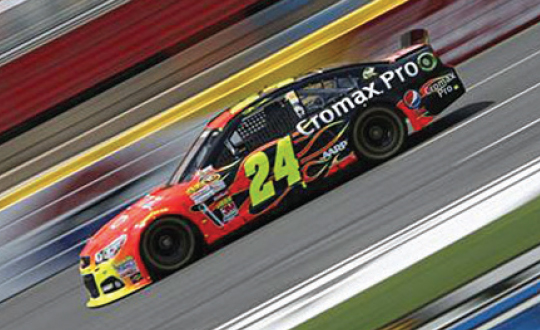 Just across U.S. 29, The Dirt Track at Charlotte is a clay oval that plays host to the World of Outlaws Sprint Car Series and the World of Outlaws Late Model Series, and a championship Monster Truck show. Vroom, vroom!
Adjacent to The Dirt Track is zMAX Dragway, the first drag strip in the world to feature two pedestrian tunnels underneath the strip to boost fan mobility, and the world's only four-lane, all-concrete racing surface. charlottemotorspeedway.com
Fun Facts
CMS has the world's largest HDTV screen: 200 x 80 feet! Its 2011 debut set a Guinness World Record for largest HDTV at a sports venue.

CMS was the first modern superspeedway to host night racing, in 1992.

Make a Splash: U.S. National Whitewater Center
Rock climbing, kayaking, ziplining and rafting on the world's largest manmade whitewater river — adventure awaits at the U.S. National Whitewater Center, located about 20 minutes outside of Charlotte.
The USNWC is one of just 17 official U.S. Olympic Training Sites in the U.S., but you don't have to be an elite athlete to visit.
New this year for guests are four extra zip lines, a 40-foot rappelling wall, and an extra 11 miles of trails. On April 17-19, the USNWC hosts one of its nine annual events, Tuck Fest, a three-day festival celebrating the outdoor life with 20-plus land-or-water competitions, live bands, exhibitions and demos.
Why Tuck Fest? It's named for the Tuckaseegee Ford and Trail, a historical landmark located here.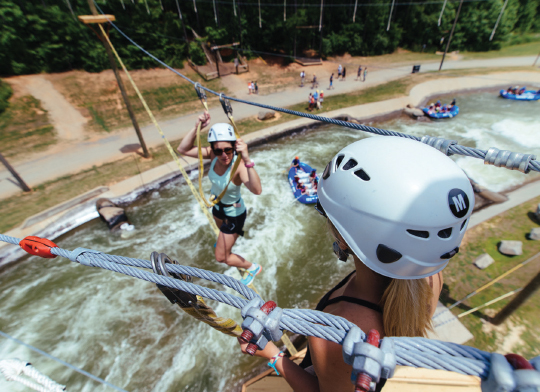 Spectators can watch the Tuck Fest fun and enjoy the music at no charge. To take part in one or all of the races and competitions, pay a flat registration fee of $35, and have at it!
The fourth annual Brew Stash Bash happens on June 13, featuring local, regional and national craft breweries after the Brew Dash 6K Trail Race. On July 18 is the XTERRA Whitewater Triathlon: A 1K flatwater swim split between the Catawba River and a manmade channel, 23K on mountain bike trails, and an 8K trail run to the finish line. Whew!
And on Aug. 8, the unique Amphibious Duathlon sounds easy — run, paddle, run — but combines running and flatwater kayaking and two 5K trail runs.
Looking for a dining adventure? Try Unwined with flatwater stand-up paddle boarding and a chef-prepared dinner, or ZipLine & Dine, with a fireside dinner once you're done zipping through the trees at sunset.
Regular admission pass packages at USNWC range from the single activity QuickSport starting at $20 to the AllSport at $54, $44 for kids 9 and younger. usnwc.org
Fun Facts
The summer-long River Jam concert series takes place each Thursday and Saturday.

USNWC is a locally-owned and operated nonprofit.

USNWC sits on 700 acres of woodlands.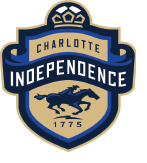 Kick It: Charlotte Independence
Charlotte is a hotspot for sports!
You sports fans already know the Carolina Panthers pro football team is based here, as is pro basketball team the Charlotte Hornets.
And the Charlotte Checkers are the American Hockey League affiliate of NHL hockey team, the Carolina Hurricanes.
But what you might not know is that there's a new professional team in town: The Charlotte Independence men's soccer organization, kicking off this spring as one of 24 teams in the USL PRO league.
Want more sports during your travels to Charlotte? Try Major League Lacrosse team the Charlotte Hounds, and the skater-owned and operated Charlotte Roller Girls, competing in flat-track roller derby.
Want to play, instead of watch? You'll find plenty of room to move at the "Central Park" of Charlotte, Freedom Park.
Set on 98 acres between the historic Dilworth and Myers Park neighborhoods, the park has a 7-acre lake, and is about 3 miles from downtown.
Paved trails and birding? Yes.
Tennis and volleyball courts? Yes.
Space for baseball, basketball and soccer? Yes, plus free films and musical performances throughout the summer.
panthers.com; nba.com/hornets; gocheckers.com; charlotteindependence.com; charlottehounds.com; charlotterollergirls.com; charlottesgotalot.com
Unleash the Fury: Carowinds
Think you've been to Carowinds? Think again.
Thanks to a $50 million, multiyear upgrade, the park is being revamped from top to bottom, with new rides and attractions added.
Among the highlights is Fury 325, opening March 28 and billed as the world's tallest and fastest giga coaster. It's visible from uptown Charlotte and simulates the wild flight of a not-happy hornet.
Designed by the Swiss company that's brought Vortex, Afterburn and The Intimidator to Carowinds, here's what to expect on the Fury:
You'll board one of three 32-passenger open-air trains, and climb a 30-story, 325-foot hill. Be ready, because next comes an 81-degree first drop, then a dizzying race through hills, curves and quick transitions at speeds of up to 95 mph.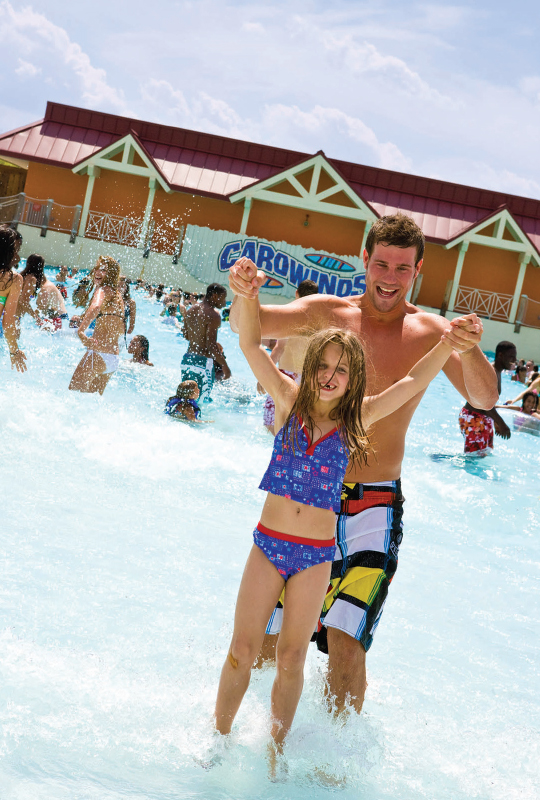 The ride lasts three and a half minutes, and covers 6,602 feet of track. If you're breathless just thinking about it, try this virtual ride: carowinds.com/fury325
Other attractions at Carowinds range from more thrill-seeking to those at family-friendly speeds. There's also Boomerang Bay, a water park (included in park admission) offering a wave pool, lazy river, 11 water slides and more.
One-day admission, purchased online in advance, is $39.99; single day parking is $15. Season passes start at $81; some pass packages include parking and dining options. carowinds.com
Editor's note: Photos courtesy of Visit Charlotte; Charlotte Motor Speedway; U.S. National Whitewater Center; and Carowinds.