Raleigh had fallen, and Union troops were headed this way.
It was North versus South as new freedoms competed with a longstanding way of life – and four years into the conflict, Western Wake was about to land a front-row seat to the end of the Civil War.
"I suspect the people of Morrisville never thought the war would come to their doorsteps," said historian and Triangle native Ernest Dollar. "Located on the railroad, Morrisville was a crossroads community. Every day they watched the war go by."
That is, until the surrender of Raleigh.
Dollar, who has spent decades researching the Civil War and is organizing the Town of Morrisville's sesquicentennial commemoration of its local impact, says Confederate soldiers led by Gen. Joseph E. Johnston believed Union cavalrymen would rest after raising the Stars & Stripes over the statehouse.
A member of the Cedar Fork Rifles demonstrates Civil War rifle use during the re-enactment of a company encampment. The event was held on the property of First Baptist Church of Morrisville.
Instead, they found themselves yanked into a battle on April 13, 1865, that began at present-day Hillsborough Street, rolled through Cary at 1 p.m., and by 3 p.m. arrived in Morrisville. That fight marked the last time a major conflict was conducted on horseback.
Morrisville citizens were panicked by reports of Union soldiers' encounters with civilians, and the burning of capitals Atlanta and Columbia, S.C., by Gen. William T. Sherman.
On the Confederate side, the men of Gen. Joseph "Fightin' Joe" Wheeler were frustrated and angry over Sherman's tactics in South Carolina. To be in the path of the army was dangerous.
Town Under Seige
The Williamson Page family hid in the basement of their Morrisville home as the battle raged, after stashing their valuables in a hollow tree.
"Federal soldiers camped on the Page property, and the home may have been used as a Union headquarters," Dollar said. "The Pages' slaves, realizing freedom was near, told the soldiers where the silver was hidden.
"The Battle of Morrisville came after a long strain on the home front for these families, most of them farmers. People are nervous about a possible revolt by the slaves, and they're lacking basic supplies like sugar, coffee and needles. And remember, one in four white males served, so all of the men ages 17 to 50 were gone to war."
The target of the fight quickly became a train that was attempting to pull away from Morrisville Station. Its dozens of boxcars were filled with desperately-needed supplies, and soldiers wounded at the Battle of Bentonville two weeks prior.
Union Gen. Judson Kilpatrick's troops shelled Morrisville from nearby heights. Soldiers and citizens scrambled for cover as shells punctured homes and barns.
Wheeler ordered barricades around the station to buy time. His troops held the charging Union horsemen at 100 yards, while inside the train wounded officers urged the engineer, not so gently, to head for Durham's Station.
Finally Wheeler order the uncoupling of the supply cars, enabling the train to move and the wounded to escape.
When the dust settled, Nancy Jones, wife of Henry, and a slave discovered a wounded Union solider in her barn, and nursed him back to health. Once he had safely returned home, the soldier sent Jones a gold ring in appreciation.
Seeking Peace
In a midnight surprise after the battle, Confederate courier Capt. Rawlins Lowndes, bearing a white flag, delivered a request for armistice from Johnston. Sherman, West Point-trained like Johnston, agreed to limit his advance to Morrisville, and meet the following day.
Nine tense days of surrender negotiations followed at the farmhouse of James Bennett outside Durham's Station, while Union soldiers camped in Morrisville and Sherman frequented the area by train. It was in Morrisville that Sherman shared the news of Lincoln's assassination, stunning soldiers.
Diary entries from the time of the Morrisville encampment reflect emotions from grief to relief, Dollar says, and intents ranging from revenge to survival.
In the end, Johnston's courier-borne note led to the largest surrender of the war on April 26, 1865, and a turn toward peace.
"From April to September 1865, so little was written about the end of the war," Dollar said. "It was spring, and soldiers were desperate to get back to their homes to plant crops that would feed their families and generate revenue. Horses to pull plows became the No.1 — and oft-stolen — commodity."
Soldiers came home to Morrisville, too, many facing post-war life with missing limbs and other injuries. Among them was William G. Clements, who became a minister and superintendent of Wake schools.
Some bore emotional scars that Dollar notes parallel soldiers' sufferings in America's more recent wars, today known as Post-Traumatic Stress Disorder.
Confederate government officials such as Page, who had been in charge of collecting crop taxes to support the Confederacy, were labeled as traitors and forced to seek pardon from President Andrew Johnson to resume their citizenship.
Civil Rights
"The greatest step in the civil rights movement was the abolition of slavery. But with a half-million casualties, the Civil War underscores just how far the South would go to defend its way of life," Dollar said. "Now people were disoriented, and worried. As 'traitors,' would they become a new sub-class? Stripped of their resources? War was somewhat of an equalizer, the rich now poor and dignity lost. It was a scramble for survival."
Interestingly, even prior to the war Morrisville was home to the Shiloh community of free African-Americans, led by the Rev. James H. Dunston. But newly-freed slaves struggled to compete for strained economic resources.
"The slaves got their freedom, and nothing else. It was a bumpy transition, and they had to learn how to provide for their families. Some entered into sharecropping arrangements with their former masters, and others moved away or went seeking relatives," Dollar said.
The Civil War changed America, and Americans, including those living in Morrisville, which today has a spot on the North Carolina Civil War Trail.
150th Commemoration
A sesquicentennial commemoration of the Battle for Morrisville Station will be held on Saturday, April 18 from 9 a.m. to 5 p.m., beginning at Town Hall, where a historic center has been created to display local artifacts and videos including Dollar's Twilight of Sabers, recounting Morrisville's role in the war.
The day will include a living history camp with costumed demonstrators, lectures and tours, and a groundbreaking celebration for the Morrisville Historic Walking Trail.
School of the Soldier, says town planner Ben Hitchings, will teach the equipment and tactics of Civil War soldiers, as re-enactors demonstrate 19th century firearms and artillery, and cavalry re-enactors show strategies used in mounted warfare.
The event will close with the opportunity to try 19th-century dances to live period music.
While scars on the chimney of the Page House survive as remnants of the Battle of Morrisville Station, much of the original battlefield has been lost to development.
"Ultimately, our goal is to get people thinking about battlefield preservation," said Dollar. "Two important pieces of battlefield land are in danger in Morrisville. To have a preserved battlefield park in the Triangle would be a tourist boon, and would make Morrisville a destination.
"We have a unique piece of history, and we're trying to raise awareness of a great American story."
For the full schedule of events, visit battleofmorrisville.org or call (919) 463-6200.
Additional sourcing: Images of America: Morrisville by Ernest Dollar; battleofmorrisville.org; ci.morrisville.nc.us; townofcary.org; whitehouse.gov.
Notable Events
April 12, 1861
The first shots of the Civil War are fired at Fort Sumter in Charleston, S.C.
June 1, 1861
A send-off is held in the front yard of the Williamson Page House in Morrisville for the North Carolina Grays, who will serve throughout the four years of the war; they're also called the Morrisville Grays and the Cedar Fork Rifles. Among enlistees is Page's son, Malcus, who after the war will serve as Wake County sheriff and registrar of deeds.
January 1, 1863
President Abraham Lincoln issues the Emancipation Proclamation declaring freedom for slaves within the Confederacy.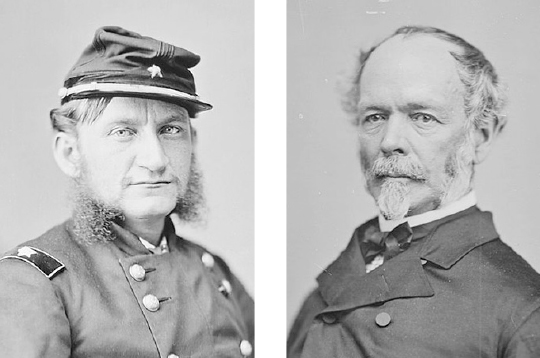 Left: Gen. Judson Kilpatrick Right: Gen. Joseph E. Johnston
September 1864
Union Gen. William T. Sherman's army captures and burns Atlanta.
January 1865
Union Gen. Judson "KillCavalry" Kilpatrick, so dubbed for recklessness with the lives of his men, leads Sherman's cavalry toward Virginia and additional Union forces.
Confederate Gen. Joseph "Fightin' Joe" Wheeler, whose men are reputed to be unscrupulous, joins Gen. Joseph E. Johnston's gathering army in North Carolina.
February 1, 1865
The "Carolinas Campaign" begins; Sherman leaves Savannah to join Gen. Ulysses Grant in Virginia, with the aim of crushing the army of Confederate Gen. Robert E. Lee.
March 19-21, 1865
Confederate Gen. Joseph E. Johnston launches an attack on a portion of Sherman's army at Bentonville in the largest battle fought in North Carolina; the Union prevails. Johnston learns of Lee's surrender at Appomattox Courthouse in Virginia.
April 12, 1865
Confederate and Union troops clash on present-day N.C. 50 at Swift Creek in Garner.
April 13, 1865
Union cavalrymen capture Raleigh; Kilpatrick pursues retreating Confederates west along the railroad. The rolling battle includes a 1 p.m. skirmish in Cary and a 3 p.m. fight in Morrisville.
April 14, 1865
Confederate sympathizer John Wilkes Booth shoots President Lincoln.
Midnight, April 15, 1865
Confederate Capt. Rawlins Lowndes, bearing a white flag, delivers a request for armistice from Johnston to Sherman. Nine tense days of surrender negotiations follow at the farm of James Bennett outside Durham's Station, while Union soldiers camp in Morrisville and Sherman frequents the area.
April 26, 1865
The largest surrender of the war is finalized at Bennett Place, affecting more than 89,000 Confederate soldiers.
BONUS: Drama Depicts War's Reach
A single bullet hole, preserved in a board at New Bethel Baptist Church, serves as a reminder of April 1865, when the Union army appeared in Garner.
Before they reached Cary and Morrisville, a thousand Union cavalrymen clashed with 600 Confederates on Highway 50 at Swift Creek, which was then just a path. It's likely they kept on shooting right down Aversboro Road, today a main Garner thoroughfare.
Behind the battle lines, soldiers and statesmen recorded what they saw, heard and felt during the struggle.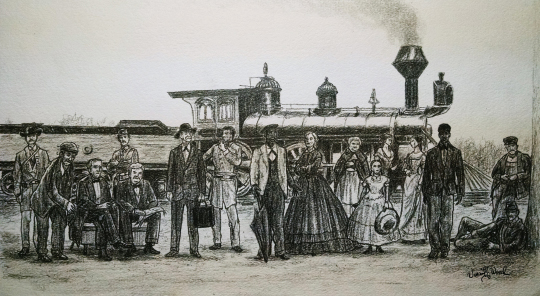 After researching thousands of pages of these diaries and first-person accounts, and consulting with local historians Ernest Dollar and Kaye Whaley, and descendants of those who fought, Garner native and playwright Tim Stevens has created War at Your Door, a musical drama depicting two dark days in Garner: April 12 and 13, 1865, just before Raleigh surrendered to Gen. William T. Sherman.
"There have been incredible surprises; I've been stunned by the coincidences, of how people are intertwined in the tales," said Stevens, a Hall of Fame sportswriter who's also credited with launching the award-winning Broadway Voices that's become a fixture in Garner's arts scene.
"History seems distant when you're disconnected from it, but think about it: Garner's railroad tracks were in about the same place they are now," he said.
"The Civil War happened in Garner. It's of great historical significance, and we should recognize it."
The all-local making of War at Your Door includes modern-instrument arrangements of Civil War-era songs and an overture by Jessica Hall of The Hall Sisters, and is directed by Collin Batten, a Garner High grad who has performed with The Blue Man Group.
Show proceeds benefit Garner nonprofit Community of Hope.
The play centers on a peace train sent by N.C. Gov. Zebulon B. Vance, in an effort to meet with Sherman and ensure that if the Confederates didn't resist advancing Union armies, Raleigh would not be burned by the army as Atlanta and Columbia, S.C. had been.
"A series of 13 monologues, largely taken from the diaries, move the story along; through them we learn the characters' stories," Stevens said. "Widows, black, white, family traditions — it's about the diversity of the people and how they were affected by the war. It's fascinating.
"I've lived here all my life and didn't know. With the play I want to show people that these things did happen here, and to give us a greater appreciation for the sacrifices made. This is a community story."
War At Your Door
April 9-10, 7:30 p.m.
Tickets $12
garnerperformingartscenter.com
LIVE IT!
Bentonville Battlefield 150th Re-enactment
Saturday and Sunday, March 21-22
Bentonville Battlefield, Four Oaks
Nearly 5,000 re-enactors will re-create the largest land battle fought on North Carolina soil. Free; (910) 594-0789 or 150thbentonville.com
Surrender at Bennett Place
April 17-26
Bennett Place, Durham
Witness a re-enactment of surrender negotiations between Union Gen. William T. Sherman and Confederate Gen. Joseph Johnston, plus dozens of living history programs, lectures and music. Admission fee; (919) 383-4345 or bennettplacehistoricsite.com
150th Anniversary Commemoration: The Fight for Morrisville Station
Saturday, April 18
Morrisville Town Hall
This daylong event features a Living History Camp with costumed interpreters giving demonstrations on crafts and games from the era; demonstrations on Civil War firearms; talks on the history of the war; and a groundbreaking for the Morrisville Historic Walking Trail. Free; (919) 463-6200 or battleofmorrisville.org
Historic Presentation
Tuesday, April 28, 7:30 p.m.
Page Walker Arts & History Center, Cary
Civil War authority Ernest Dollar offers a presentation on the move of Union and Confederate armies through Raleigh, Cary and on to Bennett Place. Free; (919) 460-4963 or friendsofpagewalker.org
Walter Hines Page, son of Cary founder Allison Francis "Frank" Page, wrote about the seizing of his family's home and plundering of its land by Union troops in 1865, when he was 10 years old.
Raleigh Occupied
Saturday, May 9
State Capitol, Raleigh
Vignettes will highlight this re-enactment of the Union Army occupation of the State Capitol grounds; nchistoricsites.org/capitol
A Soldier's Walk Home
May 11-23
Duke Homestead in Durham
In honor of the walk taken by Washington Duke at the end of the Civil War, from New Bern to Durham, a re-enactor will make the 166-mile journey, stopping in 11 communities. dukehomestead.org
Find more events: nccivilwar150.com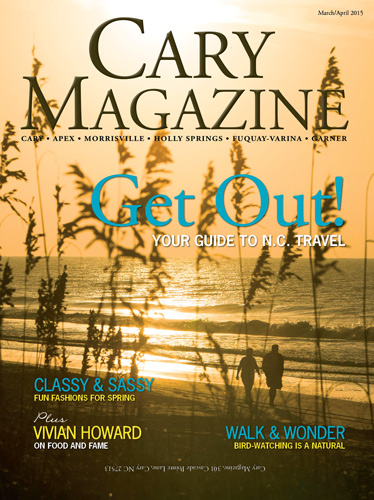 Save the Train: Remembering the Civil War Battle of Morrisville Station