Vivian Howard is perhaps the most well-regarded personality among food enthusiasts in our state and beyond. The owner of Chef & the Farmer restaurant in Kinston, N.C., and star of the award-winning PBS television series "A Chef's Life," Vivian sat down for a chat with Cary Magazine.
David McCreary: Your TV series continues to increasingly resonate with viewers. What can we look forward to seeing in season three of "A Chef's Life"?
Vivian Howard: Some of the ingredients featured this coming season are peaches, figs and beef. We'll also do a casserole episode. That's not an ingredient, but it's an important genre within Southern cooking.
Could you give us some details about the book you have coming out?
It's the first of two books, and it's called Deep Run Roots. I won't deliver the manuscript until this October, so it will be released in October 2016. In each of the 26 chapters, I write an essay about an ingredient, and there are between six to 12 recipes included that relate to each ingredient. All the ingredients are fruits, vegetables and grains except for three proteins, which are shrimp, oysters and sausage. It's not the usual format for a cookbook.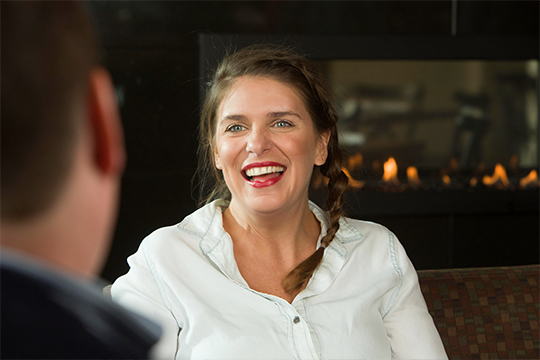 Three words: Blueberry BBQ sauce (available locally at Gather in downtown Cary). Wow! Is this one of the best concoctions you've created or what?
Thank you! When my husband Ben (Knight) and I first opened the restaurant, I was struggling to find my voice as a chef. My dad secured 500 pounds of blueberries for me. I didn't have refrigeration for them, so they started to sour. We ended up making vinegar with them and then ultimately made a vinegar-based barbecue sauce. It was kind of an accidental discovery.
Any recommendations for how to use the sauce?
It's great for brushing on after grilling chicken. I also like taking Boston butts, putting them in a Dutch oven, pouring the sauce in and cooking for several hours.
Do you have any other specialty products you want to tell us about?
We have a relationship with Southern Season, and we're doing some co-branded products. One item is something I call crumble that's a cross between a nut mix and granola. On the jar I offer suggestions for how to use it in salads or as a simple snack.
What are the challenges of owning and running two restaurants?
When the second restaurant opened, the first season of the show launched the same month. Ever since that happened, it has taken me out of the normal participation level in our restaurants. Keeping my eyes and ears and palate engaged in both places is challenging.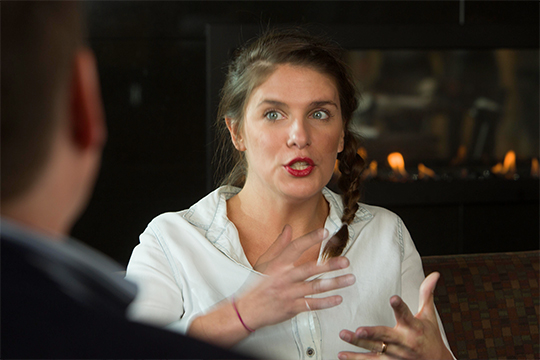 Your newer restaurant is considerably different than the flagship eatery, isn't it?
I love the Boiler Room, which is an oysters and burgers concept. It's fun, the food is delicious and my children love going there. Chef & the Farmer at this point is such a production and a spectacle. People drive there thinking it's going to change their lives. It's just a restaurant, you know? (laughs) At the Boiler Room, the expectations are more manageable, and I feel more comfortable with it.
People appreciate your authenticity and transparency. Does that come as easy as it appears when the cameras are rolling?
The director of the show is a childhood friend of mine, and her husband is the director of photography. The whole time we've made the show, I've felt like I've been talking to friends, so it's been a very safe zone. Maybe at some point I'll become more self-aware and start acting different (laughs).
On the TV show, you seem committed to documenting Eastern North Carolina's traditions. Why is this so important to you?
I grew up on a farm and always wanted to leave. I was ashamed of being a redneck and a river rat. When I moved to New York, I had a period of self-discovery, so when I moved back home, I found a population of people who were ashamed of where they lived. For a long time I've wanted to make my community prideful again. Food is such an important part of culture in Eastern North Carolina. I want to preserve it so we can feel good about it.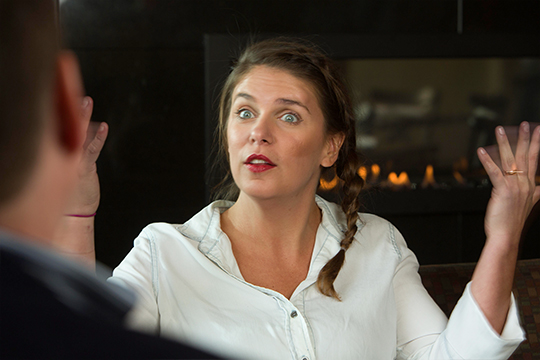 You've said before that your food is constantly evolving. What's on the horizon when it comes to the progression of your cuisine?
As a restaurateur or chef, you always want to stay current. I'm still trying to evolve the food in our restaurants to fit what's going on in the greater world. That's not to say that we're chasing trends, but I don't think we can stay stagnant.
We could so easily become set in our ways and serve the same food we've served for years. People would be fine with it because they come there to have what they've seen on the show. But in order for my staff to be constantly engaged and learn, I feel like we have to keep pushing.
Do you enjoy eating out at other restaurants?
My favorite thing to do is to go out to dinner. I always try to go to the places I've read about. I went to An in Cary last night, and it was awesome.

Recipe: Vivian Howard's Late-Spring Strawberry Beet Salad
With Lemon Vanilla Vinaigrette, Pecan Pumpkin Seed Crumble, Arugula and Blue Cheese
Serves 4.
Note: This recipe can be made using canned beets and your favorite brand of simple, crunchy granola. It won't be quite the same, but it will work.
1 cup strawberries, hulled and sliced into 1/8-inch rings
1 cup roasted red beets, peeled and sliced into 1/8-inch rings
2 cups arugula, watercress or baby kale
1/2 cup lemon vanilla vinaigrette
1/2 teaspoon salt
1/4 teaspoon black pepper
1/2 cup crumbled high quality blue cheese (like Maytag)
2/3 cup spiced pecan pumpkin seed crumble (from the Vivian Howard line, available at Southern Season)
Lemon Vanilla Vinaigrette
3 tablespoons lemon juice
Zest of 1 lemon, grated using a microplane
1/4 vanilla bean, split and scraped
1 tablespoon smooth Dijon mustard
1 tablespoon red onion, grated using a microplane
3 teaspoons honey
1/4 teaspoon salt
1/2 cup grape seed or other neutrally flavored vegetable oil
Make the vinaigrette: In a small bowl, whisk together the lemon juice, zest, honey, Dijon mustard, scraped vanilla seeds as well as the pod, salt, and grated onion. Slowly stream in the oil while whisking. This is best made a day ahead and will keep for up to a week.
Before serving, remove the vanilla pod and shake up the vinaigrette.
Assemble the salad: Just before serving, combine the strawberries, beets, arugula, salt, black pepper, and blue cheese in a medium bowl. Toss gently with all but about 2 tablespoons of the vinaigrette, taking care not to beat the salad to death. Gently stack the salad onto a platter. Sprinkle the crumble on top and serve immediately. Drizzle with additional dressing if you wish.