It may not look like much now, but in just a few weeks the smell of hot dogs and popcorn, the happy cries of children, the crack of a bat, and the cheers of enthusiastic fans will bounce around this construction site in Holly Springs.
Except on May 28, when the Holly Springs Salamanders host their home opener against the Edenton Steamers, it won't be a construction site.
It will be a brand new baseball stadium — the centerpiece of the $20 million North Main Athletic Complex, which will also include two synthetic turf soccer fields and tennis courts for adults and youth.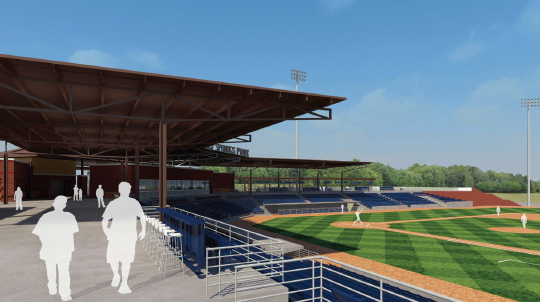 Artist renderings of the Holly Springs ballpark portray the concourse, above, the entrance and the first base view.
"Everyone is excited about having the Salamanders here," said Holly Springs Mayor Dick Sears. "They will have 30 home games here. Those games will bring brand new people into town to play baseball."
As Holly Springs' new home team, the Salamanders are part of the Coastal Plains League, which has teams in North Carolina, South Carolina and Virginia. Players are unpaid college students who sharpen their skills with wooden bats during the 56-game summer season.
"I love this brand of baseball," said Pete Bock, co-owner of the Salamanders and CPL president. "The quality of play and how hard these kids play, they're playing in front of major league scouts. They want their future at the professional level, so they're playing hard."
The emphasis at the stadium will be on fans and family, Bock says. Players will be available for autographs at every game, and kids will be able to come onto the field and interact with the players. And Bock promises more than just the standard ballpark concessions of hot dogs and hamburgers.
"I'll never commit to the fact that we'll be a terrific baseball team, because I don't know that; we think we're going to be good," said Bock. "But I can promise it will be clean, fun, fan-friendly entertainment."
But while baseball fans will enjoy summer evenings hanging out at the park, the North Main Athletic Complex is more than just a home for the Salamanders. The NMAC is Holly Springs' most ambitious Parks and Recreation project to date, and is seen as a way to attract visitors and economic growth.

Putting It Together
In 2009, the Coastal Plains League moved its league office from Raleigh to Holly Springs. Soon, the booming growth in southwest Wake County got league officials thinking that the area was ripe for an expansion team.
"We realized how solid, how advanced in thinking the leadership of Holly Springs was," Bock said, "and we were quick to realize what the future of the southwestern corridor of Wake County was going to be."
The expansion team proposal was brought to town leaders in 2011, and although they liked the idea, there were lots of details to work out. A stadium would need to be built. And as town staff and elected officials pondered the needs of the growing town, the idea of a multi-sport facility began to take shape.
In June 2013, Holly Springs officials announced plans for a Coastal Plains League expansion team and a new $5.5 million, 1,800-seat stadium. The venue would be part of a large, multi-sport recreation complex, located on 42 acres between North Main Street and the N.C. 55 Bypass.
Costing about $20 million, the athletic complex would be built in two stages. Phase one would include two lighted, synthetic turf soccer fields, eight adult tennis courts and four youth tennis courts, and would be complete in March 2015; phase two would include the stadium and have a late May deadline.
"The biggest challenge was: How were we going to fund it?" said Len Bradley, Holly Springs director of Parks and Recreation. "How were we going to tell the story to our residents and business owners about how the park is going to benefit them?"
Eventually the funding was pulled together. Sources include $5 million from a 2011 general obligation bond issue, $8 million from limited obligation bonds in 2014, town reserves, parks and recreation reserves, a $1 million grant from Wake County approved in early February, and $115,000 in parks and recreation bonds to build restrooms and concessions areas.
"This has been such a big project …and people have worked really, really hard on it," Bradley said.
What's Next?
North Main Athletic Complex amenities include synthetic turf in the stadium and soccer fields, which will enable the town to use the field twice as much as a comparable size grass field, says Bradley. The town also plans to use the space for youth football, soccer and baseball.
Officials expect the facility to draw visitors from throughout the region. The Wake Futbol Club plans to hold four statewide tournaments a year there, and the Salamanders are expected to draw fans and teams from Virginia to South Carolina.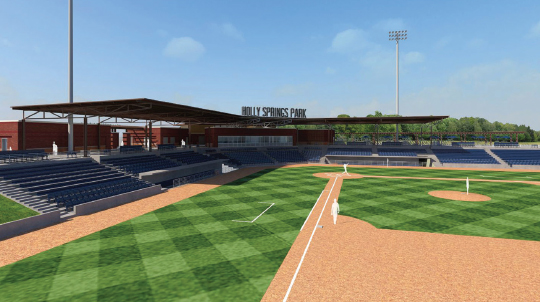 "We want to offer a significant social opportunity that we currently don't have — a leisure opportunity for families to come to," said Bradley. "Also, we are working very hard to get people from out of town, out of state, to come to Holly Springs."
Mayor Sears and other town officials estimate the economic impact of the complex to be about $6.8 million a year. At that rate the project should pay for itself in five or six years, Sears said.
On top of the visitor income those events will generate, the two sports clubs have signed lease agreements with the town. Wake Futbol will pay $84,000 a year and the Salamanders will contribute $85,000 a year to use the facility.
The athletic events are just the beginning, says Sears. He has big plans for this project, which he calls a multisport event venue. He hopes to attract big-name entertainers to the venue, something the town has been unable to do because they haven't had a large enough facility. He also expects the project to spur more growth, maybe a hotel nearby.
Comparing the NMAC to other parks and recreation projects in town, Sears said, "I am convinced that it will rise to number one — the number one attraction in town."
Area stadiums
Durham Bulls Athletic Park: The 10,000-seat park with grass field opened in 1995 and cost $18.5 million.
Five County Stadium in Zebulon: The 6,000-seat park with a grass field first opened in 1991 and cost $2.5 million. The stadium was renovated in 1999.
Source: Wikipedia
Holly Springs projects by the numbers
$20 million
Cost of entire NMAC project, phases 1 and 2.
$6 million
Hunt Recreation Center renovation and addition
$5 million
Holly Springs Cultural Center which connects with a Wake County library branch.
Source: Town of Holly Springs