Great food knows no borders.
Tucked away from passersby yet easily accessible, Totopos features Mexico City-style cuisine in an inviting cantina setting.
It's a bold concept, but the proprietors believed the time was right last fall to introduce Cary's newest dining outpost. Its name is the Spanish term for corn chips.
"We want to help people in Cary experience what it is like on the streets of Mexico City, so they can enjoy the sights and flavors of the culture," said managing partner Miguel Araiza, who runs the restaurant with support from fellow owners Joel Ibarra and Salvador Alvarez.
At Totopos, a display of lucha libre wrestling masks, posters and ringside ropes pay homage to the sport's prominent place in Mexico's culture.
"We are also committed to supporting local farmers, so our food is prepared using locally grown products," Araiza added.
Begin your meal with fresh guacamole that attracts a steady stream of fans. Besides the traditional style, more adventurous options include bacon-mango with chile arbol and chicharron with pickled jalapeño peppers.
Can't decide on just one? That's OK. Ask for the trio tasting, and you'll get all three at once.
Also among the starters are sublime deep-fried taquitos encompassing spicy chicken tinga, Muenster cheese, crema dulce and pico de gallo.
Gluten-free tostadas à la Veracruzana involve shrimp, capers, green olives and bell peppers.
Presented like a work of culinary art, tamales chock-full of chicken tinga, pico de gallo, morita salsa, crema dulce and cilantro showcase the skillful execution of chef Miguel Cuevas.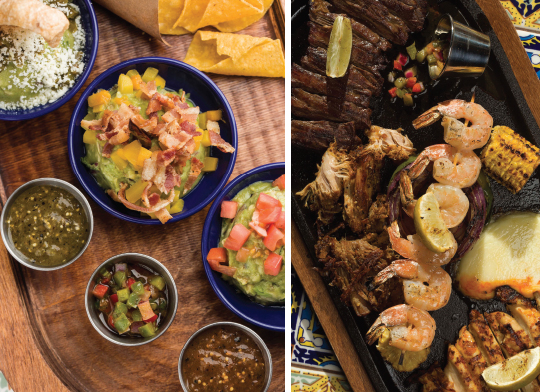 Left: The Guacamole Tasting Trio includes chicharron with pickled jalapeño peppers, top, bacon-mango with chile arbol, center, and the traditional appetizer with tomatoes and serrano chiles.
Right: The Plato Gordo is served in a cast-iron skillet, and features grilled pork carnitas, shrimp, chicken, steak, Muenster cheese, onions, grilled vegetables, corn on the cob and blue corn tortillas.
"The corn husks are locally sourced," said Araiza, a native of Mexico City. "We offer a special called Tamales Tuesday every week."
The perfect entreé for two arrives in the form of Plato Gordo. Served in a large cast-iron skillet, the family-style meal features grilled pork carnitas, shrimp, chicken, steak, Muenster cheese, onions, grilled vegetables, corn on the cob and blue corn tortillas.
More than half a dozen varieties of tacos are available, including slow-roasted pork carnitas and carne asada (superbly seasoned grilled skirt steak). Order the folded-over-and-filled blackened mahi mahi with mango salsa, which deserve most-exalted fish tacos status.
Whether you choose enchiladas or quesadillas, fajitas or chilaquiles, it's a can't-miss proposition.
"We are passionate about providing fresh and flavorful food to our guests," Araiza said.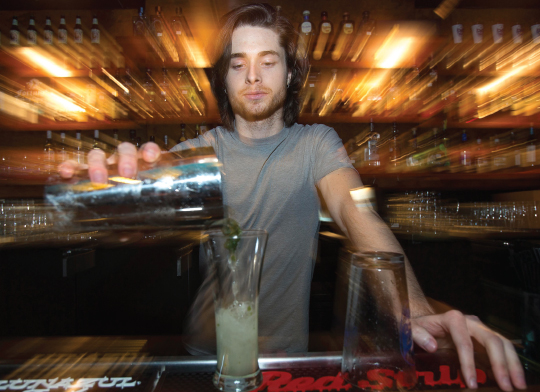 Bartender Jake Lilly mixes a double at Totopos' full service bar.
Dessert lovers should consider these tempting possibilities: Madagascar vanilla lemongrass creme brulee; guava flan; a sorbet trio with lime, mango and wild berries; and fried plantain, a typical Mexico City street dessert, served with vanilla ice cream, cinnamon, sweet cream and condensed milk.
Sunday brunch, which is served from noon to 3 p.m., features everything from traditional huevos rancheros to a quesadilla à la Mexicana with scrambled eggs.
When it comes to libations, a centrally located full bar offers Mexican and locally crafted beers. Diverse assortments of margaritas are concocted with fresh-squeezed juices, 100 percent blue agave tequilas and agave nectar. Try the house specialty Totopos margarita made with orange and lime juices or La Watermelon containing fresh watermelon juice and spicy powder on the rim.
"Besides a restaurant, we like to present ourselves as a tequila bar as well," Araiza said. "Our selection includes blancos, reposados, añejos and extra añejo. Many tequilas are stored in bourbon, whisky, wine or cognac barrels and inherit unique flavors."
Araiza recommends people try selections such as Herradura, Lunazul, Cazadores and Patrón.
"We also have tequila flights available and encourage guests to try a family (a blanco, a reposado and an añejo) from the same brand," he said. That includes a sangrita chaser, which is a spicy, tomato-based drink that's common in Mexico and goes well with the tequila.
"What better way to learn about tequila than drinking it?" Araiza asked. "Let's just hope our guests remember their knowledge the next day."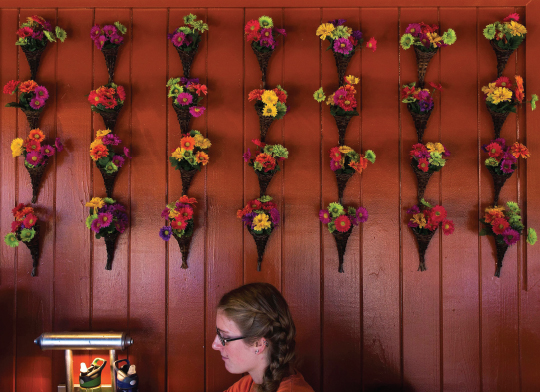 The dining experience at Totopos is both colorful and flavorful.
Décor at Totopos is festive and endearing. The ceiling is indigo blue. Mosaic tile tables and banquettes sit atop red brick flooring.
Veladoras, which are candles with a religious motif, are situated throughout the restaurant.
"In Mexico, these candles are typically seen in the markets, in people's houses and all over the place," said Araiza.
A section near the main entrance displays a collection of wooden trompos, or toy spinning tops. Just across the room are painted steel rods produced by local artist Edwin White, while colorful wooden crates flank the bar area.
One corner of the eatery resembles a wrestling ring, complete with padded ropes, turnbuckles and lucha libre masks.
"Wrestling is hugely popular in the Mexican culture, so we decided to give people a sense of being ringside at an arena," Araiza said.
Closed Mondays, Totopos is open Tuesday through Saturday for lunch and dinner, and Sunday for brunch and dinner. Offsite catering is available, and the restaurant accommodates large groups for business events and special celebrations. Reservations are accepted.
Totopos
1388 Kildaire Farm Road, Cary
(919) 678-3449
totoposfoodandtequila.com