Alexander's Mediterranean Fare is Worth the Drive
Tucked next to the post office in a Garner strip mall, the outside of Alexander's Mediterranean Cuisine invites little notice, but the fresh fare turned out by chef/owner Nicolas Badawy deserves attention, applause and lots of other happy, appreciative noises.
Garner is not known for its food scene, but that is exactly what intrigued Badawy when he took over the restaurant a year ago. Now diners come from all over the Triangle for his Greek-inspired Mediterranean dishes, honed during his 30 years of professional cooking.
"Nobody else has this food. Let me take the risk," Badawy said to himself before buying the restaurant. "I was scared in the beginning. I didn't know if they would accept my food."
Decorative bottles and glasses set the stage at Alexander's.
Although some dishes might be unfamiliar, it's worth venturing beyond the pasta offerings.
The Alexander Shrimp appetizer screams fresh with its herbs, spinach and mushrooms in a light tomato sauce. The stuffed grape leaves, filled with rice and herbs, are a tasty way to start your meal.
The braised lamb shank stands out as the perfect dish for a cold winter evening. The meltingly tender meat, carrots, potatoes and celery, in a fragrant tomato-wine sauce, will remind you of Sunday dinners at your Nana's.
If you have room for dessert, Badawy makes the baklava with thick layers of walnuts sandwiched between flaky pastry and plenty of sweet syrup. But make sure to ask for two forks when you order it; the generous portion invites sharing.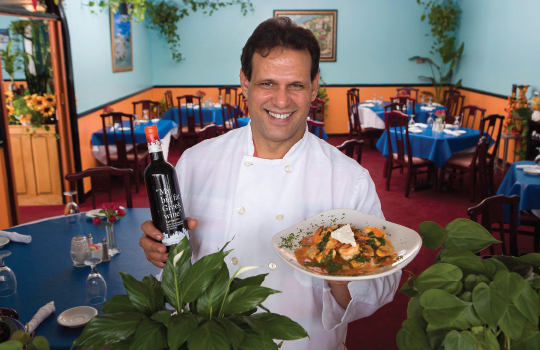 Nicolas Badawy, holding one of his signature dishes, Shrimp Alexander, is at the farmers market every day to find the freshest possible ingredients for his menu.
"I have to make something different, something fresh," he said. In order to be a success, "I have to bring people from all over. And that is what happened."
That commitment to freshness does set him apart: You can taste it in the zing of lemon in the stuffed grape leaves, the crispness of the salad greens, and the crunch of cucumber in the tzatziki sauce.
Badawy will tell you there is no freezer at the restaurant, saying proudly that he cooks everything from scratch. Despite late nights in the kitchen, he rises at 4 a.m. daily so he can scope out the freshest seasonal offerings at the State Farmers Market.
After a recent trip, brilliantly colored green, purple and orange cauliflower ended up on the specials board.
Succulent braised lamb shank is the perfect rib-sticking meal for a cold day.
After the market, he preps the day's dishes and bakes the bread that starts each meal. Although he has a line cook to help, every dish that leaves the kitchen carries his approval. If it is not up his standards, Badawy says he doesn't hesitate to toss it out.
"I don't want to lose a customer, if it's not good," he said. "I'm not worried about two or three dollars."
That attention to detail has caused word to spread about the restaurant beyond Garner's town limits; in fact, most of his customers live in Raleigh, he says. This word of mouth has allowed him to slowly build his customer base.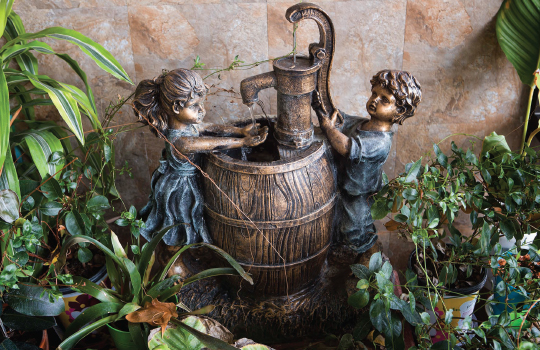 Inside the restaurant, lots of greenery inspires thoughts of warmer climes.
"I feed five people, and get 20 more," he said.
The inviting interior of Alexander's, named for his son who still lives in Athens, also bears Badawy's personal touch. He points out young grapevines he is training to climb an indoor arbor that will eventually mix with other greenery, blue-hued glassware and travel prints decorating the two-room dining area.
At midday, sunlight streams through the front window, providing the perfect lunch setting. But you'll need the big cloth napkin if you order the satisfyingly messy Kofta Soulaki sandwich, with tender herbed lamb meatballs, lettuce, tomato and tzatziki sauce wrapped in a soft pita.
Badawy's commitment to quality and his dedication to his craft was honed during three decades of professional cooking, 17 of those years at Theos Taverna in Pinehurst. Badawy is effusive in his gratitude toward Theos owner Elias Dalitsouris, saying he learned everything about running a restaurant from his mentor.
The spanakopita and salad garnished with imported Greek feta cheese and olives for lunch.
"Whatever success I have, I owe him," Badawy said. "When I see him, I kiss his hand."
Badawy eventually became executive chef at the Pinehurst restaurant. But after years of making the three-hour round-trip commute from his North Raleigh home — sometimes sleeping in his car — he was ready to open a restaurant closer to home.
Although he is still working hard to secure his place in the Triangle food scene, the cheerful proprietor doesn't regret the time and effort needed to build a successful restaurant.
"In this job, you have to have passion," Badawy said. "You have to love what you do."
Alexander's serves lunch and dinner Monday through Saturday, and Sunday brunch. Reservations are accepted, but not required.
Alexander's Mediterranean Cuisine
263 Timber Drive, Garner
(919) 779-1183
alexanderscuisine.com