More than just fuel for the body, comfort food nourishes the soul.
Satisfaction and solace are often found through a hearty plateful of chicken pot pie, beef chili or flaky buttermilk biscuits. The textures and flavors can provide warmth like a wool blanket.
We took it upon ourselves to find some of the area's best purveyors of legit comfort food — and taste it! Several dishes featured here are classics, while others are twists on standard favorites. Either way, it's all made with love.
Blackfinn Ameripub
Must-try dishes: Bacon-wrapped meatloaf and iron skillet mac-n-cheese
Since opening its doors for business last summer, Blackfinn Ameripub has been dishing up first-rate cuisine in a high-energy environment. The pub side of the house offers patrons no shortage of high-definition televisions, high-top tables and 36 beers on tap, including Fortnight, Mother Earth and Aviator, to name a few.
Meanwhile, the main dining room provides a more conventional full-service dining experience.
Strategically placed garage doors provide functionality and flexibility between the two areas.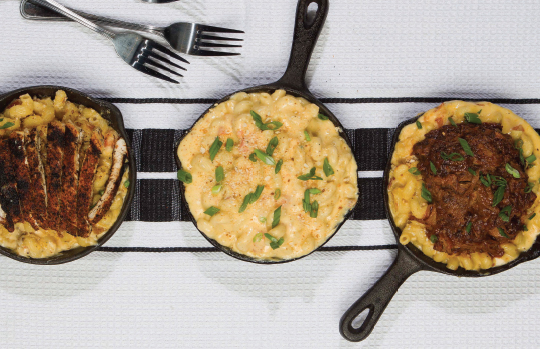 Bliss for mac-n-cheese aficionados — 12-ounce portions created with a blend of cheddar, Monterey Jack and Parmesan cheeses, cavatappi pasta, bacon, tomatoes and toasted bread crumbs. topped with your choice of barbecue pulled pork or blackened chicken.
"When the doors are up, it allows a cohesive energy to flow from both rooms," said Dean Allen, operating partner and a native of Ontario, Canada. "Whenever we bring the doors down, we can provide a different vibe on both sides."
No matter which side you choose, you'll enjoy quality American cuisine with abundant comfort food options. Ponder the can't-go-wrong Southern nachos, pulled pork quesadillas, fish and chips, or fall-off-the-bone baby back ribs.
House specialty bacon-wrapped meatloaf comprises slow-roasted ground beef, red bell pepper and Italian sausage enveloped with crispy bacon.
"We wanted to add another layer of flavor, so we took traditional ketchup and added puréed chipotle peppers and sweet honey," said Don Gale, Blackfinn's vice president of culinary. "It was an instant hit on the menu."
Side items accompanying the meatloaf are delectable sweet potato mash and well-seasoned collard greens. A textbook fusion of butter, cream, brown sugar and kosher salt makes the sweet potatoes extraordinary. The collard greens, cooked for hours in a secret blend of peppers, onions and smoked turkey legs, taste as legit as what your grandmother served for Sunday dinner.
Mac-n-cheese aficionados will find bliss here. A generous 12-ounce portion is created with a blend of cheddar, Monterey Jack and Parmesan cheeses, cavatappi pasta, bacon, tomatoes and toasted bread crumbs. It's topped with your choice of barbecue pulled pork or blackened chicken.
"We use cavatappi (corkscrew) pasta because it holds the sauce better than anything else we've found," said Allen.
What's even more impressive is that each dish of mac-n-cheese is made to order.
"Once you make your selection, it goes into the saute pan right then," Allen explained. "Nothing is held in a steam well."
3201 Village Market Place, Morrisville
Park West Village
(919) 468-3808
blackfinnameripub.com
Daniel's Restaurant & Catering
Must-try dish: Lasagna
For more than 20 years, legions of loyal customers have packed Daniel's day and night, and for good reason. The restaurant keeps doing what it has always done well: serving up first-rate Italian cuisine.
The multitudes happily get their fill of hand-tossed pizza, freshly sautéed pasta and seafood, and scratch-made desserts. Many come for the classic lasagna.
Beef is ground and cheese is shredded in-house to create the 1-pound dinner serving of lasagna at Daniel's.
Among the most popular dishes on the menu, this baked creation is fashioned with seasoned ricotta cheese, sheets of fresh pasta and a layer of fresh ground chuck. It's then covered with fresh shredded mozzarella and Parmesan cheeses.
"We grind the beef and shred the cheese in house," said owner Daniel Perry. "The lasagna is one of the most popular dishes on our menu, and it's been available since the first day we opened for business."
You'd be hard-pressed to find a larger portion of lasagna than the more than 1-pound offering at Daniel's.
"Our guests expect to get a brick of lasagna on their plate, and that's what we give them," Perry said with a smile. The lunch helping is considerably smaller.
The entrée is accompanied by house-baked focaccia bread. Half and full trays of lasagna are available to feed a crowd.
"You can order trays hot or cold, and they're an excellent value," Perry said.
1430 W. Williams St., Apex
(919) 303-1006
danielsapex.com
Back in the Day Café
Must-try dish: Forrest Gump
A retro-themed hideaway worth finding, Back in the Day Café provides its guests a veritable museum to the nostalgic days from the 1960s to the 1990s. An expansive dining room contains hundreds of memorabilia items like Beatles album covers, a Members Only jacket and vintage board games. There's even an assortment of old televisions, including a working RCA console model.
"From a business standpoint, the concept can last forever because today becomes yesterday," said proprietor and New York native Keith Baldi, who spent about two years gathering whimsical items from flea markets and garage sales. "Hopefully people come in and recollect fond memories of the past."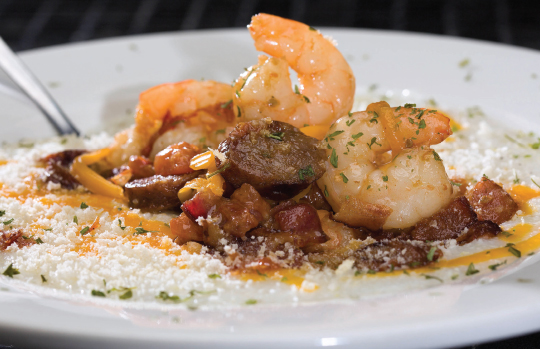 The stick-to-the-ribs shrimp and grits meal, with big chunks of sausage, bacon bits and tomatoes on top of cheese grits, is dubbed Forrest Gump.
Just reading the menu will make you smile. Cleverly named food items like Reuben Kincaid corned beef sandwich (based on a character from "The Partridge Family" television show) and Aunt Bea's fried chicken give a nod to pop culture of yesteryear.
Aptly titled entrée Forrest Gump is a stick-to-the-ribs shrimp and grits meal — remember Bubba Gump shrimp from the movie? Grilled shrimp, chunks of sausage, hickory bacon bits and tomatoes sit atop cheddar-jack and sherry-tinged grits. You can add chicken or steak for a modest upcharge.
"It's comfort food with attitude," said Baldi, who runs the café with his longtime companion, Cindy Townsend. The Forrest Gump dish is available at lunch and dinner.
Breakfast is served daily and includes omelets, pancakes, waffles, French toast, steak and eggs, and beyond. Reservations are recommended on the weekends.
3470 Kildaire Farm Road, Cary
Millpond Village
(919) 267-6389
bitdcafe.com
The Pit
Must-try dessert: Banana pudding
Situated in downtown Raleigh's robust warehouse district, this establishment is renowned for its whole-hog, pit-cooked barbecue, Texas-style beef brisket, fried chicken and much more. It all happens in an exquisitely refurbished 1930s meatpacking facility.
Most of what's churned out from the Pit's kitchen is classic Southern comfort food, from fried green tomatoes and deviled eggs to Carolina spare ribs and barbecue chicken. Resplendent sides like fried okra, potato salad and creamed corn simply up the ante.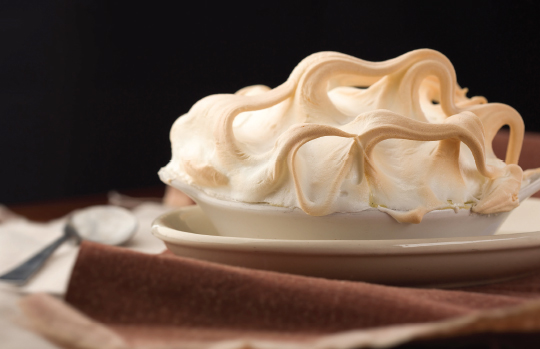 The Pit's banana pudding arrives at the table topped with picture-perfect fluffy meringue.
But no matter what else you try, don't miss the quintessential banana pudding. Sweeter than the girl next door, this otherworldly concoction features a melding of bananas, house-made vanilla pastry cream, graham cracker crumbs and Nilla wafers.
"It's by far our best-selling dessert," said Executive Chef Melanie Finkel, who hails from Cary. "We make about 60 servings each day. People order it all the time, and they come back for it over and over."
Served at room temperature, the banana pudding arrives at the table in a ceramic bowl and is crowned with picture-perfect, fluffy meringue.
"We have to whip the egg whites for quite a while to get the meringue just right," Finkel said.
Consider asking your server to heat up the pudding before bringing it out. The warmth takes it to a new dimension of yumminess.
328 W. Davie St., Raleigh
(919) 890-4500
thepit-raleigh.com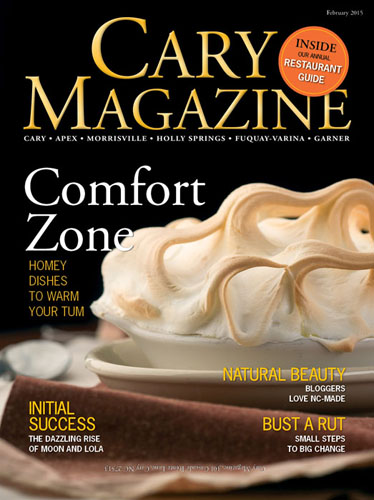 Comfort Food: A Warm Hug You Can Eat