Moon and Lola Rises to the Top
A chic black and white striped awning, topped with a hot pink logo, hanging on a weathered 100-year-old brick building in downtown Apex: It's the perfect style statement for Kelly Shatat.
"I like to be on-trend, with hints of tradition," said the founder and CEO of Moon and Lola, a multi-million dollar jewelry business that has BOOMED from Shatat's Morrisville home into a space built in 1912 for Apex Mule and Supply.
In the place where horses and mules once stabled, Shatat now showcases a dazzling array of her signature monogrammed jewelry, in a retail store flooded with light.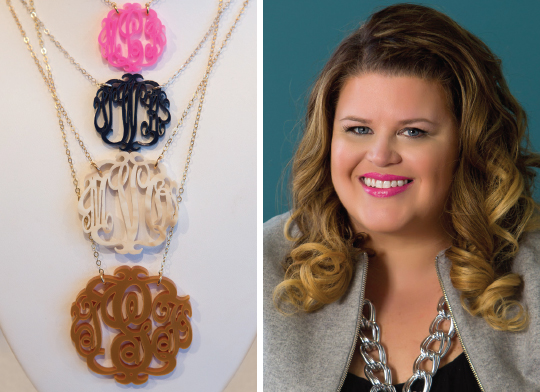 Founder Kelly Shatat, right, says Moon and Lola was the first company to do monograms on colored acrylics, an experiment that turned out to be a hit.
Alongside her hand-cut monogrammed metal jewelry — an old artisan tradition — are her modern and wildly popular laser-cut monogrammed acrylic pieces, offered in 32 colors.
Among the many "pinch me" moments of Shatat's success was when a Neiman Marcus jewelry rep saw a Kate Spade shoe buyer wearing a Moon and Lola acrylic necklace.
The conversation went something like this: "Where is that from? We need it. We need to get them on board today!"
"If you had told me Neiman Marcus would sell our acrylic monograms, I would have said, 'Mmmm-never,' said Shatat. "But we took something unexpected and put it in a traditional manner where it spoke to them."
The Confidant Chair was originally purchased in a Raleigh antique store and redone in Moon and Lola's signature colors. The unique and inviting three-seated clover chair is now reproduced in Mexico and is a signature piece in each M&L store.
Moon and Lola's jewelry line has been called "eye candy, elegant, fun and sophisticated" by top editors. Its products have appeared in more than two dozen major magazines including Cosmopolitan and People, been worn by celebrities Reese Witherspoon, Viola Davis and Ariana Grande, and were most recently listed among Oprah's Favorite Things for 2014.
Shatat's products can be purchased in more than 1,000 specialty stores across the country, and in Australia and the United Arab Emirates. To date, Moon and Lola has shipped product to all 50 states and more than 40 countries.
Still, Shatat doesn't feel she's "made it."
"Do you ever feel like you've made it? That means it's over. I'm always wanting to do more and be more," she said.
Building A Brand
Shatat has often told the story of making jewelry for a Junior League holiday show back in 2003 to fill the creative void left by her day job as a pharmacist. While her jewelry was an instant hit, that was just the start.
"We are trying to be a brand, not just a line of jewelry," explained Shatat.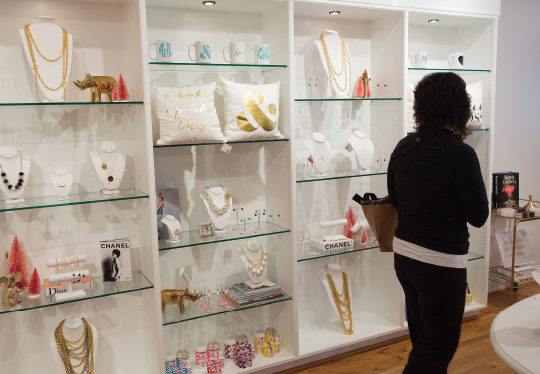 Moon and Lola has stores in Raleigh and Charleston, S.C. Shatat also opened a pop-up store in Nantucket, Mass., during the 2014 travel season.
She seems to have a creative sixth sense when it comes to knowing where jewelry trends are headed.
"I get this feeling when I think people will respond to an idea," she said with a knowing smile. But Shatat also loves sales, marketing and fashion, and seeks to bring those together in smart and savvy ways.
Early on she established her signature colors — white with a splash of hot pink — because she likes how it makes her feel and thinks it sends a message to her customer.
"I thought all our jewelry looked better with a hot pink tag on it. I think it took it up a notch," she said.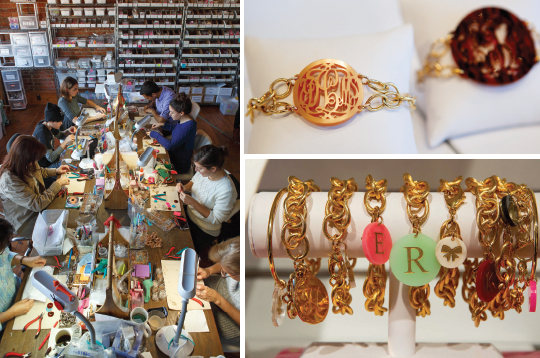 Top right: Moon and Lola's classic yet funky acrylic monogram shows up in gold link bracelets.
Left: Between the soaring 20-foot rafters and heart pine floors, everything from design and production to marketing and shipping happens in the 3,000-square-foot production studio in Apex.
Bottom right: Chunky, Chanel-inspired gold chains mix with personalized charms.
Shatat wants people to see that pink tag and think, "'If they made it, I like it. If they made it, it's good quality.' That's what I want for our brand."
In 2014, she introduced pillows, mugs and wrapping paper. In 2015, new jewelry, more catalogs and possibly a line of stationary will emerge.
"We'll continue to grow our retail stores and we want our website to be the best it can be," Shatat added.
In addition to stores in Raleigh, Apex and Charleston, S.C., Shatat opened a pop-up shop in Nantucket, Mass., (Southerners and New Englanders love a monogram) during the 2014 travel season as a "live billboard" for strategic growth.
"When you are in a travel destination, people come from all over the world and take Moon and Lola back to their homes in their area," explained Shatat.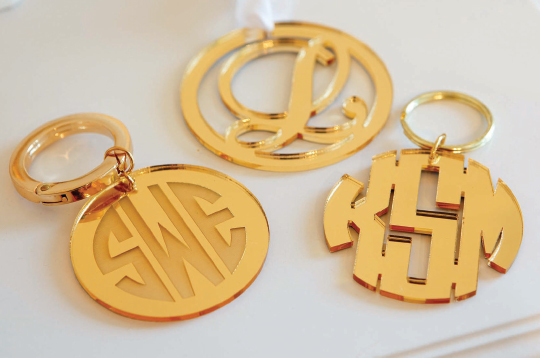 Moon and Lola's silver and gold monogrammed jewelry preserves an old world tradition of hand-cutting metals.
She made another critical brand-building move early on, when she decided to hire a publicist. At a 2004 trade show in New York she realized that was how her competitors were getting good press and celebrity photo opps. Shatat hired one of the top fashion PR agencies in Los Angeles.
"Her product is smart, editorially savvy, priced right and relevant to what people want," said Pitch! Press publicist Shannon Cavanaugh.
Cavanaugh calls Shatat an "editorial darling," which explains why her products have been featured in dozens of magazines.
Yes, she meets every demand or request. Yes, she has an amazing product. Yes, she is smart and hard working. But Cavanaugh says what sets Shatat apart in a market saturated with phoniness and flashiness is her very essence.
"My editors will say she is genuine and sincere. You can see it in her eyes, they light up. She's very real," said Cavanaugh.
The O Effect
Of all the great press Moon and Lola has received, nothing quite compares to being chosen for "the list" of Oprah's Favorite Things.
As a longtime fan of Oprah Winfrey, a meeting with O editors last August proved to be the coup Shatat had secretly been hoping for for years. She took a roll of jewelry to New York to show editors and got an immediate response to her acrylic monogrammed cufflinks.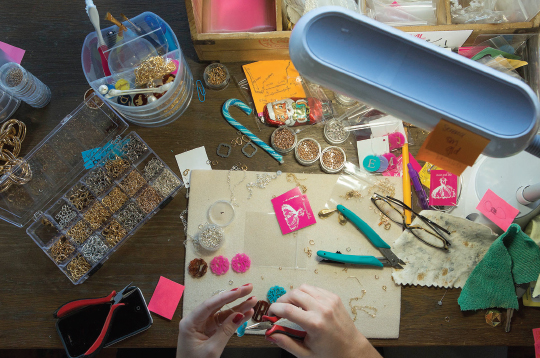 Most of the company's 36 employees work in the loft studio in Apex.
"I loved it at first sight — the colors drew me in, as did the variety of silhouettes, shapes and sizes," recalled Rae Ann Herman of O, the Oprah Magazine. "I wanted to bring in the cufflinks to show for Favorite Things as I knew they would appeal to Oprah and our reader. We always love color and personalization."
When Shatat received an email last October that read, "Congratulations! You can open the champagne!" along with Oprah's Favorite Things logo to be used on Moon and Lola's website, it was indeed a dream come true.
The excitement grew even more when the cufflinks were one of five items chosen from the list to be featured on Good Morning America's "Deals and Steals" segment in November. The cufflinks, regularly $68, were offered at half price for 24 hours.
"It was the most exciting day ever!" Shatat said. "We got here at 6 a.m. for a watch party and to be ready to answer phones.
"It was like watching the stock market. It was order after order after order. You could tell when it aired in a new time zone. We could watch the orders come in from across the country," she exclaimed. "It was crazy, insane. We did a month's worth of orders in a day!"
Colorful acrylic bracelets put a classic spin on casual jewelry.
That momentum continued through the 2014 holiday season as Moon and Lola doubled, tripled or even quadrupled its numbers over the same day the previous year.
That's the tangible effect. The intangible O effect is the goodwill and well wishes, from friends and acquaintances who are truly happy for her success.
"It just feels so good. It's personal," Shatat said.
Letting Go to Grow
The same drive that kept this UNC grad working on Moon and Lola through the night after a day at the pharmacy — "When I was tired at night I would tell myself, 'My competitors are asleep. How can I get two lives out of one?'" — propels her now.
She encourages other would-be entrepreneurs to be "doers," not just dreamers, to always ask questions and to be open to learning new things.
"I'm not afraid to ask for help or advice. I've always had a certain amount of bravery in this place (Moon and Lola) in my life," explained Shatat.
She let go of her day job in 2011 to give all of her time to Moon and Lola. By 2012, sales quadrupled.
In 2014, Shatat hired Jeff Hutto as president and COO of Moon and Lola. His experience with designers such as Diane von Furstenburg and Helmut Lang will take the company to new heights, but letting go wasn't easy for Shatat.
"That was very hard for me. I've made every decision. I've hired every person," Shatat said. "But my goal has never been to be comfortable. I am uncomfortable if I am comfortable."
Shatat will remain the creative voice of Moon and Lola, but she realizes her job now is similar to that of a parent with her child.
"I birthed it, but it has its own heartbeat, its own arms and its own legs. There is something it's supposed to be and it's my job to protect it, and help it be all it can be."