Trying new things helps make us happy, successful and confident.
So what's holding you back?
What if there were an easy way to be happier, smarter and more confident? We've all heard that one before, but this is no empty promise. Experts aplenty, including several scientific studies, agree that adding new experiences will help us achieve those goals.
Novelty makes us happy, as anyone who has spent hours playing with a new gadget will attest. Trying new things jolts us out of our rut and makes us pay attention. And by working small risks into our everyday lives, experts say, we can feel better prepared to face big change.
Matt Wight, principal of Apex High School, encourages both his children and his students to challenge themselves on a regular basis. This fall he will follow that advice himself when he becomes principal of Apex's new Friendship High School.
"I felt like it was time to do something new," he said. "The chance to open a new school, to create a new culture was really exciting to me. I'm being pushed outside my comfort zone, but that's life."
Seeking challenges and opportunities to grow keeps us engaged and happy, Wight says, but as soon as we become complacent, we cease to make our best effort.
"My dad had these sayings," he said. "It may be a cliché, but he would say, 'As long as you're green, you're growing; but if you're ripe, you're rotting.'"
Stefanie Zizzo, a career and life coach from Apex, agrees. At one time she didn't consider herself a risk-taker. But since moving from New York nine years ago and starting her own business, she now consistently looks for ways to challenge herself and encourages her clients to do the same.
"If the thing you want to do feels valuable, but it's a little scary, … those are the moments to step out," she said. "It's like a muscle; the more you do it, the easier it is to do."
Zizzo also asks her clients how they might be getting in the way of their own success.
"We get in our way by our internal dialogue, how we talk to ourselves," she said. "If the conversation we're having inside our heads is very positive, very affirming, if we believe whatever we want is possible, we're more likely to keep going."
So believe in your own new beginning, and don't be afraid to step outside your comfort zone.
Passion for Design
"The biggest risk I have ever taken is quitting my job to pursue my passion for design. A daunting task at age 57. My mother always told me, 'You can do anything you want to do if you want to do it badly enough.' That phrase has been a refrain often in my life but never more so than when I took this risk. It helped me decide to be brave and go forth in many tasks but especially this one — to become a professional wedding floral designer. … It has been almost five years since I launched MEWS Designs Wedding Florist. …
This is the only job I've had in my life that I truly love. I wish I had been doing it all my life. I guess in a way, my life has prepared me for this. It has been and is a huge blessing. The cherry on top is working with my entire family and utilizing their talents from design to marketing and advertising. The support of all my family near and far has been priceless. I am grateful, less stressed and joyful every time new flowers are delivered for design. Then I can begin to create for my bride — the wedding flowers of her dreams. "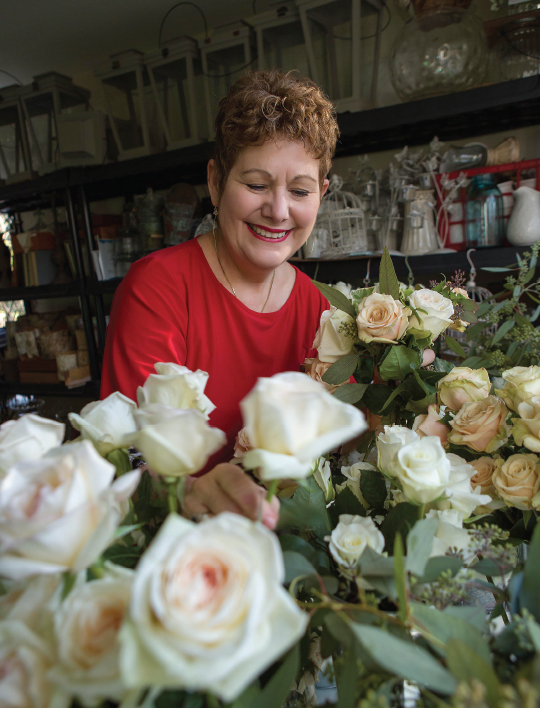 Marsha Wrenn Snyder, at her home studio in Cary, prepares flowers for an upcoming wedding.
Marsha Wrenn Snyder, MEW-Designs Wedding Florist, www.mews-designs.com
Advice for Career Change
Stefanie Zizzo offers these general guidelines for folks who want to make a career change. She cautions they may not work in every situation, but it's a good way to start thinking about your next big change.
Discovery
The first step is to figure out what matters to you and who you are. "Often people want to jump right in to how to make something happen, but if they don't know what they actually want to happen, they're going to be stuck," Zizzo said.
The easiest way to solidify all the vague notions swirling around your head is to make a couple of lists.
1. Take stock of what is working. Look at successes in your current career and in your past, as well. This should include any community service or volunteer work. What was your best experience? Where did you shine the most? Where did you really use your strengths?
2. Define what is missing. This can be something that you wish were present in your job. This list can include things you dislike, but try to turn the negatives around in order to define what you really want.
After making the lists, it will be easier to figure out what was making you happy. Was it where you were working, or what you were doing? "People often think it's the whole career that needs to change, when sometimes it's just the place that needs to change," Zizzo said.
Exploration
If where you work is more important, explore different industries and various organizations that may be a good match for what you want. If what you're doing matters more, explore different roles that play to your strengths.
Read about it, talk to people with experience, and experience it for yourself. Ideally all three of these exploration methods should be used.
Exploration can last a while, so as this plays out you need to put the "how" on a back burner. Getting excited about the prospect of something new, it's easy to start down a career path and then get discouraged when it doesn't work out as expected. Focus on "Is this the right path for me?" instead of "How can I make this happen?"
Execution
Identify two or three viable options, and design a plan of action to accomplish your goals. This plan should include specific action steps.
Your plan of action will include an inventory of knowledge, skills, strengths, experience and education. How do these assets align with your goals? Look at what's there — not what's missing — and that's how you market yourself. Your assets will shape your entire job search.
Stefanie Zizzo, (919) 744-9722, stefanie@stefaniezizzo.com
Something Completely Different
"The biggest risk I have taken is starting my own business after being laid off several years ago from an engineering firm. Jobs were hard to find, [so eventually] … I decided to open a small retail shop. Did I have any retail experience? No, not even a little bit. I had worked in engineering for 30-plus years.
Yes, it was a little crazy to do something completely different, but somehow I have found a retail niche. I started with my favorite things — hats and teas, and have now expanded with specialty food items, along with locally made hand lotions, sprays and soaps.
I own Mad Hatter in downtown Fuquay-Varina; it is a quaint little shop, whimsical and fun."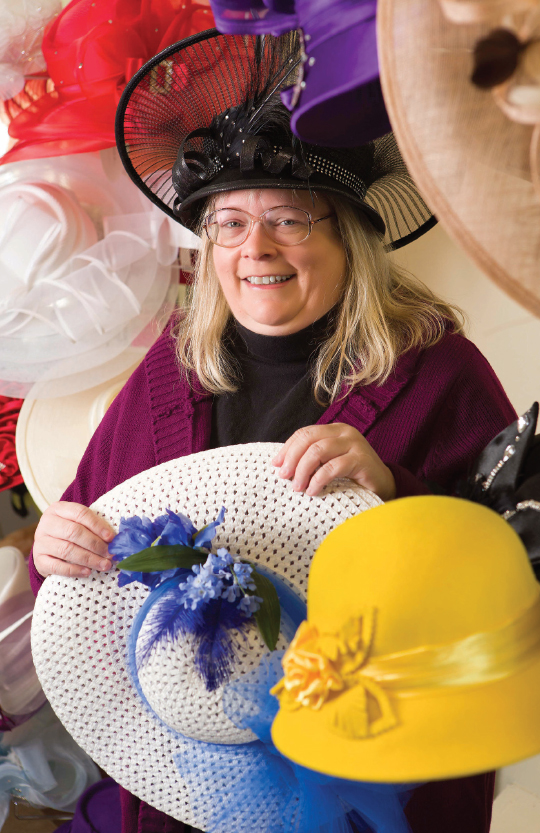 Bobbie Asad sells hats, teas, specialty food items and locally made personal care products at her shop, The Mad Hatter, in Fuquay-Varina.
Bobbie Asad, Owner of Mad Hatter, madhatternc-com.webs.com
Time for a Challenge
"I had been the basketball coach at Louisburg High School for five years, when the position at Apex High came open. I decided to apply. It was a hard decision for me, but it was time for a new challenge. I am so thankful I did. Building the program and then the state championship last year, it has been a great experience."
David Neal, Apex High School Boys' Basketball Coach
Toward a New Life
"It was a difficult decision to uproot ourselves after 17 years in Charlotte. We tried changing attitudes and activities but to no avail. Because my husband worked from home, we did not have to look for work, so we began looking at where we eventually wanted to retire. Our thoughts kept coming back to the Triangle, particularly Raleigh and Cary, but we wanted to be as sure as possible that we were choosing to go toward a new life.
We were looking for good public schools, outdoor activities, universities and all they offer in programming, top-notch medical facilities for when we retire, proximity to family, and a relaxed community atmosphere.
After a year and a half here in our new home, we can definitely say that taking the risk was the right decision. We came to a place where the whole family is blossoming in our new life!"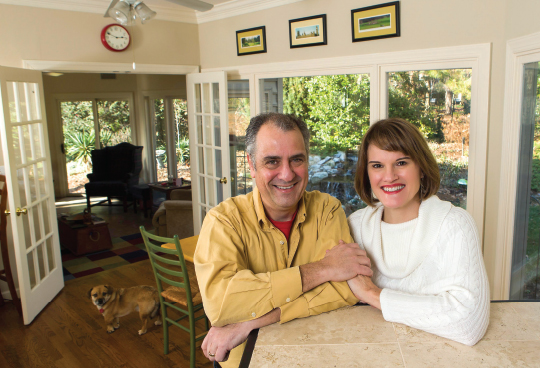 Although it was difficult to leave Charlotte, John and Karen Price are happy they decided to move to Cary.
Karen Price, Cary transplant