"Honey, I'm home!"
For many married couples, dinner conversation centers on the events of the workday, the who-what-when that happened while you were apart. But what if you weren't?
What if the spouse who shares your meatloaf, towels and remote control also shares your corporate address?
For those bringing home the bacon from a co-owned business, the conversation is altered and the stakes can be high.
Meet three local couples who share the ups, downs and delights of being couplepreneurs, and how they manage to sustain their vows to "love, honor and cherish" in the mix.
Bruce and Robin Foster
Mr. Handyman and Dazzle & Lace
Ages: 50-plus
Years married: 34
Years in business together: 4
Family: 2 grown daughters, 1 granddaughter
Number of employees: 5
What do you do when 30 years of corporate life ends in layoff? If you're Bruce and Robin Foster, you devise Plan B.
"I looked for work, and we looked at companies to buy. Whatever happened first was it," Bruce said of their situation in 2010.
"It" turned out to be the Mr. Handyman of Western Wake County franchise, which offers professional handyman services to homeowners and businesses.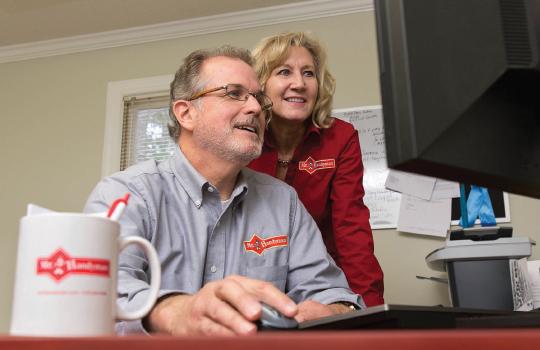 Bruce Foster manages the day-to-day operations of the Mr. Handyman franchise, while Robin Foster handles the marketing and consults on hiring.
"Neither of us wished this," Robin said of the layoff. "But I told Bruce, 'This is your chance. What do you want to be when you grow up?' I think his choice was inspired by my dad being a builder, and that Bruce has been on post-Katrina mission trips to Mississippi."
Robin was already an entrepreneur, as founder of the 20-year-old Dazzle & Lace party firm known for providing services to the Jimmy V Golf Classic and to Pay It Forward, the annual fundraiser of the Caring Community Foundation.
For the first three years, the couple operated both businesses from home, emailing, "Are you hungry?" from one room to another at mealtime.
The early days of Mr. Handyman were tough, as Bruce organized computers, vans and client scheduling. Returning from their first convention, they found their only technician had quit.
The Fosters persevered.
"We've seen major evolution from that home office with technicians coming in and out and phones ringing for both businesses," Bruce said. With growth and development across their territory, they now operate Mr. Handyman from an office park.
Bruce maintains operations and Robin the marketing. She gets final say on all hires, since 80 percent of their customer base is female.
"Our roles are fairly set; that separation of duties is helpful," Bruce said. "But our techs call her the boss!"
Even after 30 years of marriage, Robin says she learned new things about Bruce in launching Mr. Handyman.
"When he was in the corporate world I didn't see the details, and we didn't talk business much," she said. Now she's impressed by his organizational skills, such as maintaining an individual folder for every client, and his fairness in dealing with customers and technicians.
At home, whoever walks past the laundry pile starts a load washing, and the last one out of bed in the morning makes it up. Their busy schedule means Robin cooks a couple of times a week, and they otherwise enjoy subs, pizza and Chinese food.
Bruce is particular about their cars, but not his dresser. Robin hates dishes in the sink, but her Dazzle & Lace workroom "looks like a bomb went off."
"We're both organized, inconsistently!" she said. "But having the Mr. Handyman office outside the house is great; it helps us separate work and personal life."
With the recent addition of office staff, the two can finally vacation, taking summer trips to Smith Mountain Lake in Virginia, and visiting their daughters in London and Greensboro.
They enjoy Carolina Hurricanes hockey games, Robin takes beach trips with girlfriends, and Bruce plays golf and softball.
Being married to her business partner does have challenges, Robin notes.
"It's one more thing to disagree about. And it's harder now to talk to each other as husband and wife," she said. On the plus side, they enjoy networking with other local business owners and the freedom of setting their own schedules. That allows visits with the Fosters' biggest love: their first grandchild, Avery.
They also find ways to keep the romance alive. For example, Robin gave Bruce a canister of dates — the fruit — with coupons for date-night outings tucked inside.
"If we didn't work together, I'd miss it," Bruce said. "And I'd miss seeing her in her Mr. Handyman outfit."
Josh and Katie Dies
Stick Boy Bread Company, The Mill
Ages: 30-plus
Years married: 11
Years in business together: 7
Children: Two sons, ages 2 and 8 months
Number of employees: 30
Start from scratch. That's what many young married couples do, but Josh and Katie Dies took the idea literally.
College sweethearts, they've built a sweet life inspired by a dream and a part-time job in a Boone bakery.
"Josh was a draftsman for a Cary engineering firm, and I sold real estate," Katie said, following college graduation and his job transfer to the Triangle. "But he was wishing for something that offered more variety and the chance for us to work together, something that would fit a niche in Fuquay-Varina."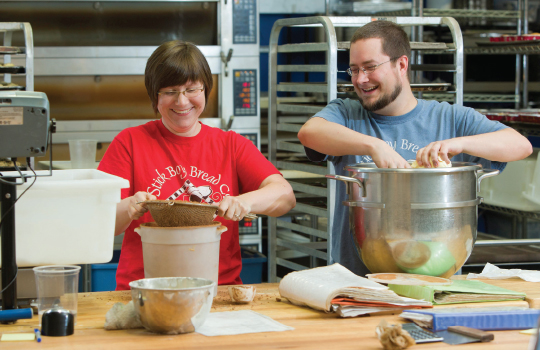 Josh and Katie Dies own Stick Boy Bread Company in Fuquay-Varina, and recently launched The Mill, a coffee, wine, and beer bar that serves Stick Boy desserts.
The answer? A bakery.
Partnering with friends and former employers Carson and Mindy Coatney of Stick Boy Bread Company in Boone, the Dies underwent a year of hands-on training from bread-making to managerial responsibilities, testing recipes at home and transforming an old Western Auto into a bakery.
In January 2008, they opened Stick Boy Bread Company in Fuquay-Varina, with a supportive family at their sides.
"We had a little money in savings to throw in, and we thought we'd see what happened. If it didn't work then we'd live off of beans and rice, and start from scratch," Katie said.
"Or move in with our parents," Josh added with a grin.
Instead, the community embraced the bakery's handmade breads and treats, and its owners' hospitality. As the business grew, so did the Dies family, with the addition of son Jonah.

Last November, at customers' request, the couple added The Mill, a two-story coffee, wine and craft beer bar offering Stick Boy desserts, just across the street.
"We had purchased The Mill building and were doing the renovations when we found out we were expecting Micah," Katie said. "But we firmly believe that God gives us the ability to work through situations."
They work hands-on shifts, Josh overnight in bread production and Katie managing daytime operations. The family eats dinner together at 4:30 p.m.; Josh does the cooking.
"It's tricky but we try to communicate well, even if it's by text or email, and give each other a lot of grace," Katie said. Most days, the family gathers for a walk about town.
"There's a huge sense of community in Fuquay-Varina. It's fun to get to know people, from our daily customers to encouraging new business owners," said Katie, who serves on the Fuquay-Varina Downtown Association's board of directors.
Josh says he and Katie are "still learning how to leave work at work."
"It takes patience, and we have to utilize as much at-home time as possible," Katie noted. "If we neglect that, it creates stress. We steal time. We go out to breakfast, say no to a lot of social requests. Saturday night is family time, since the bakery's not open on Sundays."
They keep their fun close to home, watching movies or hanging out with friends. Josh plays video games to "decompress," while Katie enjoys a mani-pedi. For one week each year at the holidays, Stick Boy shuts down so the family can enjoy uninterrupted time together and visits with relatives.
For Josh and Katie, romance also blooms in small, quiet ways.
"Josh surprised me with a clean house; I consider that an act of love," Katie said. "Or he'll surprise me with flowers, a chocolate bar or my favorite ice cream. We take advantage of the little things, the tokens with big meaning."
Would they trade their aprons for a less hectic life? No way.
"I'd miss the partnership, knowing what's going on each other's day," Katie said. "And I love having the freedom to bring the kids to work, and go on that morning walk."
"I knew Katie was smart when we got married, but I've learned just how smart she is, and how calm in the face of insanity," Josh said. "Our unofficial motto is, 'We'll figure it out!'"
David and Susan Brigham
Brigs Enterprises
Ages: 50-plus
Years married: 35
Years in business together: 26
Pets: Parrot Romeo Langolier, and koi in an at-home pond
Number of employees: 125
David and Susan Brigham believe in love at first sight; it happened to them.
Married at age 21, Susan worked as a restaurant server while earning a degree in economics. David sold livestock medicines in the family business and later, life insurance.
Opposite shifts were tough on the lovebirds, so David worked alongside his wife on weekends. He fell in love with the work, too, and the move changed their lives.
"We looked at each other and thought, 'What's more challenging than owning our own business?'" Susan recalled. And the first Brigs restaurant was born.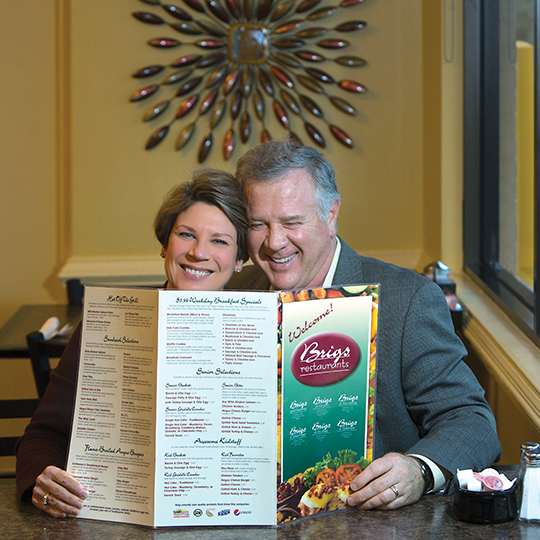 Susan and David Brigham, who operate two of the five area Brigs Restaurants, have worked together for 26 years.
"I knew about the pressure and uncertain hours of being an entrepreneur, from my father," David said. "Susan and I borrowed every penny to start, at a high interest rate because we had no track record. We had to think big, but act incrementally."
For the first few years the couple worked 110-hour weeks cooking, cleaning and eating "whatever leftover food would go bad tomorrow," he said, including lots of Waldorf salads. For 14 years they didn't take a vacation.
Today, the Brighams operate two of the five area Brigs locations, including the original store in Raleigh, and hold franchise rights to the other three. Each of those restaurants is owned by good friends of the couple, who also began their Brigs careers in hands-on roles.
As president of Brigs Enterprises, David still works 60 hours a week handling vendor contract negotiations, marketing, advertising and menu development. CEO Susan handles accounting, works with managers and oversees décor redesigns.
"If we make a commitment, we keep it, and we made that in marriage and in business," Susan said.
"We've learned how to handle challenges," David added, "and to deal with the gravity of our decisions, their effect on others' lives."
At home, David tends the yard, including his prized koi pond with waterfall; he jokes that Susan does "everything else."
"Susan does 90 percent of the laundry. I just take lots of credit for my 10 percent!" he said. "And I don't clean because she re-cleans."
"Oh, puh-leeze," Susan joked back.
For their 50th birthdays, the couple each chose a destination to visit: Holland for David, and France for Susan.
Maintaining their corporate office at home offers the couple more flexibility, but they have to be careful to claim personal time.
Susan enjoys gardening and daily gym workouts, while David likes golf and collects postal cards. They have season theater tickets, and enjoy Survivor night at home with popcorn and cocktails. Both like laughing at Jon Stewart and Saturday Night Live.
"We joke — a lot!" Susan said. "We have to look at the big picture and laugh; every year we could write an entire screenplay of what happens at the restaurants. You can't make this up!"
The Brighams cite sacrifice, trust and passion as key to their success.
"When we argue about hanging art, it's because of our passion for the business. If your partner is just as passionate as you are, then you will clash sometimes," David said.
"You need complete commitment to the business endeavor," Susan added, "and the same value system. We are simpatico. You have to be able to look at things long-term, and be realistic about the timeframe needed for success.
"Everything we've done for 26 years has had a common goal; it's such a special bond we share," she said. "David is the best person I've ever met. He's ethical, moral, hardworking, and I have nothing but respect for him. I love him even more deeply now than before."
"You know when something happens that excites you, and you've got to tell someone?" David asked. "For me, that's Susan. We're not in this alone, during the tough times and the celebrations."