You're missing an earring. Or the best man is wearing white socks. Something always happens during a wedding, from tiny mishaps to full-blown bloopers.
In the spirit of Valentine's Day, three brides share near-disasters that wracked their nerves on wedding day, but have since become favorite recollections and reminders that it all works out in the end.
Ryan & Danielle Tronovitch, Raleigh
Married June 14, 2014 in Cooperstown, N.Y.
"We were lucky enough to have a perfect wedding, from the weather to the ceremony to the reception. However, the one very small hiccup had to do with our photographer's second shooter. She apparently had an ear infection that caused her to be about two hours late.
"Not only was she late, but she got lost every time we drove to the next location spot for photos. Her job was to capture the groom and groomsmen getting ready and having fun before the wedding, but there are very limited photos of any of the guys prior to the wedding.
"Ryan and his friends are extremely sarcastic and had a great time when she did show up, though. It turned into the laugh of the day for the wedding party! Despite the hiccup, and still today, we wouldn't have wanted any other photographer to shoot our wedding day. She captured the most gorgeous photos, truly showing all of the beautiful details of our special day."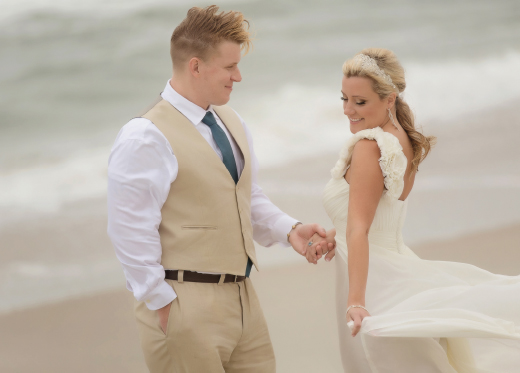 Mac & Jennifer Conover, Roswell, GA
Married Sept. 26, 2014 in Wilmington, N.C.
Bride's hometown: Garner
"We were so excited to have our pictures taken on the beach and by the Cape Fear River. Unfortunately, the day of our wedding was incredibly windy … dresses were flying everywhere and our hair was being blown in all directions!
"We didn't think there was any chance the pictures could possibly turn out the way we had imagined. Luckily, we had an absolutely amazing photographer, Heather Lauffer of Heather Lauffer Photography, and she knew just what to do to still make them beautiful!"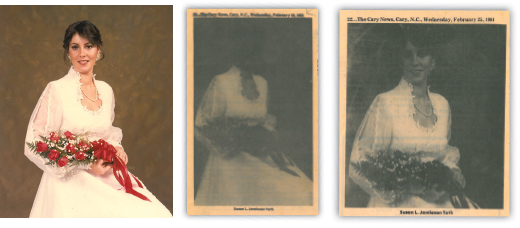 Larry & Sue Toth, Cary
Married Feb. 14, 1981 in Cary
"Here is the original photo, the first Sunday the announcement was printed in The Cary News, and the following Sunday where they tried again.
"I got teased about being the headless bride. My mother was so afraid to show me when we got back from our honeymoon, but I thought it was pretty funny.
"Our anniversary is coming up — 34 years on Valentine's Day. I'm still married to my high school sweetheart. We both went to Cary High and still live in Cary."