Imagine knowing what you want to say but not being able to find the words. What if you saw letters and sentences on a page but you were unable to make sense of them? People struggling with aphasia fight this battle every day.
Voted one of Western Wake's Best Nonprofits in the 2019 Maggy Awards, Triangle Aphasia Project helps those who have lost the ability to communicate by providing services that assist them in regaining these vital skills.
"Communication is the power that connects people to their family and friends, and when someone has aphasia it affects all areas of communication," said Maura Silverman, speech pathologist and director of TAP.
Aphasia results from a brain injury after a person suffers a stroke, tumor or other neurological condition. A person may suffer deficits in speaking, writing, listening or reading.
Using gestures, David Bauer tells Maura Silverman that he's going to be a grandfather in a few days as his daughter-in-law is pregnant. Silverman then writes it for him to say. "You can get a message across using gestures or drawing, but providing support to get them to use speech actually retrains the brain," she says.
"The frustration with aphasia is that it does not affect your intelligence, so cognitively the person is intact, but they have a challenge in communicating," said Silverman, who founded TAP in 2003.
The goal of the organization is to get involved as soon as a person begins dealing with aphasia, instead of waiting until after he has begun rehabilitation. Individuals are referred to TAP as a community resource by hospitals and medical professionals.
This organization is divided into three components. The first focuses on the individual experiencing  aphasia. Programs such as therapy groups, weekly meetings and support groups encourage people to reach their maximum potential. Silverman says there is always room for improvement, and giving up is not an option.
The second component focuses on the individual's family and friends. Family services include support groups and communication training in which the family learns better ways to communicate with the loved one suffering from aphasia.
TAP also offers a children's program to aid the children of individuals with aphasia in understanding the changes occurring around them. Silverman put together a video that helps explain to children what their family member is going through and how they can better communicate.
The third program component is for the community. Informational training is offered to medical professionals, employers and community groups so they can better help people dealing with aphasia, and reduce communication barriers.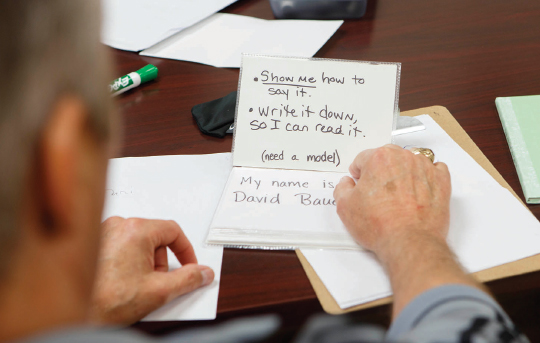 David Bauer uses a communication aid to help express himself, but also to cue others on how best to communicate with him.
Although TAP has grown from one group into 14 groups across North Carolina since 2003, Silverman wants to see more expansion in the coming years.
"We have people getting back to their lives, and I'd like to see more of that," Silverman said. "I see us spreading across the state and providing more resources within the Triangle."
Four words describe her goals for TAP: Hope, purpose, engagement and determination.
"You should never give up hope," Silverman said. "If you don't have a reason for getting up every morning, it's hard not to be depressed. We ask our clients what they want to do with their lives, so that we can help support them in that.
"We feel very strongly that if someone stays engaged in his community then he won't become isolated. We tell our clients that this isn't going to be easy, but we're going to be here to help you along the way."
Begun by a single person's passion, TAP continues to make its way in the lives of the people it touches.
"You have to make your passion contagious, and once you see that you make an impact on people's lives, then they will support your hope too," Silverman said.
You can help spread TAP's passion by volunteering. TAP is run by volunteers, and is always looking for people to help in the office, serve on program committees, assist with Communication Support Teams and participate in fundraising events.
Editor's note: The Triangle Aphasia Project was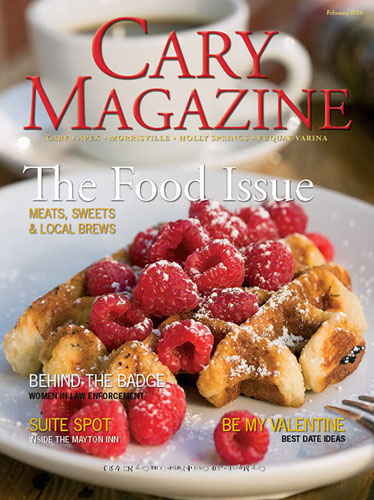 Nonprofit Spotlight: Triangle Aphasia Project