Western Wake's women in law enforcement
The public servants patrolling our hometowns are just that — people who devote their lives and careers to helping others.
Across Western Wake, nearly 50 of those willing to come when we call are women in uniform. They and their fellow officers make a difference every day on our behalf.
Join us in honoring their service, and that of all our local officers.
'"To help others' is the number one answer to the interview question of, 'Why do you want to be a cop?'" said Fuquay-Varina Police Chief Laura Fahnestock, who follows in a family tradition of public service as the daughter of a Raleigh police captain and an emergency room nurse.
Her long résumé of firsts began in the Rocky Mount PD — first female sergeant, lieutenant and captain — and includes patrolling a beat. She recalls gunshots flying by her head, a child abuse case involving an 8-month-old with a broken rib, and a suicidal man she wrestled from a bridge.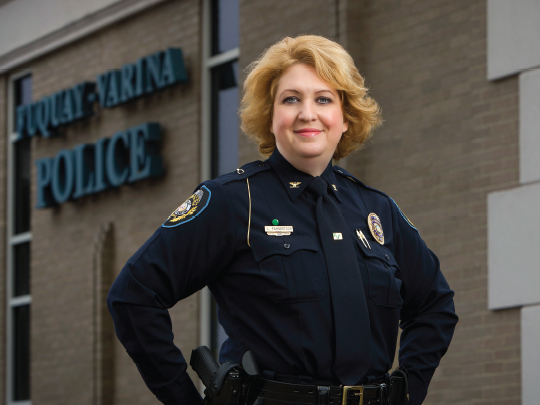 The daughter of a Raleigh police officer, Laura Fahnestock is Fuquay-Varina's first female police chief. "Treat me with respect, hold me accountable, but don't treat me differently," she says.
"Even then, in the early '90s, we talked about the importance of community policing," Fahnestock said. "I saw that child years later, thriving. And the man from the bridge later thanked me. You see how people are impacted by the things you've done."
These are challenging days in law enforcement, she says. To face them, new recruits must be "the best possible applicants. In addition to meeting state standards, they must be extremely community-oriented, with strong integrity. Officers need the ability to communicate effectively with everyone, verbally, nonverbally and in writing."
'Hold me accountable'
Fahnestock is one of five female officers on the Fuquay-Varina force, and its first female chief. No day is the same here, and that's how she likes it.
Amid multiple computer monitors and phone lines, from her office Fahnestock tracks crime data and service calls to best manage personnel. She meets daily with staff and community members, and manages the department's social media.
"I believe in communication," Fahnestock said. "We have to bridge the gap between the public and law enforcement, because it's a partnership."
Her officers have updated squad car cameras, and will wear body cameras once grant funding is secured. She's grateful for progressive town management in facing growth issues in this busy southern Wake town.
"If there's a tool to make the job easier and bring effective resolution to crime, I want to see it," Fahnestock said. "I train continually, and hold membership in groups like the International Association of Chiefs of Police, to gain innovative policing ideas that can be adapted for Fuquay-Varina. And sometimes I ride out on calls with officers."
Her late father's badges and rookie police photo adorn her wall, among a collection of female-cop collectibles given to her by friends. Yet Fahnestock resists a focus on her gender.
"I had to prove myself in every new role," she said. "I'm not a trendsetter. These are just my personal goals for achievement. I don't want to be set apart as a female — you earn it or you don't. Treat me with respect, hold me accountable, but don't treat me differently.
"I'm Chief. And off duty, I'm Laura."
'What I do makes a difference'
Capt. Felecia Sykes, interim chief of the Morrisville Police Department since the retirement of Chief Ira Jones last November, has been with the force nearly 22 years, following a three-year stint elsewhere. But the seeds for her public service career were planted in childhood.
"Growing up as an only child, I always loved meeting and talking to people, especially senior citizens, and would assist them with various tasks around their homes," Sykes said. "From that period I always imagined myself in a career that would help people. Knowing what I do makes a difference has always been such a rewarding feeling. This profession is not just a job, but is part of who and what I am.
Capt. Felecia Sykes, interim chief of the Morrisville Police Department, center, meets with Master Officer David Aldridge, left, and Detective T. Skeeter, right.
"Although it's becoming increasingly dangerous and is hard work at times, it continues to feel like one of the best jobs ever."
The career field is wide open for women, she notes. For example, among the eight female officers in the Morrisville PD are a patrol sergeant, senior investigator and master investigator.
"Women are afforded the same career opportunities within the profession as men, from bike patrol, motorcycle officer, criminal investigator and Special Operations Response Team member (SORT), to chief of police.
"The best aspects of the job include independence, discretion and the ability to change people's lives," Sykes said. "Most officers find their niche and build on it. For example, an officer who likes taking accidents can work toward becoming an accident reconstructionist. Officers who like working with children can become school resource officers. The opportunities are unlimited."
It's a misconception that women aren't tough enough to be cops.
"Through my years of law enforcement service I've found that many situations may not necessarily require physical force," Sykes said. "Many of the interpersonal skills that women possess are invaluable to effective police work.
"As law enforcement officers, we have the ability to affect the outcome of a situation simply by what we do or how we treat people. Whether the person is a suspect or a victim, respecting people as human beings has a great bearing on how the overall situation is concluded."
On the beat
Be honest. Work hard. Do the right thing. Find a mentor. And surround yourself with positive people who are supportive and encouraging.
That's what Officer Laura Lischwe has learned in her two and a half years with the Cary Police Department, as one of 23 women on the force.
Lischwe grew up in Cary, and changed her college major from science to criminology and forensics after participating in the department's Citizens' Police Academy.
"We met a detective and a canine officer, went to the shooting range and did ride-alongs," Lischwe said. "I decided I wanted a career that would push me to be a well-rounded person. It's boosted my confidence and self-esteem. It's satisfying, knowing you're helping someone.
"And the feedback we get, from people who are thankful we're here and supportive of our mission, makes the job that much better."
Being friendly and approachable is an important part of her role.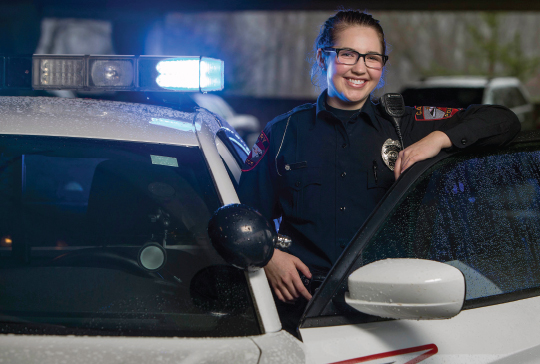 Cary police officer Laura Lischwe calls her patrol car her office on wheels. "I get 911 and non-emergency service calls, patrolling the same area so I get to know the people, which builds trust and rapport," she says.
"My patrol car is my office on wheels, with a view," she said. "Cary has officers assigned to each sector in three districts. It's a form of geo-policing. I get 911 and non-emergency service calls, patrolling the same area so I get to know the people, which builds trust and rapport.
"Some people think we just write tickets and ruin people's day. That's not true," Lischwe said. "We're a necessary resource for society. When citizens know we'll be there, it makes them more comfortable in calling."
There are benefits to being a female officer, Lischwe notes; for example, a recent domestic violence case resulted in an arrest because the victim felt comfortable speaking to a female officer.
"I'm part of the team, and we all have the same standards, training and expectations on the job," Lischwe said. "We see a side of people and our town others don't see; we see people at their worst moments. You learn to be patient and compassionate.
"It's not guns out all the time, but you can't get complacent. That's why we have ongoing tactical training. It becomes a mindset, to have your head on a swivel, even outside uniform. There are two rules: Get home safely, and don't forget to eat."