Local restauranteur serves up dining 'experiences'
You can't help but slow your step as you stroll down Salem Street in Apex, peering into unique storefronts, taking in the smells of locally owned restaurants and embracing a bit of nostalgia.
"I absolutely cherish that small town aspect," said local restauranteur Steve Adams.
However, 15 years ago the High Point native was asking his real estate agent, "Where in the world is Apex?"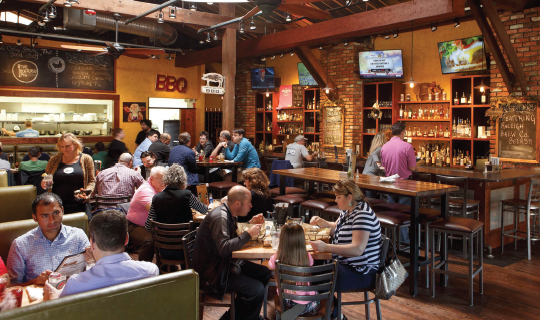 The Blistered Pig, an upscale barbecue spot, opened in December 2014 in Apex's historic Tobacco Mule Exchange.
The owner of Peak City Grill and Bar and The Blistered Pig Smokehouse, two popular restaurants in downtown Apex, Adams did take a circuitous route to the peak of good living.
Adams left North Carolina as a teen and spent most of his adult life in metropolitan areas like Washington, D.C., Los Angeles, San Francisco and New Jersey, brokering deals as a mortgage trader.
When he and his wife decided to ditch big-city life and move to North Carolina in 2001, Apex was not even on the short list until, at the suggestion of their real estate agent, they drove down Salem Street en route to an 11-acre parcel with a pond that would prove to be the perfect spot to raise their three young boys.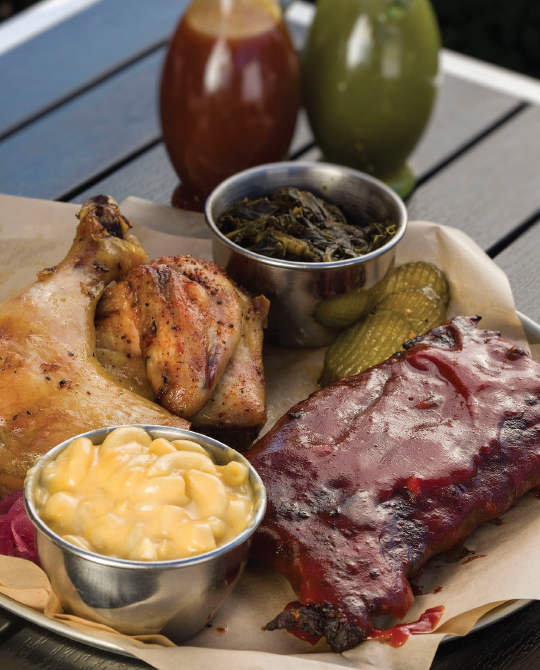 Pick two meats and two sides for a sampler platter at The Blistered Pig. Choices include roasted chicken, ribs, braised collard greens and macaroni and cheese.
"I saw this building on that day, which was for sale, and I said, 'Man, wouldn't that make a cool restaurant?'" recalled Adams. "It looked just like those restaurants in New York, D.C., and Chicago that I had seen so many times."
Adams had no experience in the restaurant business, and bankers thought his vision to build a "grandiose" steak restaurant in a 100-year-old building in downtown Apex was crazy. But he looked at how Apex had grown and was projected to grow, and decided if he built something he would like, others might like it too. That was more than 10 years ago.
In 2015, Apex was declared No. 1 on Money's Best Places to Live list, nationwide.
"I got lucky. I got real lucky," Adams laughed.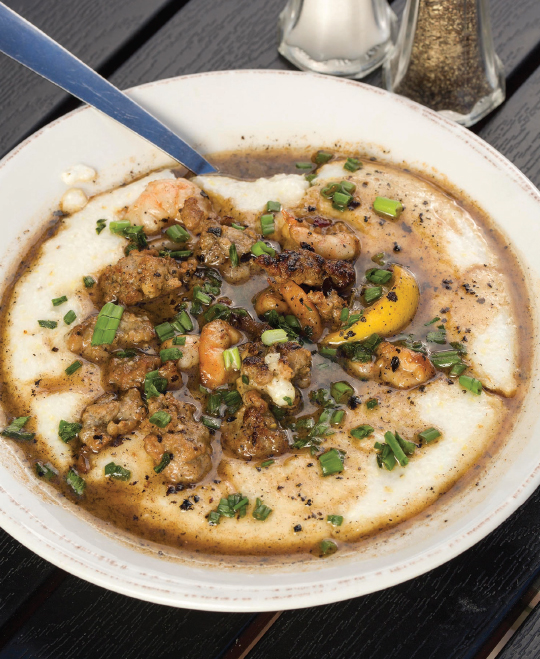 Shrimp and grits has house-made sausage, Carolina shrimp, mushrooms, scallions and white wine gravy.
Well, its wasn't all luck. Adams studied the business, numbers and percentages, but he also focused on his favorite part of the process: creating an "experience."
"The fun is in creating the space," said Adams, as he pointed out the original purple stained glass transom windows in Peak City Grill, the larger-than-life metal sculpture hanging over the bar, the locally-made wooden tables, and old church pews from the 1800s.
"People like beauty, so putting the ambiance and the interest of the building as one of the primary elements coupled with great food was a winning combination," Adams explained.
Another winning combination is the partnership between Adams and Executive Corporate Chef Franz Propst. Save a few-year hiatus, Propst has been with Adams since the beginning. At Peak City Grill, they started a tradition early on of doing radical menu changes every eight to 10 weeks, with a few tweaks in between.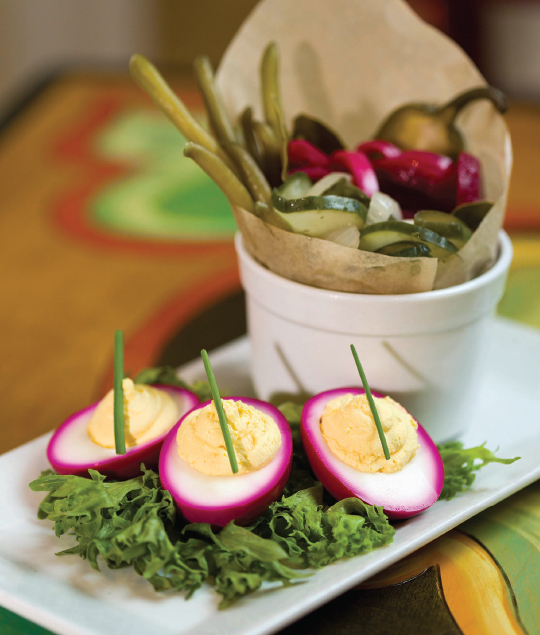 Pickled deviled eggs with beets and other house-made pickles are homey appetizers at The Blistered Pig.
"It gets exciting each time we do a menu. It's collaborative. We talk about each dish and how it's going to be prepared, and I love it," Adams said.
Their longstanding and successful relationship is based on mutual respect. Ultimately, that led to the creation of The Blistered Pig in December 2014. The upscale barbecue joint full of rustic-chic charm and housed in the historic Tobacco Mule Exchange was Propst's brainchild.
"It was really designed for him, by him," said Adams, who chose to invest and build on Propst's concept.
A nod to a chef's art and the "localtarian" movement, everything down to the pickles is made on site and only pasture-raised sustainable meats are served. Despite the challenges and costs of sourcing local products, Propst is proud of what they have created.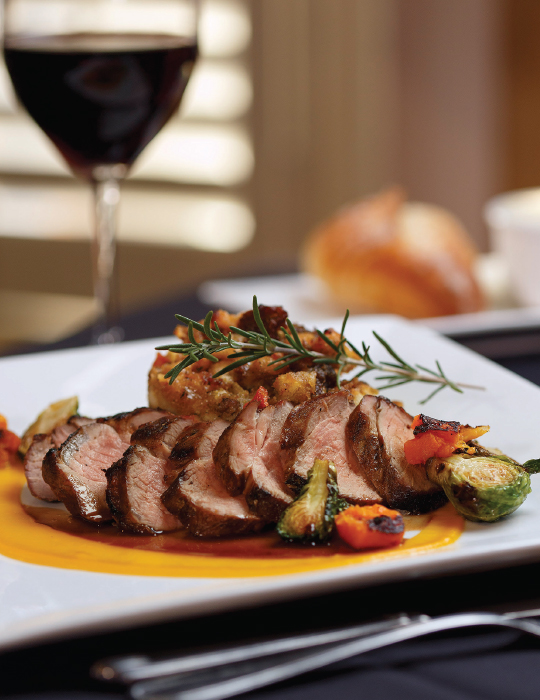 Peak City Grill's tea-brined pork tenderloin is a nod to Southerners' love of sweet tea.
"It's fun to start out making everything from scratch, concentrating on how long each piece of meat is cooked (12 hours for brisket, up to 18 hours for pork)," Propst said.
He's even created a proprietary spice for the brisket that is mixed in Colorado and two special sauces for the pork, a Carolina red sweet sauce with vinegar and a charred jalapeno sauce that is aged for 30 days, to accommodate both eastern and western North Carolina palates.
Propst describes his food philosophy at both restaurants as "purist."
"Just starting out with quality ingredients, treating them well along the way and not taking shortcuts," he said.
The public has responded. Adams' restaurants are part of a unique and varied downtown dining scene that town boosters say draws people to Apex.
"People are coming from areas like Durham, Cary and Raleigh to dine," said Barb Belicic, operations and membership manager at the Apex Chamber of Commerce. "It's definitely a positive vibe."
For Adams, The Blistered Pig also represents the possibility of "scaling up." He has trademarked the name and logo so he can take the next step of growing as a company-owned restaurant or possibly a franchise.
The Blistered Pig is the brainchild of Chef Franz Propst, left. He and Steve Adams have collaborated since the opening of Peak City Grill, shown here, more than 10 years ago.
"We would probably first look at going to resort areas with upscale barbecue, though we may do a couple of others in the Triangle to build brand recognition," Adams mused.
A dreamer and risk taker, Adams is always looking for possibilities. In addition to his restaurants, he owns Salem Executive Suites, 11 turnkey office spaces for rent above Peak City Grill, and another two-story building on Salem Street currently occupied by a remodeling company. He envisions one day converting that space into condominiums. Or selling it. Or finding a strip center space to redevelop. Or creating a seafood restaurant. Or Asian fusion.
"I'm open to lots of things. It's the creativity that I love," said Adams, who adheres to the late Steve Jobs' mantra of "do what you love."
"And I love every minute of it."