Among the newest additions to our local culinary landscape, Belgian Café in Apex melds a bakery/coffeehouse aesthetic with an inviting European eatery. The café's convenient location near Beaver Creek provides an ideal spot for lingering over a latte at breakfast or enjoying a salad with a friend at lunchtime.
Owners Ibrahima and Nabela Conté, who relocated from Belgium to Apex about 10 years ago, craved the desserts and other quality cuisine they enjoyed back home. The couple decided to open a café near their home, so they converted a one-time chain sandwich shop into a destination with character and flair.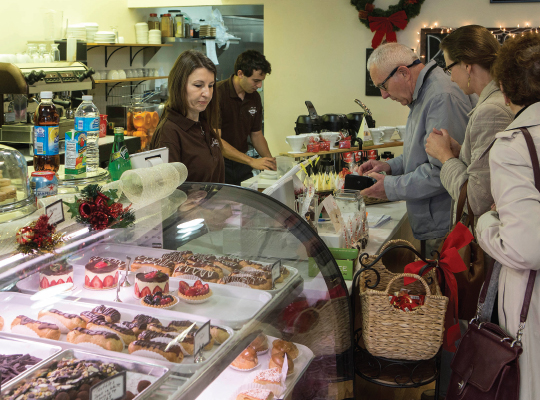 Customers are tempted by the display case at the Belgian Café, a European-style eatery in Apex.
"We wanted to give people the taste and feel of Europe," said Ibrahima, who works at software company SAS in Cary. "People tell us that our café reminds them of places in Belgium and France, and that's really satisfying to hear."
All the right touches are evident: Handsome wood flooring. Plank-top tables. Brushed silver pendant lights. Mosaic ceiling tiles with images of steaming coffee cups. Oh, and then there's the eye-catching glass display case filled with pastries, macarons, fruit tarts and additional treats created on the premises by a French pastry chef.
"He likes to remain behind the scenes," said Ibrahima. "He comes in at night and makes everything so we have fresh items available every morning."
Nabela, a delightful, soft-spoken attorney, greets patrons with a smile.
"I am determined to try everything they sell," said Ali Carrier, a local photographer and 12-year Peak City resident. "That display case is so enticing!"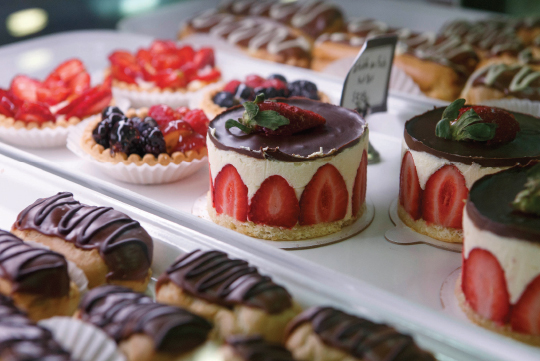 The café's pastry chef comes in early to bake éclairs, fruit tarts filled with vanilla pastry cream, and a variety of other traditional French pastries.
Among all the tantalizing items you can't help but find exquisite are Belgian chocolates. Truffes au chocolat noir are rich, dark handmade truffles created with Belgian couverture chocolate. Mendiants are traditional chocolate confections studded with dried fruit and nuts. Orangettes are orange peels dipped in layers of Belgian chocolate to deliver sweet and citrusy flavors.
Chocolates may be enjoyed individually or — hint, hint for Valentine's Day — placed in an attractive gift box.
Try the hot chocolate infused with imported Belgian chocolate. It's served in a glass mug and topped with poufs of whipped cream.
For an ultra-rich experience that will disrupt your New Year's resolutions, there's le fondant au chocolat, the café's version of molten lava cake served warm with a scoop of vanilla bean ice cream, and gâteau au chocolat sans farine, a flourless chocolate cake with chocolate ganache glaze.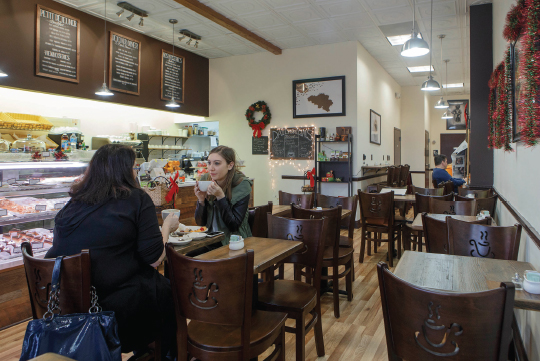 Cary residents Karen Murdock, left, and daughter Kate enjoy breakfast at the Belgian Café in Apex.
The assortment of sweet creations doesn't end with chocolate. Scratch-made tarts are filled with vanilla pastry cream and fresh berries or other fruit. Also worthy of consideration are lemon teacakes, éclairs and multi-layered, cream-filled Napoleon puff pastries.
Savory selections are equally well represented.
"We offer different types of egg-based breakfasts," said Ibrahima. L'oeuf à la coque features a soft-boiled egg with warm bread, a side of fruit and fresh-squeezed orange juice. Quiche with feta cheese and spinach makes for a solid choice any time of day. Order a flaky croissant with bacon, egg and Swiss cheese, a popular choice of regular patrons.
Not surprisingly, Belgian waffles rate highly with the guests.
"We found a local Belgian couple that makes the batter, so we partner with them for sourcing," Ibrahima said. The waffles are dished up perfectly golden brown, and toppings include strawberries, blueberries, raspberries, bananas, whipped cream, chocolate sauce or ice cream.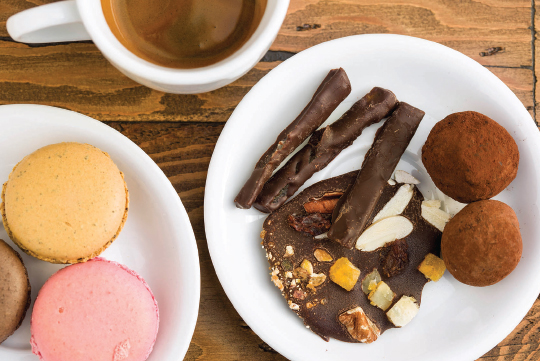 Tempting delicacies from the Belgian Cafe include colorful macarons on the left, and on the right, chocolate-dipped orange peels called orangettes, handmade truffles and mendiants, studded with dried fruit and nuts.
Looking for a lighter option? Go for the granola with Greek yogurt and a side of fresh fruit.
The Contés take quality control seriously, and it shows.
"I taste everything because I like to know what we are serving to the customers is the finest possible product," said Ibrahima. "Quality is our No. 1 priority, but it doesn't come cheap. The way we ensure it is to use the best ingredients."
Even modified fast-casual table service happens by design. Patrons place their order at the counter, and then friendly servers bring the food to the tables and pick up dishes after the meal.
"This is just one more way for us to closely resemble how things are done in Europe," Ibrahima said. "It's all about the experience."
Classics at lunchtime include tartine (an open-faced sandwich with spreadable ingredients), smoked salmon salad and soup du jour. The café also offers delicate teas and robust drip coffees, espressos and lattes containing artful patterns on top like leaves, flowers and hearts.
Left, the hot chocolate with imported Belgian chocolate is served in a glass mug and topped with poufs of whipped cream and more chocolate.
Right, artful swirls of steamed milk adorn a café latte.
Belgian Café is open seven days a week with extended hours on the weekend. Enjoy free WiFi Internet access during each visit. Custom-order desserts are available upon request.
Belgian Café
1232 W. Williams St., Apex
(919) 372-5128
belgian-cafe.com