We proposed the Cary Magazine Be My Valentine Contest, and asked you to wow us. You did.
More than once, we uttered a collective "Awww," to your fun and inspirational entries. In the end, our team chose the couple whose greatest-date-ever entry best met the contest challenge: It's one that others — meaning you — can achieve, too.
Have a happy Valentine's Day, courtesy of the Hickmans!
An evening of 'firsts'
Keith and Lisa Hickman met through friends while in college, back in 1997. When she groused about having to write a paper on The Grapes of Wrath, he ditched a movie with friends to help her out.
"I liked the book," Keith said.
"I didn't!" replied Lisa. "But I got an A on that paper."
"John Steinbeck brought us together," Keith said. "We talked about the book then kept on talking, and I enjoyed the good conversation. And I brought her the leftover apple turnovers after my shift at Arby's."
"Most of the guys in college were about being macho, and they didn't have a lot of manners," Lisa said. "Keith was sweet and chivalrous. He slipped letters under my door, and one time even came to my door and sang to me."
Now married for 13 years, the Hickmans are parents to Myles, 11, and Logan, 1. They've lived in Pennsylvania, West Virginia and Ohio, and settled in Fuquay-Varina in 2015. Both work for Cigna Healthcare, Keith as a resource planning manager and Lisa as a personal advocate supervisor.
Here's Lisa's entry on their winning date idea:
"Our ultimate date was not the most expensive nor the most elaborate; it was straight from the heart and completely melted mine. It was our very first wedding anniversary. We went back to (West Virginia University in) Morgantown, where we first met. He took me to the Boston Beanery pub where we had our very first date, and had arranged for us to sit in the same booth.
"We went for a walk to the dock where we shared our first kiss, and exchanged our anniversary gifts. I received a copy of — what else — The Grapes of Wrath. We spent the evening going to all of the places we had our firsts. The first movie, the first study date, the first time we volunteered together.
"A lot had happened in that first year of our marriage. Keith made me feel young and carefree, like we were back in college without the worries and responsibilities of the 'real world.'
"We ended the night at Law Center Hill, sharing a Sprite, overlooking the stadium where he had proposed. He again got down on one knee and told me how grateful he was that I had said yes that night and how he would marry me again and again. He once again opened a small box, this time containing a diamond anniversary ring.
"They say you can never go back but we did," Lisa said, "to the excitement and newness of a first love."
"Well, the booth might have been luck," Keith said with a smile. "I thought it would be good to go back and see where we came from, where we started. It was a special night for me, and I was hoping it would be for her too."
Life Today
Lisa still has that copy of The Grapes of Wrath. She and Keith say that just-us dates have evolved into family time, and they've learned many things together since he first brought her apple turnovers.
"He would bring home the leftover turnovers as a treat, because we didn't have much money for dates. It's something we still talk about because it symbolizes Keith's thoughtfulness and how he was trying to make each day a little special," Lisa said. "It's the effort, and something he still does today, every day. He's always doing thoughtful little things to show love."
"We've learned love is hard, and a lot of work," Keith said. "It's give and take, and compromise. But it's worth it."
Special thanks to the prize sponsors of the Cary Magazine Be My Valentine contest: Bailey's Fine Jewelry, Massage Envy and Stick Boy Bread Co.
Wendy and Jonathan Beachy of Cary
"I found out I was pregnant the morning of Valentine's Day (2014) and decided to save the good news for our dinner that evening.
"We were living in Boston and there was a blizzard, but we decided to keep our reservation. The restaurant was pretty empty … I was able to request a cozy corner booth. Since we were saving up to move to North Carolina, we decided not to get each other gifts. However, I handed over a small box and a card. At the bottom of the card I wrote, 'You're going to be a great Daddy.'
"In the box was a Valentine's footie which should be just the right size to fit our daughter this Valentine's Day!"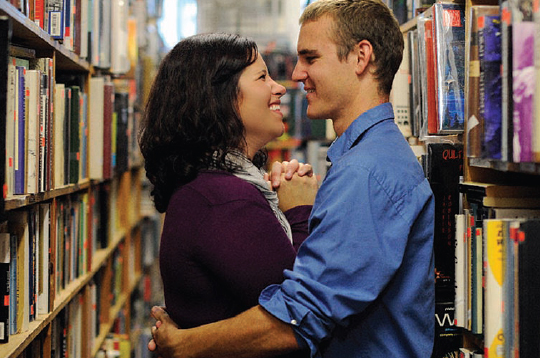 Lauren and Dave Sweetman of Cary
"One morning around 3 a.m., my then-boyfriend Dave woke me up and coaxed me to the car, where he had made a passenger's seat nest of pillows and blankets. When I woke again, we were pulling into the San Diego National Zoo. I love animals, and going to the park was a bucket list item. Dave pulled out a duffel bag of clothes, my toothbrush and some makeup. We went on an early morning safari and the tour guide helped us spot a lion, hippos, giraffes and a hyena!
"We found a lovely mom-and-pop diner, shared a meal and a piece of pie, chatted with the locals and ordered to-go cups of coffee. I thought we were headed home, but Dave took me to a dollar bookstore. He said I could buy as many books as I could carry — for a bookworm, that's a dream come true!
"He drove the three hours back home. We took turns building stories, and created anthologies that still live on as inside jokes.
"Dave proved that he knew me, appreciated my interests and loved me. A year later we were married."
Cathy and John Pienta of Cary
"I surprised my wife on our one-third of a century anniversary — 33 years and four months! I booked a three-day weekend at our favorite bed and breakfast in Asheville, and planned out hikes in the Pisgah National Forest, as well as a visit to Biltmore.
"To find an excuse for her to pack, I told her there was a poker tournament in Tennessee that I wanted to play in, and she could do a little sightseeing and shopping. That morning I gave her flowers and asked if she knew what the special occasion was. She had no clue. I gave her an old LP record (33 and 1/3) which had a title about love. I showed her a third of a pie … The Three Stooges with one circled … one of the Three Tenors. I finally pulled out the homemade 'I've been married a third of a century and all I got was a lousy T-shirt.' My complementary shirt said '33 and 1/3 – Long Playing.'
"She finally got it. We had a marvelous few days in the mountains."