Mark Twain once wrote, "The true southern watermelon is a boon apart, and not to be mentioned with commoner things . . . When one has tasted it, he knows what the angels eat."
Regarded by many as the quintessential — and healthiest — summer fruit, watermelon reigns supreme. But this seed-filled natural wonder isn't simply a slice-and-dice, cube-and-spear treat anymore. Nowadays there are new twists for the seasonal favorite that involve grilling, sautéing, pureeing and more.
"People are definitely using the whole watermelon these days, not just the inside flesh," said Stephanie Barlow, senior communications director at the National Watermelon Promotion Board. "Watermelon has graduated from a simple summer picnic snack to a real flavor pairing partner."
Over the next several pages you'll discover recipes for an inventive watermelon salad, a spirituous beverage and even some classic pickles for good measure.
Watermelon, Roasted Corn and Mint Salad
By Chef Joseph V. Fasy, market manager at Growers Market of Fuquay-Varina and proprietor of Hook & Cleaver Market on Broad, a gourmet meat and seafood shop in Fuquay-Varina.
This is a perfect summer salad that pairs well with grilled meat, seafood or as an appetizer. Try serving in a martini glass with a mint sprig for a festive presentation.
3 ears sweet corn, shucked (yellow, white or bi-color)
4 cups Jubilee watermelon chunks, seeded
¼ cup red onion, sliced into rings
¼ cup Prodigal Farms feta, crumbled
1 tablespoon rice wine vinegar
2 tablespoons canola oil (more for corn)
2 tablespoons fresh mint ribbons
Cracked black pepper, to taste
Carolina sea salt, to taste
Drizzle corn with oil and season with salt and pepper. Grill, turning on occasion, until slightly charred, about 8 minutes. Remove and cool, then slice kernels off the cob. When slicing, try to leave sections of corn still joined.
Whisk 2 tablespoons oil, vinegar, salt and pepper in a medium bowl.
Add corn, watermelon, onion and mint and gently toss all ingredients.
Sprinkle with feta cheese.
Serve immediately or chill.
Watermelon Pomegranate Sangria
Recipe courtesy of National Watermelon Promotion Board, watermelon.org. Used with permission.
At less than 150 calories per serving, this vitamin- and electrolyte-infused beverage provides satisfying refreshment on a hot summer day. Be imaginative and toss in some additional fruit or spices, such as a half dozen grapes or a teaspoon of cloves.
Yield: 12 one-cup servings
2½ cups watermelon juice (see note)
1 medium orange, ends cut off and sliced thin
4 cups watermelon chunks (approximately 1-inch cubes, or triangle slices with rind)
½ cup brandy
2 cups pomegranate juice
1 bottle of red wine, chilled (a fruity wine such as shiraz or merlot works well)
1½ cups Orangina or orange Italian soda
Fill ice cube trays with watermelon juice and freeze.
Place orange slices, watermelon and brandy in a medium bowl, toss gently, and let stand for 15 minutes to allow fruit to soak up some of the brandy flavors.
In a large pitcher, add fruit mixture, pomegranate juice and wine. Refrigerate for one hour or longer to allow flavors to blend. Just before serving, add the Orangina or Italian soda.
Serve over watermelon ice cubes.
Note: To make watermelon juice, puree chunks of watermelon, then strain.
Watermelon Rind Pickles
Recipe courtesy of National Watermelon Promotion Board, watermelon.org. Used with permission.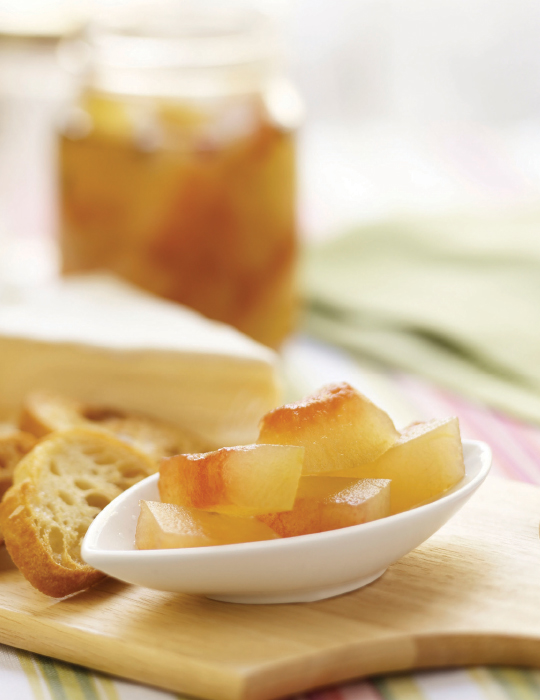 Repurpose leftover watermelon rinds with this throwback recipe, which can be enjoyed as a condiment, a side item or a tangy anytime snack.
8 cups water
2 tablespoons coarse salt
5 cups peeled watermelon rind
(leave a thin layer of pink), cut into
½- by 2-inch pieces
1½ cups granulated sugar
1 cup cider vinegar
1 teaspoon colored peppercorns
8 whole cloves
½ teaspoon pickling spice
2 long slices of fresh gingerroot
In large pot, bring water and salt to boil over medium high heat. Add rind pieces and boil until tender, about 5 minutes. Strain. Transfer rinds to a large metal bowl.
In saucepan, combine sugar, cider vinegar, peppercorns, cloves, pickling spice and gingerroot. Bring to a boil over medium high heat, stirring until sugar dissolves.
Simmer for 15 minutes, until slightly reduced.
Pour over watermelon rinds in bowl. Place plate over top to keep rinds submerged in liquid. Cover and refrigerate for one day.
Transfer to a glass jar and keep sealed in the refrigerator for up to two weeks.