Advice for kids facing back-to-school jitters
Every year about this time, at every school across our area, someone is having a "first day."
Exciting? Yes.
Nerve-wracking? That, too.
"My first day of high school was particularly terrifying," said Matt Scialdone, Wake County's 2015-16 Teacher of the Year. "We had just moved from New York to Charlotte, so I was in a completely new school, in a new state."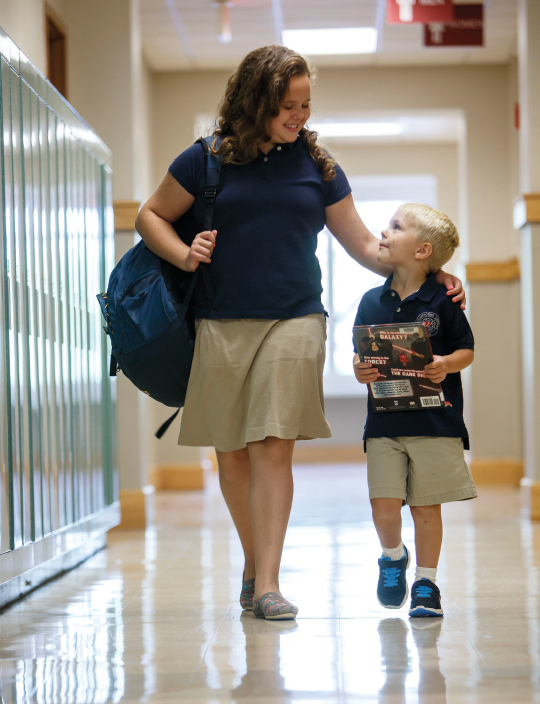 Emma Key enjoys reading mysteries, and is looking forward to the new school clubs she can join as a rising fifth-grader. She's got some great advice for Hayes Chisholm, 6, who's feeling confident about the start of his kindergarten year because he already knows that 2+2 = 4, and loves pizza. "Don't just have one kind of friend," Emma says. "Pick people who respect you, who have fun with you, and who want to play."
Now a teacher of English I and African-American Literature at STEM school Middle Creek High in Apex, Scialdone also leads freshmen orientation sessions.
"Kids come to school justifiably terrified of looking like a freshman — nobody wants to be that guy looking at his schedule, then looking all around," he said. Many arrive stressed about grades, and getting into honors classes or college.
"English is a high-stakes class, because failing it means you stay a freshman," Scialdone said. "And the block schedule means four classes of 90 minutes each. For kids who are easily bored or distracted, this is a big test. But teachers are aware of that. I keep my students moving around, and we integrate technology.
"STEM education is about creating problem solvers and creative thinkers," he said. "The vision is to teach kids to collaborate, communicate, troubleshoot and figure out cause and effect, in different settings. We want people who see not obstacles but opportunities."
So what's this longtime teacher's advice on transitioning to a new school year?
"Visit your school in advance," Scialdone said. "Go to orientation; every Wake County school has them. We give kids their schedules, and walk them around the building."
Also, know that homework help is just a click away for both students and parents: Teachers use Blackboard, Weebly or Edmodo pages to post homework and electronic versions of class handouts.
Matt Scialdone teaches English and literature at Middle Creek High, and leads freshmen orientation sessions. From homework to grades to social media, he offers tips for students and parents on transitioning to a new school year. Photo by Paul Cory, WCPSS
"Find out which tools your teachers use, sign on and learn how to use them," he said. "I use Remind to send messages regarding upcoming quizzes, with the 'carrot' of bonus points for those who opt in."
One great thing about high school, Scialdone says, is that students have eight teachers each year.
"There are more opportunities to find those teachers you really connect with, who are game-changing for you," he said. "And if you're not syncing up with a teacher, just wait 90 minutes!"
What about extracurricular activities?
"Do them, do them, do them!" Scialdone said. "We have clubs covering so many different interests, and a process to start new clubs. Use your freshman year to shop, find one or two clubs you're interested in, and really invest your time.
"By junior or senior year, become the club president or vice president. When colleges see that, they know you didn't just attend; you made decisions about running that club."
Also, he says, check out opportunities in sports, the arts, volunteerism, or the "ultimate extracurricular," a job.
When it comes to social media, Scialdone said, "It's an awesome tool, but as soon as social media turns negative, back away from it. Be the bigger person; don't forward or re-tweet negativity."
Finally, he says, be open to opportunities for growth.
"The American high school is the last truly integrated place in society, where you can meet people from different backgrounds," Scialdone said. "Be open to new experiences and people. Make the effort."
Kid to Kid
So how would kids advise incoming kindergarteners?
Rising fifth-graders Emma Key, 10, of Resurrection Lutheran School in Cary, and Carter Anderson, 10, of Ravenscroft, shared the benefits of their experience with incoming kindergarteners Hayes Chisholm, 6, and Hope Kalorin, 5.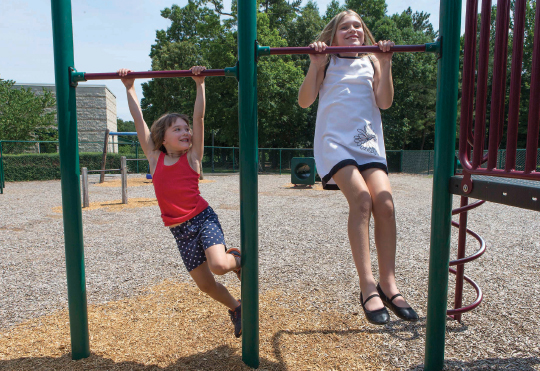 Hope Kalorin, who has a pet hedgehog named Meatball, gets some fifth-grade wisdom from Carter Anderson: "Everything in math revolves around basic addition, subtraction, multiplication and division, so learn those," she says. And, "Bring extra, extra pencils because they're easy to lose or get sharpened too far." Both are students at Ravenscroft.
"Ms. Smith is our kindergarten teacher here," Emma told Hayes. "She gives fun treats and takes you on field trips, and you get to listen to stories. She's a big nature person too. But she's strict, if you don't behave well."
"Well, I already know math, like 2+2 is 4, and 5+5 is 10," declared Hayes.
"It's a little scary coming to kindergarten, but once you get there, it's fun," Carter told Hope. "I've liked all of my teachers. Try not to do things your teacher doesn't like, like talk out of turn or use a marker instead of a pencil.
"Everyone starts out at the same level in kindergarten. Everything in math revolves around basic addition, subtraction, multiplication and division, so learn those. And when you know how to read and write, it makes things easier in your learning career. I have an older sister who teaches me things she learns in her grade, like Spanish, so that's an advantage."
When it comes to meeting people, Emma said, "Have an open mind about all people; don't just have one kind of friend. Pick people who respect you, who have fun with you, and who want to play."
"You want to find people who look nice and might have the same interests as you do," Carter added. "If you make one friend you'll start making more and more. That's a skill you'll use throughout your life, to make things better everywhere."
On dining, Emma said, "Don't go crazy or be loud at lunch. You can talk with your friends, but don't shout across the room. Stay in your seat, clean up your personal area so there are no crumbs on the floor, and wash your hands."
"The obvious rule is no food fights," Carter said. "And the food here is good, not slop. My favorite is the pasta. It tastes just like you'd have at home."
What does Hayes plan to bring to kindergarten?
"Snack. Lunch. And stuff," he said confidently.
"You'll need a towel for nap, a backpack and some pencils and crayons," Emma pointed out.
"You should bring extra, extra pencils because they're easy to lose or get sharpened too far," said Carter. "And a jacket, definitely, because sometimes when the air conditioning is on high it gets cold, and it's hard to focus when you're shivering.
"Bring some picture books to read in your spare time, while the teacher is helping other kids," she added.
Finally, Emma shared this advice: "Don't let anyone bring you down. Stand up for yourself and your friends. If you have a problem, tell the teacher. Make good choices, and follow the rules."