It's the quintessential American sweet treat. Whether the preferred moniker is doughnut or donut, noshers of every stripe find this deep-fried indulgence irresistible, no matter what time of day.
A few years ago, the James Beard Foundation predicted the boom of artisan doughnuts and their innovative flavors. The rise of the gourmet doughnut has now reached its zenith, especially here in the Triangle, where eccentric taste combinations and meticulous preparation are clearly in vogue.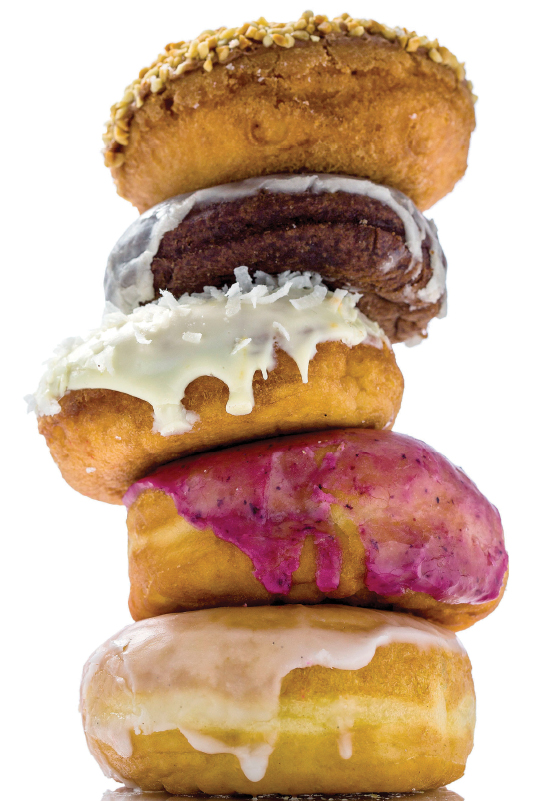 A tower of tastiness, from the bottom: glazed yeast and lemon blueberry, both from Monuts Donuts, lemon iced cake with coconut from Duck Donuts, chocolate chai from Monuts, and a cake doughnut topped with caramel icing and nuts from Baker's Dozen Donuts.
We spotlight five area doughnut purveyors determined to roll out uncommonly tasty pastries — and they succeed with passion and panache.
DUCK DONUTS
ASSORTMENT: All Duck Donuts are fashioned from a vanilla cake base. Choose from cinnamon sugar and chocolate rainbow to lemon coconut and French toast. Mouthwatering toppings and coatings include peanut butter icing, chocolate sprinkles, chopped peanuts and more.
DISTINCTIVENESS: Duck Donuts is fast becoming a popular spot for a doughnut enthusiast's pilgrimage.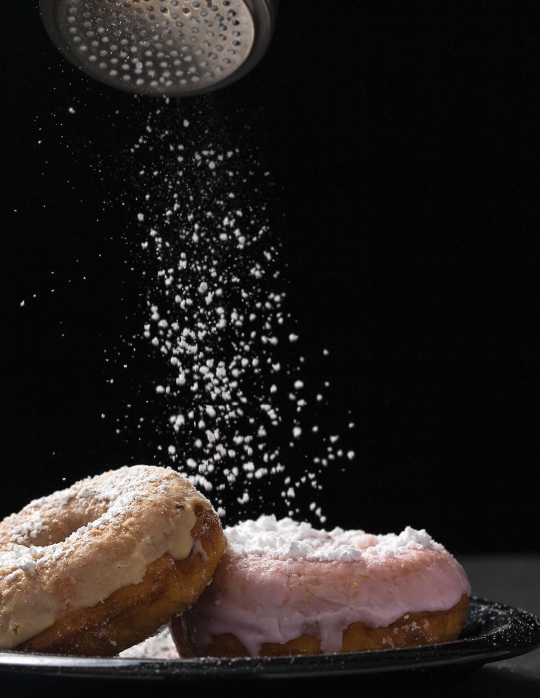 The French Toast donut, left, maple icing sprinkled with cinnamon sugar and powdered sugar, and the Strawberry Shortcake, strawberry icing sprinkled with powdered sugar, are popular choices at Duck Donuts.
"We felt like people in Cary would embrace it, and they have exceeded our expectations," said co-owner Kelly Trimyer, who runs the store with her husband, Brandon.
As longtime fans of Duck Donuts, mainly available at locations on the Outer Banks, the couple approached the company about starting a franchise. Founder Russell DiGilio believed there was a dearth of places to find fresh doughnuts when he started Duck Donuts, and the Trimyers had similar thoughts about Cary.
What sets Duck apart?
"Every doughnut is made on demand right off the fryer and customized for each guest," Trimyer said.
PRICING: Doughnuts are $1.20 each, and there's no additional charge for toppings and icings. A half dozen costs $6.75; a dozen is $11.95; and an 18-count bucket sells for $16.50.
MUST-TRY ITEMS: Maple bacon, which involves maple icing studded with crispy bacon pieces, or strawberry shortcake topped with strawberry icing and powdered sugar.
100 Wrenn Drive, Suite 101, Cary
(919) 468-8722
facebook.com/duckdonuts.caryNC
BAKER'S DOZEN donuts
ASSORTMENT: You'll be hard-pressed to find a better selection of classic offerings anywhere else. Choose from among old-fashioned, buttermilk, cake, raised, cream- or fruit-filled, crullers and more. Seasonal flavors are also available.
DISTINCTIVENESS: Don't be fooled by the minimalist veneer of this humble mom-and-pop shop at South Hills Shopping Center. It may be no-frills, but since opening in 2013 Baker's Dozen Donuts has been churning out delicious pastries made fresh each morning.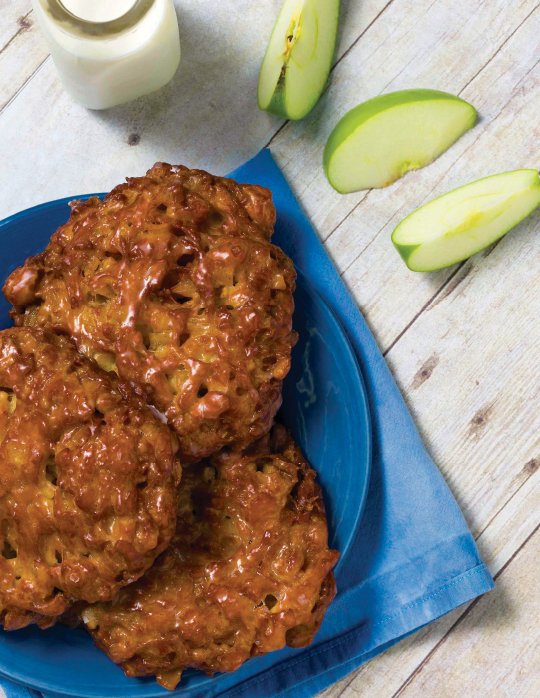 The apple fritters from Baker's Dozen Donuts are a decadent burst of apple goodness. They're big enough to share, but you won't want to.
"Unlike many shops that serve breakfast sandwiches and other items, we stick to making doughnuts," said proprietor E. Reth, whose brother owns several thriving doughnut shops in the Piedmont; Reth desires to duplicate his success.
"We take pride in producing good, consistent products each day."
PRICING: Regular doughnuts are 85 cents each or $7.99 for a baker's dozen. Fancy and filled doughnuts range from $1.10 to $1.50.
MUST-TRY ITEM: The hearty apple fritter delivers a tsunami of fruit-filled sweetness so forceful it should be outlawed. Consider using a knife and fork to attack it.
1307 Buck Jones Road, Raleigh
(919) 377-1221
facebook.com/pages/Bakers-Dozen-Donuts
MONUTS DONUTS
ASSORTMENT: With a dynamic selection of cake and yeast doughnuts, flavors range from simple (plain glazed) to sublime (see chocolate chai, coconut dream and blueberry pancake).
DISTINCTIVENESS: What began as a modest doughnut stand on a tricycle has developed into a brick-and-mortar institution. While doughnuts get top billing, gourmet sandwiches, soups, salads and full-on brunch options abound.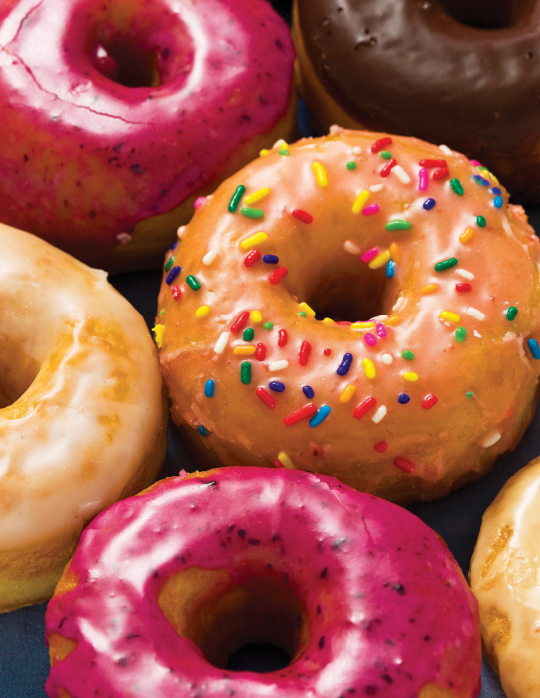 Monuts Donuts has a revolving menu of treats. A Strawberry Sprinkles doughnut takes center stage surrounded by lemon blueberry, glazed, and Chocolate Sea Salt.
"I think the single biggest thing that sets Monuts apart from other doughnut shops is that we do everything by hand," said co-proprietor Lindsay Moriarty, who oversees operations with Rob Gillespie.
That includes experimenting with bold ethnic flavors and an ever-changing menu.
"I think our commitment to the community, be it through sourcing local ingredients or paying living wages, has really helped brand the shop," Moriarty said.
PRICING: In general, doughnuts range from $1 to $2; $12 to $18 for dozens. Preorder online and get assorted dozens for $15.
MUST-TRY ITEM: The North Carolinian comprises a sweet potato cake doughnut with a salted bourbon glaze. "I haven't seen anything like it anywhere else," said Moriarty.
1002 9th St., Durham
(919) 286-2642
monutsdonuts.com
SOLA COFFEE CAFÉ
ASSORTMENT: Made-to-order mini doughnuts are served hot in waxed paper bags. Classic flavors include cinnamon sugar and powdered sugar. Fanciful creations like Strawberry Fields Forever, PBJ and Orange Crush add funkiness to the mix.
DISTINCTIVENESS: "We believe the minis give us a unique way to attract people's interest," said John Luther, who owns Sola with wife, Jeanne.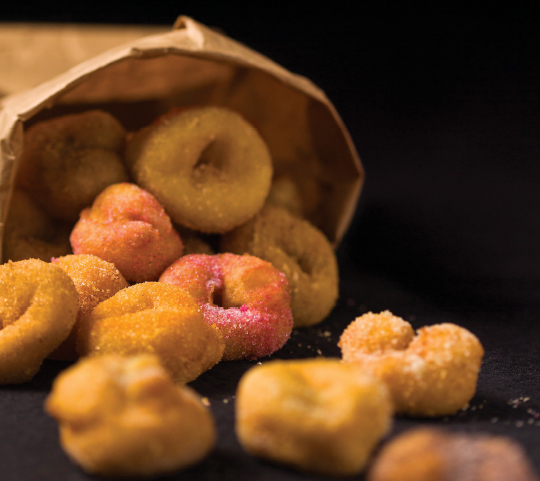 Sola Coffee Cafe will make mini doughnuts to order. Among the many flavors are Strawberry Fields Forever, center, Orange Crush, left, and classic cinnamon sugar, foreground.
At first Sola only offered the cinnamon sugar and powdered sugar options, but then Luther began experimenting with various flavors and sugars.
"Since they're minis, they have less calories than regular doughnuts," he said.
The European-vibe café also peddles Counter Culture coffee plus gourmet sandwiches, salads and Neapolitan-style pizzas.
"There's definitely a segment of people who come in just for the doughnuts," said Luther, adding that Sola has sold more than 23,000 minis.
PRICING: $2 per half dozen; $4 a dozen; $7 for two dozen. For specialty flavors, add 50 cents per half dozen.
MUST-TRY ITEMS: Milk & Cookies made with Oreos, vanilla, cocoa and sea salt, or a habanero-lime-ginger-and-sugar imbued sweet-hot concoction called The Gonza.
705 Lead Mine Road, Raleigh
(919) 803-8983
solacoffee.com
RISE BISCUITS AND DONUTS
ASSORTMENT: A rotating menu features an array of plain, cake, iced, filled and specialty offerings. Old-school standouts include chocolate glazed and banana pudding. Meanwhile, showstoppers like espresso buttercream-filled, strawberry chocolate chip cake, and pear lavender keep patrons captivated.
DISTINCTIVENESS: Prior to opening Rise some three years ago, chef Tom Ferguson and pal Brian Wiles trekked across the nation to sample the best biscuits and doughnuts.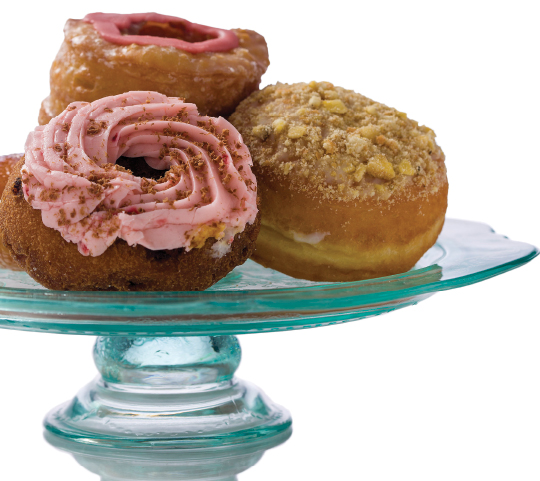 Among the many flavors Rise Biscuits and Donuts offers are, clockwise from top, the Cronie, Banana Pudding and Strawberry Chocolate Chip cake.
"We went to seven cities in eight days and visited the top doughnut shops," Wiles said. Since then, the cozy fast-casual shop has steadily developed legions of devotees.
Doughnuts are handmade with love.
"Our glazes and fillings are made from scratch," said Wiles.
Here's more good news: Rise is expanding to Morrisville, where the first franchise location is scheduled to open by September in Park West Village Shopping Center.
PRICING: Doughnuts range from 95 cents to $2.95 (take 10 percent off for a dozen).
MUST-TRY ITEMS: The wicked good crème brûlée with a caramelized granulated-sugar top and vanilla pastry cream filling.
8200 Renaissance Parkway, Suite 1003, Durham
(919) 248-2992
risebiscuitsdonuts.com