Everyone remembers falling in love for the first time.
You weren't even looking for that magical moment. You pick him out of a room full of strangers. You feel the spark of an instant connection. He gives you a melting look or a big goofy grin, and you're done for. All you want to do is scratch behind his ears and rub his belly.
Ah, puppy love. Whether it's a dog, cat, rabbit or gerbil, nearly every pet owner has felt that warm, fuzzy, intoxicating emotion.
But before you welcome that adorable critter into your home, animal experts have some advice to make sure everyone lives happily ever after.
Choose the Best Pet for You
New pet owners may not realize how much time and energy it takes to properly care for an animal, especially a puppy or kitten.
"That's one thing that people really don't understand," said Darci VanderSlik, spokesperson for the SPCA of Wake County. "They're like, 'Oh such a cute puppy,' but when you take it home, it's so much work."
A golden retriever named Adam paws at volunteer Jane Green during the Neuse River Golden Retriever Rescue event.
Puppies bark when they're lonely or scared, and often that's in the middle of the night, she says. Plus many new pet owners may not be able to take a puppy outside several times a day until it is housebroken.
Shelters are full of amazing adult dogs that get overlooked for the puppies, says VanderSlik. Often these dogs have already been vaccinated, microchipped, and spayed or neutered.
"Adopting an adult dog may just be easier for a family," she said.
Jill Walters, adoption counselor and medical coordinator with Alley Cats and Angels, encourages anyone thinking of adopting a kitten to take home two instead. A pair of kittens is actually less work, as they entertain each other.
"If you get a solo kitten, be prepared to spend a lot of time with it," she said. And that time may not be particularly convenient. A kitten may sleep 20 hours a day, adds Walters, "but those four hours they're awake are full-tilt, and it will probably be between 2 and 6 a.m."
Older cats are usually more laid-back, but they still require a certain amount of care.
"You don't have to go walk them in the rain, but you still have to spend that time with them," Walters said. "Your time with them can be lap time, TV time or snuggle time."
Survey Your Surroundings
Dr. John Strasser, owner and partner of several area veterinary practices including Kildaire Animal Medical Center in Cary and Carolina Ranch Animal Hospital & Resort in Garner, says it's important to take stock of your lifestyle before you welcome an animal into your home.
Steve MacDonald and his son Jack get acquainted with a dog that's up for adoption.
"You need to do a good reality check," said Strasser. The survey should include questions like: What is the daily routine? Do both husband and wife work outside the home? Do you have a house with a yard, or do you live in a third-floor apartment? How much time do you have to devote to a pet?
"Take the emotional pulse of the family," he said. "Is everyone really on board?"
Cheryl Kuntze, adoption counselor and foster coordinator with Calvin's Paws, says it's important to identify who is ultimately responsible for a pet.
"Who's going to take care of the cat on a daily basis?" she said. "A 3-year-old can't take care of a cat."
She also encourages pet owners to think long-term.
"Have you thought about the responsibility and the length of time this cat can live? Some cats can live up to 20 years old," Kuntze said.
Proper Pet Healthcare and Nutrition
Like any other member of the family, a new pet requires medical care and healthy food; owners should budget for both.
Count on spending $1,500 to $1,000 in the first year for a new puppy, says Strasser. This includes vaccines, spaying or neutering, property damage, training and fencing.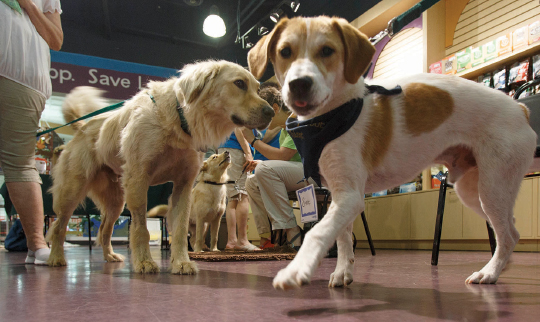 Dogs meet and greet potential owners during an adoption event at the AniMall at Cary Towne Center.
"You may not spend that much, but it's important to be prepared for the worst-case scenario," he said.
He also stresses the importance of good nutrition. The right food can help your pet live a long and happy life.
"Feed your dog the most expensive mainstream dog food you can afford," he said. Although a cheaper brand may look nutritionally similar, the source ingredients are vastly different. Poultry beaks and feathers count as protein, he says, but you may not want to feed them to your dog.
Invest In Training
"Training is so vital," said Strasser. "Good training can rectify potential problems."
He says many new pet owners don't recognize the energy level of their pet. High-energy dogs may get into trouble because they are bored, he says, not because they're bad. The SPCA always recommends obedience school for first-time dog owners.
"That is a fantastic way for them to bond and to learn positive reinforcement training," said VanderSlik.
A pet behavior specialist at the SPCA can also answer questions about all kinds of animals. The behaviorist can often work with the owner and pet to resolve an issue, so the animal can remain in the home.
Even cats can be trained if you work with their natural behavior, says Walters. Scratching is a natural behavior for cats, so provide a handy scratching post. And if the feline starts scratching on the sofa, a squirt of vinegar-scented water can redirect it.
Have Patience
Ultimately the best advice for new pet owners is to have patience — both in choosing the right companion and in learning how to care for it. You will be rewarded with many years of love.
"That first pet that you carry into adulthood with you is your friend through the breakups, through the dating, through the long nights at college, through the fights with your parents, through the first house, the first car," Walters said. "That's going to be your unwavering friend."