Meet our 2015 Notable Teens, and discover three young people who are chasing their dreams and building their futures. Be inspired by Samantha, Ben and Sabrina!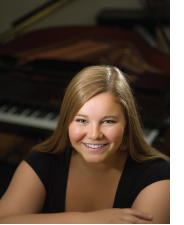 Samantha Childers: Service in Harmony
Longtime Girl Scout Samantha Childers
brings music to children at The Carying Place
Spend a bit of time with vocalist and pianist Samantha Childers of Cary, and you'll discover the two words most important to her: music and opportunity.
"I'm learning that the opportunities you're given impact the way your life plays out," said Samantha, 19, a rising sophomore at Elon University and aspiring high school choir teacher. "I've had my feet in so many pools — swimming, soccer, piano lessons, singing — and…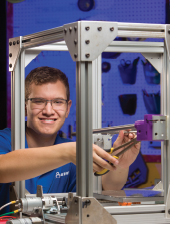 Ben Whipker: TechTrouble-Shooter
Ben Whipker uses his engineering know-how to solve problems and build machines for the digital age
Ben Whipker goes looking for trouble.
And in his high-tech world, he usually finds it.
"Hands-on and lots of problem-solving; I have to have that to be happy," Ben said.
Newly 19, he's grown from a kid who modified the inner workings of his Nerf guns for better performance…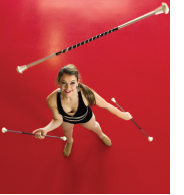 Sabrina Smith: Whirled Traveler
Baton twirler Sabrina Smith has traveled the world
competing and spreading good will
Sabrina Smith is a globe-trotting elite athlete. She's performed on three continents. She's competed for international titles, as an individual and on a team.
But don't look for her sport in the Olympics, at least not yet, because Sabrina is a baton twirler.