With plenty of parks and greenspaces to spread a blanket, the Triangle is made for summer picnics. But for alfresco aficionados, the outdoor concert is the occasion to pack a party to go.
Before every N.C. Symphony Summerfest concert, picnic-packing attendees line up at the gates of the Koka Booth Amphitheatre in Cary, waiting to lay claim to prime dining real estate.
"It is a fairly long-standing tradition at all of our Summerfest concerts," said Meredith Laing, director of communications for the symphony. "Being such an awesome, outdoor atmosphere and a low-key relaxed environment for our concert, people bring their coolers and their picnics.
"People go all out; it's an event."
Symphony staff scan the lawn, awarding a prize for the picnic that most creatively expresses the evening's theme.
Avid picnickers Bill Brooks and Sharon Ambrose of Cary are past winners of the Summerfest contest, with a Beatles-themed spread that included a "Yellow Submarine" sandwich with yellow peppers, tomatoes and cheese.
"We love the outdoors, so (picnicking) always gives us the opportunity to be outdoors," said Ambrose, who described another memorable concert featuring Dr. Ralph Stanley and a sudden downpour.
"We had to put plastic over us while it rained and have our picnic under a tarp," she said.
A flexible attitude helps when dining alfresco, as does a streamlined packing list. Brooks and Ambrose always take the same gear, but prefer soft-sided totes to a dedicated picnic hamper. Essentials include a small folding table, a tablecloth, folding chairs, a Swiss Army knife and a set of plastic plates.
Their menus vary, depending on location, season and companions, but they agree that all you really need is a beautiful day and someone to share it with.
"On a day that's gorgeous, you can go by the convenience store and get a pint of Ruth's chicken salad, some pita chips, a $6 bottle of wine and go sit by the lake," said Brooks.
"We always carry plastic wine glasses in our car," said Ambrose.
More Picnic tips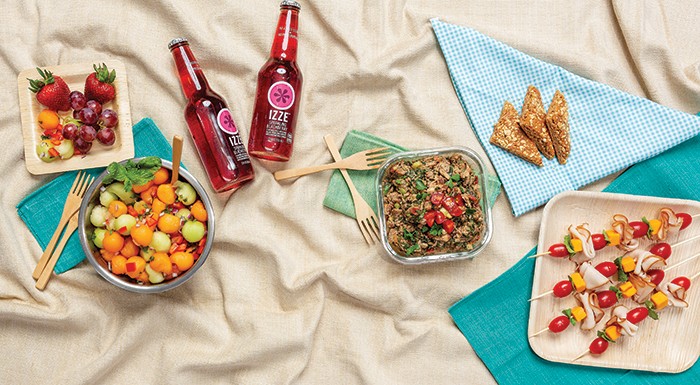 Instead of making sandwiches, pack fixings separately. It avoids soggy bread and pleases any picky eaters.
Remove the wine bladder from a box of wine for easier packing.
No time to cook? Prepared salads from the deli or a selection of cheese and crackers are great options.
For dessert, sturdy bar cookies won't crumble and will please kids of all ages.
For the ultimate finger food, skewer bite-size chunks of veggies, fruit, pickles, cheese or meat.
Melon Salad with Mint
Serves 6
3 cups cantaloupe chunks or balls
3 cups honeydew melon chunks or balls
1 red bell pepper, diced
½ medium red onion, diced
2-3 tablespoons honey (adjust depending on sweetness of melon)
2 tablespoons rice wine vinegar or fresh lemon juice
Pinch of salt
¼ cup fresh mint leaves, minced
Mint sprigs for garnish
In large bowl, mix together cantaloupe, honeydew, bell pepper and onion.
Combine honey, vinegar or lemon juice, and pinch of salt. Pour over melon mixture, and toss to combine. Sprinkle with minced mint and toss again.
Refrigerate for at least an hour. Garnish with fresh mint sprigs before serving.
Peanut Butter Coconut Bars
Makes 4 dozen bars
2 cups all-purpose flour
2 teaspoons baking powder
1 teaspoon salt
2/3 cup butter, softened
1 cup brown sugar
2 cups sugar
1 cup smooth, no-sugar added peanut butter
4 eggs
2 teaspoons vanilla
2 ½ cups sweetened flaked coconut
½ cup finely chopped salted roasted peanuts
Preheat oven to 350 degrees F. Sift together flour, baking powder and salt; set aside.
In the bowl of an electric mixer, cream the butter and sugars until light and fluffy. Add peanut butter, and mix well. Beat in the eggs and vanilla. Add the flour mixture, and mix until just combined. By hand, stir in the coconut.
Spread the mixture evenly in an ungreased jelly-roll pan, 15½ by 10½ inches. Sprinkle the peanuts over the dough, pressing them into the mixture lightly.
Bake for 25 to 30 minutes, until edges are brown and start to pull away from the sides of the pan. Cool in pan, and when only slightly warm, cut into bars.
Mediterranean Chicken Salad
Courtesy of Sassool, serves 8
1 tablespoon garlic, minced
1 cup olive oil, divided
3 pounds chicken thighs
2 bunches parsley, chopped finely
2 large tomatoes, diced
2 bunches of green onion, chopped finely
½ cup garlic sauce (see note)
1 teaspoon salt
1 teaspoon black pepper
1/2 cup lemon juice
1/4 cup balsamic vinegar
Marinate chicken thighs overnight in a mixture of 1 tablespoon minced garlic and ½ cup olive oil.
Grill the marinated chicken thighs until they are charred and crispy
Remove most of the fat from the grilled chicken and chop into 1/3-inch cubes, set aside.
In a large mixing bowl, whisk the garlic paste, remaining ½ cup olive oil, salt, pepper, lemon juice and balsamic vinegar together to create the dressing.
Add the parsley, tomatoes, green onion and chopped chicken to the bowl and mix well.
Note: Garlic sauce (or Lebanese toum) is available from Sassool. To make the sauce at home, owner Simone Saleh Lawson suggests the recipe from seriouseats.com, search for "Toum."
New Gear for the Picnic Basket
Hiking to a scenic lunch spot? Stash perishables in the lower compartment of the REI Cool Trail Split Pack Cooler, and stow chips, plates and sunscreen in the top; $79.95. rei.com
With a waterproof bottom and a flannel top, the Nemo Victory Blanket ensures that damp grass won't spoil your picnic; $49.95. rei.com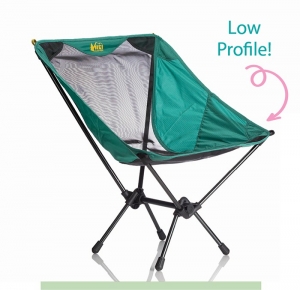 Igloo Recool, a biodegradable and compostable cooler, is an environmentally friendly alternative to Styrofoam coolers; $9.95. rei.com
The lightweight REI Flexlite camp chair can hold up to 250 pounds; classic size, $79.95. rei.com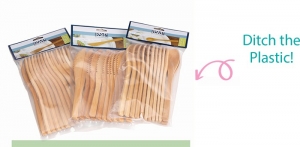 Picnic Pros insulated carriers keep your casserole hot or your potato salad cold; 9-by-13-inch Entertainer, $59.99; and the round Cake N Carry, $39.99. whiskcarolina.com
RSVP bamboo knives, forks and spoons are a biodegradable alternative to plastic; $9.99 each. whiskcarolina.com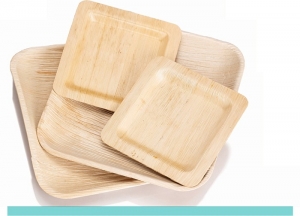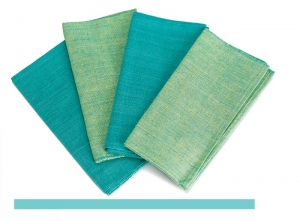 Why not bamboo plates instead of plastic or paper? 6-inch dessert plate, $1.50; 9.5-inch dinner plate, $2. whiskcarolina.com
Picnic Perfect cotton napkins are hand-woven in India; set of four, $29. tenthousandvillages.com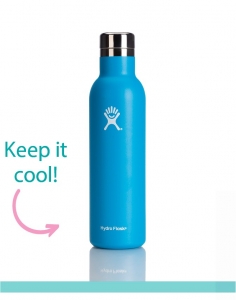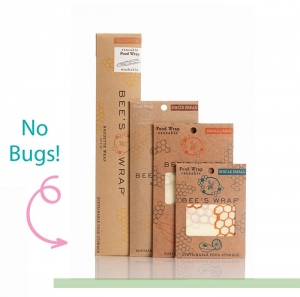 Keep 25 ounces of your favorite beverage cool with Hydro Flask's vacuum bottle; $49.95. rei.com
Bees Wrap plastic-free food wrap are reusable and compostable; various sizes, $8.99-$16.99. whiskcarolina.com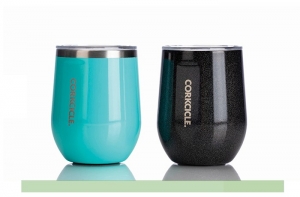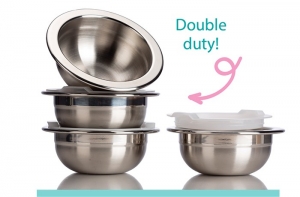 Corkcicle thermal 12-ounce wine glasses come with a lid to keep bugs out; $24.99 each. whiskcarolina.com
RSVP Endurance prep bowls do double duty — in the kitchen and on the road; set of four, $26.99. whiskcarolina.com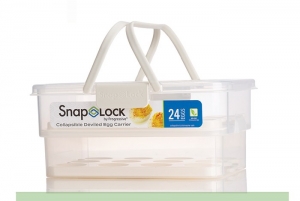 Snaplock collapsible carrier holds 24 deviled eggs; $16.99. whiskcarolina.com
Gear Tips:
Fill and freeze reusable water bladders to keep food cold and provide chilled drinking water.
Wrap reusable cutlery in cloth napkins and a rubber band for easy distribution.
Consider a wagon or cooler with wheels if your scenic spot involves a walk.
Avoid a soggy seat by spreading a tarp or plastic shower curtain under your blanket.
Don't forget wet wipes, sunscreen, insect repellent and a trash bag.
Music and more
Apex Music & Movies in the Park, free family-friendly events held throughout the summer at two locations — Apex Historic Depot, 220 N. Salem St., and the Apex Nature Park Amphitheatre, 2600 Evans Road. apexnc.org
N.C. Symphony Summerfest, concerts are 7:30 p.m. at Koka Booth Amphitheatre. Picnics are welcome. ncsymphony.org/summerfest
June 1: A Space Spectacular
June 7: Piazzolla's Four Seasons
June 8: Vivaldi's Four Seasons
June 15: Classics Under the Stars
June 22: Ben Folds
June 29: Broadway's Greatest Hits
July 4: Independence Day Celebration
July 6: Russian Nights
July 12: The Music of Chicago with Brass Transit
July 20: Beach Party starring The Embers
Free concerts in Cary's Downtown Park. Bring a lawn chair and a picnic, or order from local food trucks. Outside alcoholic beverages are prohibited. townofcary.org
Cary Live, 7 p.m. June 29 and July 20.
Park After Dark, 7 p.m. June 12 and July 10.
Starlight Concert Series, free musical performances on the grounds of the Page-Walker Arts & History Center. Picnics are welcome. townofcary.org
June 14: Polka Plus Band, 7 p.m.
June 28: Beach Music Party with North Tower, 7 p.m., shag lessons at 6:30 p.m.
July 26: Celebration of Bluegrass, 6:30 p.m.
Sertoma Concert Series, free concerts at 7 p.m. at the Sertoma Amphitheatre in Cary's Bond Park. Picnics are welcome, but alcoholic beverages are prohibited. townofcary.org
June 15: Violet Bell
July 13: Al Strong and the 99 Brass Band
North Carolina Museum of Art concerts and movies are held throughout the summer. Picnics are welcome, but glass containers and outside alcoholic beverages are prohibited. ncartmuseum.org