Juice bars are booming, and they are more than a here-today-gone-tomorrow fad.
That shouldn't be a surprise, especially as people of all ages are embracing healthier dining choices. Since nutrition experts recommend consuming five to nine servings of vegetables and fruits each day, juicing is a great way to incorporate more of each.
JuiceVibes
BACKGROUND: After struggling with significant health ailments for years, Raleigh native Liz Layman founded JuiceVibes in hopes of educating communities concerning the link between diet and disease. Now a vegan and strong proponent of plant-based nutrition, her first store debuted in nearby Clayton. She then joined forces with friend and business partner Stephanie Denton to open the Cary location in July 2017.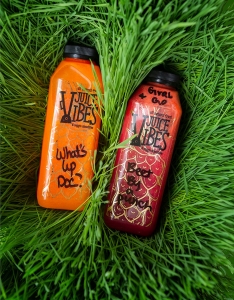 DISTINCTIVENESS: Juice is fresh-squeezed and made to order from locally sourced produce. "Everyone has different health goals and needs, so drinks are customizable," said Denton. CBD (hemp-based cannabidiol) is available as an add-in option and is believed to aid in the relief of pain and inflammation.
NOTABLE CAUSE: The Devan Project was founded in memory of JuiceVibes team member Devan McElveen, who died of melanoma at age 22. The endeavor helps support local families struggling with cancer by providing financial, emotional and nutritional support. More information is available on the JuiceVibes website.
BESTSELLER & MUST-TRY ITEM: Landshark contains Granny Smith apple, pineapple, cilantro, spinach, kale, lemon, lime and ginger.
WHY JUICE IS TRENDING: "It's a great way to get a lot of nutrients into the body in a fast, convenient way," Layman said. "People get excited about taking steps to do something amazing for themselves."
1369 Kildaire Farm Road
Shoppes of Kildaire, Cary
(919) 377-8923
juicevibes.com
Kale Me Crazy
BACKGROUND: Open at Waverly Place since summer 2017, the Georgia-based franchise has developed quite a following among the Cary crowd. "The Triangle is looking for more healthy, quick food options, and Kale Me Crazy is here for them," said proprietor Jeff Hutto, a former fashion and design executive. He now owns a second Kale Me Crazy site in Raleigh's Cameron Village.
DISTINCTIVENESS: Kale Me Crazy is a superfood café serving up fresh, hydraulically extracted cold-pressed juices. Hutto says that despite the name on the door, only about 20 percent of his products include kale. "We have plenty of other healthy options for you, but don't be afraid of the kale," he said. "Once it's mixed with fruit juices, you will barely taste it."
TAKE NOTE: Fruit- and greens-based juice cleanse packages are available. "If you're looking to kick a bad habit or to shift to a cleaner way of eating, a cleanse can help you get there," said Hutto. "At the end of three days, your body will be craving fruits and vegetables instead of diet soda."
BESTSELLER: The Glow, a mixture of fresh pineapple and grapefruit juice with turmeric added for a little antioxidant boost.
MUST-TRY ITEM: Watermelon, which is available during the summer.
WHY JUICE IS TRENDING: "The trend is getting away from processed and fried food and toward putting cleaner and healthier fuel in our bodies," Hutto said.
302 Colonades Way, Suite 209
Waverly Place, Cary
(919) 200-2960
kalemecrazy.net
Pure Juicery Bar
BACKGROUND: Founder K.H. Everett is passionate about health, wellness and plant-based nutrition. She saw a paucity of juice bars in the Cary area and spent two years developing the concept. Pure Juicery opened in July 2018.
DISTINCTIVENESS: "We are the Triangle's only all-vegan juice bar, which means we don't use honey or whey protein," Everett said. The Juicery uses BeeFree Honee and plant-based protein powders. Front-of-house cold-press juicing is another point of differentiation. This allows enzymes and nutrients to be preserved for longer periods of time.
TAKE NOTE: A membership option offers an approximately 20 percent discount on juices and smoothies. A person may purchase a package of either 10, 15 or 20 beverages, come in throughout the month and choose whatever they want.
BESTSELLER: The Paradise, which incorporates pineapple, grapefruit and apple.
MUST-TRY ITEM: The Energy with fresh mint, pineapple and wheatgrass. Potential benefits of wheatgrass include lowering blood pressure and cholesterol, and improving the immune system.
WHY JUICE IS TRENDING: "People are tired of fast, artificial food," Everett said. "And while everyone eats unhealthy food on occasion, juicing offers a way to revitalize your system."
716 Slash Pine Drive
Village Square at Amberly, Cary
(919) 234-1572
purejuicerybar.com
Earthhouse Juices
BACKGROUND: Several years ago, Micelli Bianchini and his family opened a Caribbean-style restaurant in Fayetteville, N.C. Customers began asking for fresh carrot and cucumber juice. "We quickly bought a small juicer," Bianchini said. Ultimately, he relocated and started a cold-pressed juice manufacturing and distribution business in downtown Apex in 2017. "We are now on our fourth upgraded juicing machine."
DISTINCTIVENESS: Earthhouse's prices are lower than the average cold-pressed juice products. Bianchini doesn't have a traditional retail space, so juices are available online. He also has bulk purchase packages, including juices by the half gallon. "We're able to leverage our other food operations – restaurant, food truck and farm – in order to bring down costs," Bianchini said, adding that he anticipates harvesting his own produce soon.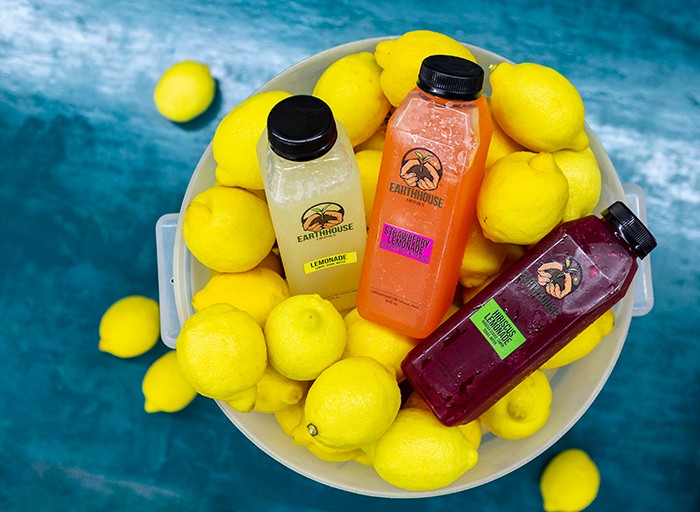 BESTSELLER: Even Keeled with green apple, pineapple and lemon.
MUST-TRY ITEM: Heart Beet featuring Fuji apple, beet, lemon and ginger.
PERSPECTIVE ON JUICE CLEANSING: "Since the body is always in a natural state of cleansing itself, a person does not need to do a juice cleanse or follow a liquid diet to 'detox,'" Bianchini said. "I am a big proponent of using the juices as a mineral and vitamin supplement to the diet."
(919) 238-9665
earthhousejuices.com
Clean Juice
BACKGROUND: Shaun Stokes' son worked at the flagship Clean Juice store in the Charlotte area and urged his father to sample the goods. "After trying all their products and seeing all the excited and smiling faces of customers and employees, I realized that I wanted to be part of it," Stokes said. He opened the Morrisville location in October 2017.
DISTINCTIVENESS: Founded in 2014, the family-owned company is the only USDA certified organic juice franchise in the country. Clean Juice is committed to reducing people's exposure to potentially harmful chemicals and pesticides and employs a "healthy body and strong spirit" ethos.
BESTSELLER: The Orange, made from oranges, carrots, and pineapple "with a touch of turmeric," Stokes added, "because it's so refreshing and comes with a great immunity boost."
MUST-TRY ITEM: Gold, a cashew milk suffused with turmeric, maple syrup, Himalayan pink sea salt, black pepper, cinnamon and vanilla.
TAKE NOTE: Five varieties of cold-pressed bottled shots involve concoctions like cayenne-infused Hot Shot and beet-laden Athlete Shot.
WHY JUICE IS TRENDING: "I think people are tired of being sick and unhealthy," Stokes said. "More people are taking control of their own health and well-being, starting with their diet." t
3035 Village Market Place
Park West Village, Morrisville
(919) 468-8286
cleanjuice.com