Summer is upon us, so let's talk about the perfect rum to beat the heat — Muddy River Distillery's Coconut Carolina Rum! Owned by husband and wife Robbie and Caroline Delaney, the distillery is located along the Catawba River in Belmont, N.C.
As the first rum distillery to open in North Carolina in 2011, Muddy River distills four rums including a silver rum and an aged barrel-rested rum, Queen Charlotte's Reserve. Each rum starts by fermenting U.S.-sourced molasses, and then it is distilled on one of the company's custom-built stills: Independence, Democracy and Liberty.
The coconut-flavored rum distilled by Muddy River is fresh and smooth with just a touch of sweetness. Many other coconut rums, especially those that are mass-produced, have artificial flavorings and are either too sweet or, unfortunately, have an aroma reminiscent of suntan lotion.
Muddy River's Coconut Carolina Rum demonstrates how craft and care results in a superior product. Seek out this fantastic rum at your local ABC store this summer. Or if you're headed towards Charlotte for the weekend, stop by to take a tour. Muddy River Distillery is open for tours and tastings on Saturdays. Don't miss the opportunity to learn more about their distilling techniques and to sample their delicious rums!
Carolina Colada
1/2 fresh pineapple
3 ounces Muddy River Distillery Coconut Carolina Rum
3 ounces coconut cream (Coco Lopez)
1 to 1½ cups ice
1 ounce fresh lime juice (optional)
Cube pineapple and place in freezer for a minimum of 30 minutes. Then, add all ingredients to a blender and blend until smooth. Serve in a fun tiki-inspired glass. Optional: top with floater of Muddy River Distillery Queen Charlotte's Reserve Rum.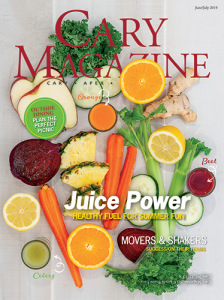 Liquid Assets: Coconut Carolina Rum from Muddy River Distillery