Fanny Slater, who grew up in Wake County, is the winner of The Rachael Ray Show's 2014 Great American Cookbook Competition, a frequent guest on the show and now the author of Orange, Lavender & Figs: Deliciously Different Recipes from a Passionate Eater.
Slater lives and works in Wilmington these days, so we grabbed the chance to chat with her during a recent book tour stop in Holly Springs.
Cary Magazine: You were a foodie long before Tin Foil Surprise (her breakfast sandwich with orange-lavender-fig jam) won you the Rachael Ray competition. What's the draw?
Slater: I grew up around wonderful homemade food, filled with love. My parents both love to cook; my mom founded (the nationally acclaimed) Rachel's Brownies back in 1975.
Eating has always been an event for us. Even when we go on trips, we get out a pad and pen and plan every meal in advance. So how could I not love food?
My concept for the contest was "tastes like childhood," and the cookbook is full of updates to my childhood favorites.
How has winning the competition changed your catering business, Fanfare?
Catering was my way of doing food and sharing it with people. After Rachael Ray and working on the cookbook, I found a new way to do food. Fanfare has transformed into food writing, restaurant reviews, and recipe development.
For example, I work with a small winery in Italy. They send me the wines, I taste them and recipes come to me. I look for how I can put flavors together.
Your food style is "sophisticated yet approachable." What does that mean?
It's approachable enough for the home cook, and sophisticated in that it's out of the box, creative, fun and playful. "Fanny flair" is what's totally unexpected, ingredients you wouldn't think to use. Every time I walk into the kitchen, I'm experimenting.
You tweak leftovers into "Flippidy Doos?"  
Yes! Take advantage of leftovers. You can travel around my book and figure out ways to turn leftovers into something fun, and stretch them into another meal or two. That's why I've included so many sauces.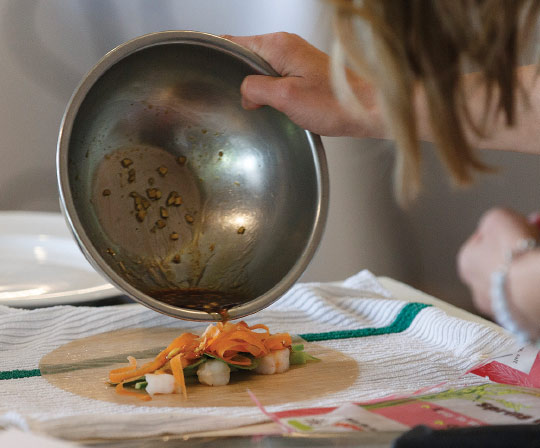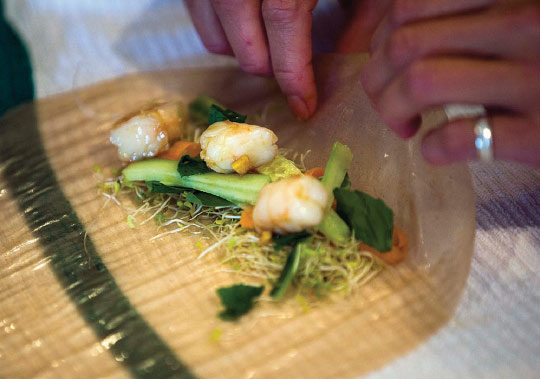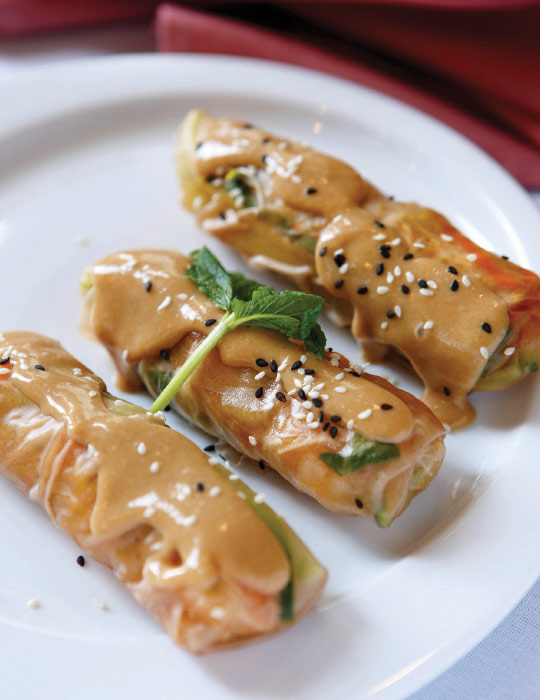 Slater demonstrated her Ginger & Lemongrass Shrimp Summer Roll recently in Holly Springs. Her tips: Cut the shrimp into thirds to put a bite in each roll but save the budget. To easily and safely pull the skin off a ginger bulb, pull down on it with the back of a spoon. And use citrusy lemongrass to flavor oil.
What are your best kitchen tips?  
Use the freezer. Grilled chicken is cheaper when you buy it in bulk, so cook it and put three or four quesadillas in the freezer for a quick meal later. You can freeze fruit or veggies too.
Two, use simple enhancements like fresh herbs and citrus zest for sprucing up meals. They brighten flavors. You can also mash the herbs with oil. These things up your cooking skills and make dishes pop.
And shrimp tell you when they're done; they start to curl into a C shape. C means cooked, O means overcooked!
The most important thing about cooking is, "Here's the idea; take it and have fun with it." The kitchen is a playground, and there are no rules.
What's next for you?   
The Rachael Ray Show has helped me step up to the next level. I want to expand my recipe development and writing. I have a producer, an agent, a publicist, all these great people, but I have to move myself forward. And when the time is right, I want to have my own food show. I believe it's waiting for me.
Editor's note: Special thanks to event host the Holly Springs Chamber of Commerce and event venue Devil's Ridge Golf Club. For more about Slater, visit fannyslater.com.
Exclusive Dish
If you've never been to Hawaii, this treat is your first-class ticket. No sunscreen required. This decadent dessert is stacked with tart sorbet, fresh island fruit, and toasted coconut flakes. Drizzled with a syrupy balsamic fig reduction, every bite is as harmonious as a sundrenched day on Oahu's Kailua Beach.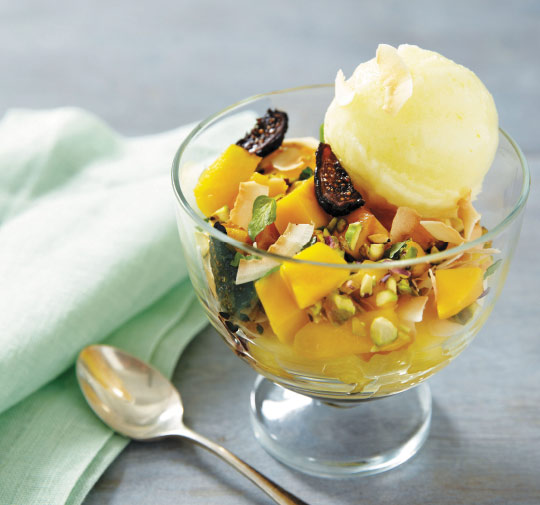 Kailua Coupe with Balsamic Fig Syrup
From Slater's cookbook, Orange, Lavender & Figs, Deliciously Different Recipes from a Passionate Eater
Serves 4
¼   cup unsweetened shredded coconut flakes
¼   cup roughly chopped pistachios
1    cup chopped fresh pineapple
1    cup chopped mango
Balsamic fig syrup, recipe follows
Several small fresh mint leaves as a garnish
1    pint lemon sorbet
Preheat the oven to 350 degrees F.
Spread the coconut flakes onto a small baking sheet and bake, keeping a very close eye as it burns easily, until lightly golden, 2 to 3 minutes.
In a dry small skillet, toast the pistachios over medium-low heat, tossing frequently, until lightly golden and very fragrant, about 5 minutes. Immediately remove the nuts from the pan and transfer to a bowl to stop the cooking process.
In four clear, 2-cup coupe glasses or dessert goblets, stack the pineapple, mango, coconut, pistachios, and several of the balsamic-infused figs. Garnish with a light drizzle of the balsamic fig syrup and the mint leaves and then scoop the sorbet over the top.
Balsamic Fig Syrup
Makes ¼ cup
½ cup balsamic vinegar
¼ cup stemmed and halved dried black Mission figs (4 to 6 figs)
In a small pot, combine the vinegar and figs and bring to a simmer over medium-high heat.
Reduce the heat to medium-low and cook, stirring occasionally, until thick and syrupy, 6 to 8 minutes.
Fanny's Flippidy-Doo: For a sweet and savory crostini, spread toasted baguette slices with creamy rich Brie and drizzle the Balsamic Fig Syrup over top. Garnish with fresh thyme sprigs for a bright pop of color.