Faith. Family. Friends.
The members of this year's class of Movers & Shakers truly understand that success is not a solo proposition.
Amid all their nuts-and-bolts advice, they remind us that these "three F's" are at least as important as a black-ink bottom line.
They work hard. They give generously. And we're lucky to have them as part of our Western Wake community.
Meet the 2016 Cary Magazine Movers & Shakers.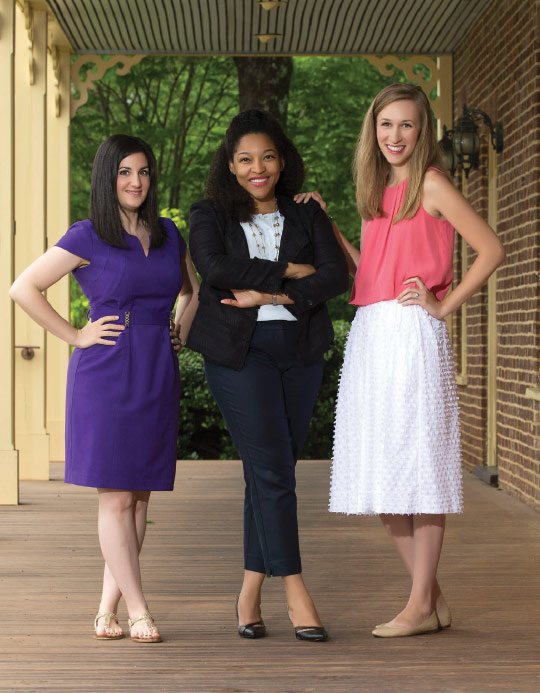 From left are Susan Silver, Lashonza Brown and Amy Bardi.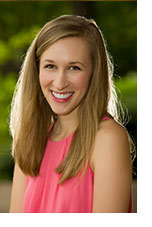 AMY BARDI
Position: Founder and executive director of global nonprofit Clothed in Hope, which teaches impoverished women sewing, entrepreneurship and life skills.
Age: 26
Proud of: Earning the title of "Mama Amy" to 120 Zambian women who are in our training program.
Guiding philosophy: By this we know love, that Jesus laid down His life for us, and we ought to lay down our lives for our brothers and sisters. – 1 John 3:16
Fun fact: My cure for hard days, and celebration for great days, is chocolate cake. Always chocolate cake.
Advice to offer: Behind the companies and profits and spreadsheets are people. Put people first. Care about them, cheer them on, and encourage the best in them. Success will surely follow when you first care for your people.
LASHONZA BROWN
Position: Small business banker/branch manager for Yadkin Bank; advisor, Cary High School Junior Bank Board; treasurer, Apex Festival Commission; ambassador, Cary Chamber of Commerce
Age: 38
Proud of: The ability to balance my busy career with being a mom, wife and church/community volunteer. Also, of being able to assist in the growth of our community by providing lending solutions to small businesses.
Guiding philosophy: Honesty and integrity are two core values important to me. I want to be as transparent as possible to my family, friends, coworkers and clients.
Fun fact: Over the last four years, I've advanced from only running when chased, to completing my first half-marathon in November!
Advice to offer: Surround yourself with like-minded individuals who continuously look for ways to grow. Seek mentors who have achieved a level of success in which you aspire to achieve. Iron sharpens iron!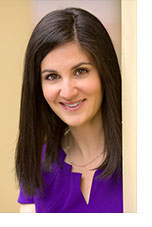 SUSAN SILVER
Position: Visual art teacher at Cary High School; Principal's Advisory Council member; GSA Safe Space co-coordinator; founder of RedBird Goods
Age: 35
Proud of: Obtaining my National Board Teaching Certification, developing an afterschool program to support academically at-risk students, and most recently, facilitating a partnership between the Town of Cary and my students to produce promotional materials for the Spring Daze Arts & Crafts Festival.
Guiding philosophy: Live according to your authentic self. Demonstrate unconditional kindness, compassion and generosity to all. My teaching philosophy: I have a wealth of knowledge and skill; I want to share it with as many people as possible.
Fun fact: My wife and I recently launched a business, Red Bird Goods. We design gender neutral clothing/goods with positive and creative messages for infants and toddlers.
Advice to offer: Fear and risk are inevitable when pursuing your dreams.
Joy Currey, left, and Sara Kate Steadman.
JOY CURREY
Position: Founder and president of nonprofit CORRAL Riding Academy; recipient of 2016 William C. Friday Award for excellence in leadership.
Age: 36
Proud of: Seeing young women who started with CORRAL as hurting, angry, scared middle school students now graduating from high school as healthy, strong young women matriculating into college — on scholarships! That makes me proud.
Guiding philosophy: If it's not hard, it's not worth doing.
Fun fact: I started CORRAL with my childhood horse, Rebel.
Advice to offer: Make sure you are a leader of consequence. Address a real need in the community, work hard and build up those around you who share a passion to see that need addressed.
SARA KATE STEADMAN
Position: Co-owner of Frill Clothing; founder of life and style blog Sara Kate Styling
Age: 25
Proud of: The fact that we were able to turn $500 into a six-figure company in a matter of two years, and that we appeared on Shark Tank.
Guiding philosophy: Always seek ways to differentiate yourself from those around you. Do this in your work ethic and the way you treat others. Always let it be known that you will be the one who will go above and beyond every single time.
Fun fact: I am a cancer survivor. As such, I'm incredibly strong-willed, but I strongly believe that my fight with cancer made me the leader I am today.
Advice to offer: Always learn from those around you. There is incredible value in hearing others' experiences. Also, don't be afraid to ask for help or advice. You can't do it all and there will always be people that are willing to lend a hand.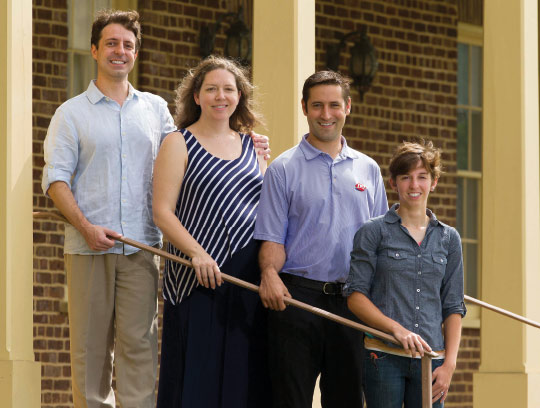 From left are Colin Crossman, Deanna Crossman, Andrew Valkanoff and Danielle Castelli Strader.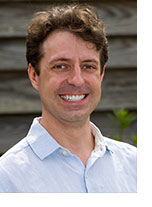 COLIN CROSSMAN
Position: Owner of Rhea Hospitality, operating The Mayton Inn and The King's Daughters Inn; attorney
Age: 37
Proud of:10 years, 20 houses, two hotels, and one baby, all with my awesome wife. Enough said.
Guiding philosophy: While I'm not all that consistent with it, a few years ago I was introduced to stoicism, and deeply appreciate the teachings of Seneca and Epictetus. Their philosophy toward life is as relevant today as it was when they were alive.
Fun fact: I love my recumbent bike. I get a lot of weird looks, but it's awesome!
Advice to offer: Get a sufficient amount of sleep — you can't be at your best and most effective if you're overtired. If this means that you have to make some other sacrifices, so be it. Note: I rarely take my own advice.
DEANNA CROSSMAN
Position: Owner of Rhea Hospitality, operating The Mayton Inn, The King's Daughters Inn
Age: 36
Proud of: We built The Mayton Inn from the ground up. Countless locals and guests have come in and asked, "What was this building before you took over?" That means we did our job, to build a building that blends in with the existing downtown façade, and will be known as a beautiful historic downtown Cary building 50 years from now.
Guiding philosophy: Nothing in business is life or death (at least not in the hotel industry)! Perspective is so important. There is always a solution. Sometimes you just have to take a deep breath and walk away for a minute.
Fun fact: I love dill pickle potato chips.
Advice to offer: Stop and celebrate the victories. Even the small ones. The process can often be long and hard and if you don't take a minute to appreciate the little wins and how far you've come, it's easy to lose perspective, and passion.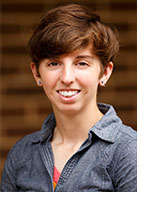 DANIELLE CASTELLI STRADER
Position: Owner and operator of Torrenti Cycles Inc., bicycle repair company
Age: 24
Proud of: Building my company is an important accomplishment because it serves as a vehicle for me to make a difference. However, I am most proud of the impact I am able to have in my community. That is a summation of both big and small accomplishments over time.
Guiding philosophy: My goal in life and in work is to improve people's situation, cycling or otherwise. I deliver excellent service, not just for the sake of running a good business, but because it is important to me to positively influence the lives of others.
Fun fact: I love old bluegrass music and playing the banjo.
Advice to offer: Adversity is just part of the process to achieving your goals. Sometimes you have to work tirelessly to get where you want to go.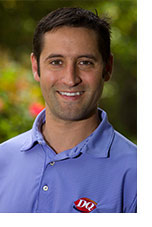 ANDREW VALKANOFF
Position: Owner and operator of three Dairy Queen Grill & Chill Restaurants
Age: 36
Proud of: Being a husband to Christina and dad to Addison, Anderson and Anna Claire.
Guiding philosophy: Lead people, manage details.
Fun fact: I'm not very connected on social media. No Facebook, Instagram, or Snapchat. Just Twitter.
Advice to offer: Do something that wakes you up in the morning. It is so much fun to go to work.
Josh and Katie Dies.
JOSH DIES
Position: Owner and head baker at Stick Boy Bread Co., and co-owner of The Mill
Age: 36
Proud of: I'm most proud of the relationship Katie and I have with each other; owning/operating two businesses with your spouse while raising two young boys is nearly impossible. I'm proud of the way we communicate, problem solve, and care for each other every day.
Guiding philosophy: The Golden Rule: Do unto others as you would have them do unto you.
Fun fact: I love to create, and would like to have my own woodworking shop.
Advice to offer: Lots of things are going to demand your time and energy. Make time for friends and family: Take a day trip to the zoo, meet a friend for lunch, or make breakfast for your kids.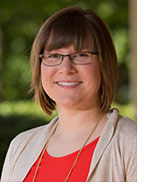 KATIE DIES
Position: Owner and general manager of Stick Boy Bread Co., and co-owner of The Mill
Age: 34
Proud of: I believe that everything I have is from the Lord — my accomplishments are really blessings from Him. With that in mind, I am most thankful for the relationships He has orchestrated within my community and with my staff, and my two incredible boys.
Guiding philosophy: My life and work are guided by my faith.
Fun fact: I was born in Chicago, and LOVE deep dish pizza.
Advice to offer: Don't be afraid to say no. If a great opportunity presents itself but fails to align with your core values, or your business' identity, say no. Another opportunity will come up.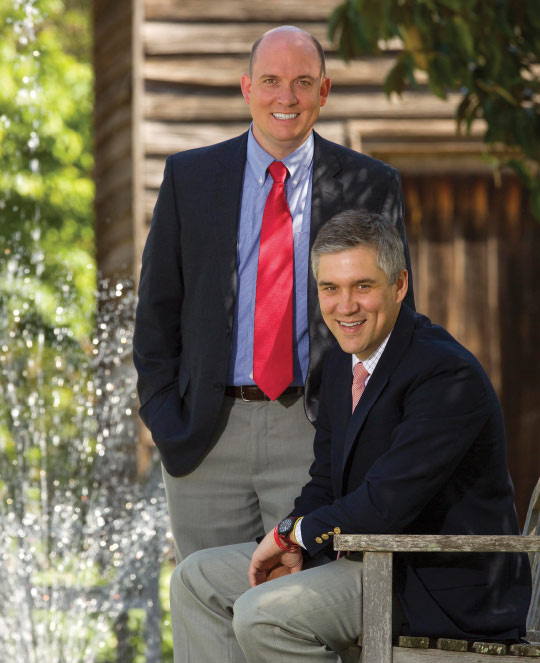 Kyle Greer, left, and Moss Withers.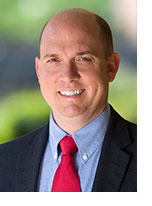 W. KYLE GREER
Position: Vice President of Economic Development at Cary Chamber of Commerce
Age: 36
Proud of: Having played a role in bringing more than 4,300 new jobs to Cary, resulting in an investment of over $200 million in the last two years.
Guiding philosophy: I consider my reputation to be my most valuable asset, so every day I strive to enhance its value. Also, hard work has never killed anyone!
Fun fact: I'm a really good juggler.
Advice to offer: Listen more than you speak.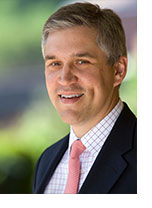 MOSS WITHERS
Position: Commercial real estate advisor at NAI Carolantic Realty; founder of VIII Oaks young professionals organization promoting community service; advisory board, Kraft Family YMCA
Age: 32
Proud of: That's easy — being the father of two beautiful little girls!
Guiding philosophy: God, family and community. I would never be where I am without the positive impact of Christ, my family, and many community influences that still shape me on a daily basis. I now do my best to give back to those that have made me who I am.
Fun fact: As a child, I rode in the Cary Christmas Parade with Mayor Koka Booth for several years … celebrity status! In high school I was in the percussion ensemble, regularly playing a marimba with four mallets, two in each hand. One show was entirely performed with the sounds I could create using a push broom.
Advice to offer: You are who you surround yourself with. Find something that you are passionate about and get involved. The work you provide will change your community for the better and the relationships you build will assist on a professional level.
Mónica Linares, left, and Kelly Shatat.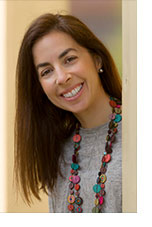 MÓNICA LINARES
Position: Artist and workshop coordinator at Waverly Artists Group Studio & Gallery; docent at North Carolina Museum of Art
Age: 43
Proud of: Having the honor to raise the two most incredible people in the whole world. Professionally, being part of a wonderful tribe of artists at the Waverly Artists Group and to be one of the Painting Miles founders, our special open studio group. Also, I feel proud every time I connect with artists I admire and get to invite them to teach a workshop in our gallery. Getting to know them and the students is enriching!
Guiding philosophy: Make meaningful connections, transmit joy, never stop learning, and of course, dream big!
Fun fact: I would love to go to Mount Everest base camp one day. I will always be a hiker at heart.
Advice to offer: Be clear with what you want, dream about it, surround yourself with people in tune with you and your dream, work for it … and be patient. It will happen.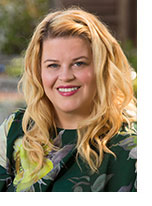 KELLY SHATAT
Position: Founder, designer and CEO for Moon and Lola
Age: 44
Proud of: Spreading happiness, providing careers, and making a positive impact on the community.
Guiding philosophy: Feel the fear and do it anyway.
Fun fact: I love rap music.
Advice to offer: Follow your instincts and be deliberate in your choices. Trust your gut even when you're afraid.
From left are Becca Smith, Steve Rao and Jennifer Martin.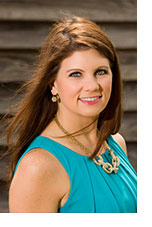 JENNIFER MARTIN
Position: Executive director of Shop Local Raleigh, covering all of Wake County/Greater Raleigh Merchants Association; creator and director of Brewgaloo festival
Age: 36
Proud of: Brewgaloo! A vision for a small, all-local festival which is now the largest in the state and it's right here in Wake County! Every year we learn something new, we add something that is bigger than who we are and every year it continues to be a success.
Guiding philosophy: Keep Him first, do all things as if I am working for Him, and know He will always guide my path.
Fun fact: I started my own eBay business in college to help pay for my tuition, selling men's hunting and fishing sample clothing!
Advice to offer: Leadership starts with leading by example. Follow this statement and commit to being the best leader you can be.
STEVE RAO
Position: Mayor pro tem for Town of Morrisville; business development manager at Alphanumeric Systems
Age: 45
Proud of: Helping to start Hottovation in Morrisville, which supports the growth of small businesses; helping start an English as a Second Language Class in Morrisville; and developing relationships with federal and state leaders that I believe have positioned us better for transportation and economic investment.
Guiding philosophy: To meet and learn from people from all walks of life. The best moments during my last two terms have been my office hours; I have met interesting citizens and received great ideas.
Fun fact: I was shy and unconfident, largely because I was very sick as a child. I got more confidence through sports, having supportive parents, and was inspired by my late grandfather, Major S.V. Rao.
Advice to offer: Learn every day from others, look for the best in everyone, and no matter what you do, try to make a difference in your community or impact the world in some way.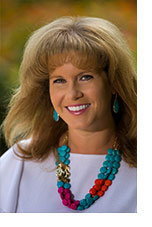 BECCA SMITH  
Position: Director of marketing for Smith & Smith CPA; board member and incoming president of Life Experiences; co-chair of Cary Visual Art's Art Ball
Age: 35
Proud of: Without a doubt, having a flexible job, amazing family, and incredible friends that support me. They allow me to be involved in many community service projects and nonprofits, all of which I love so much!
Guiding philosophy: Be willing to try new things and ideas, go on different adventures and stay active. I'll sleep when I'm dead.
Fun fact: When I was 17 years old, I had the opportunity to work in an orphanage and school campus in South Africa as a missionary. It was a life-changing experience.
Advice to offer: In all the places you go and all the things you do, ALWAYS be willing to make a new friend!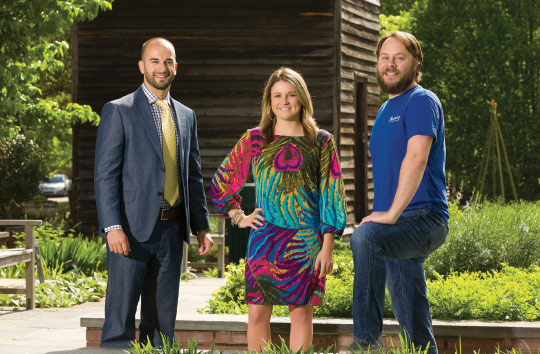 From left are Patrick McCoy, Lauren King and Tyler Watt.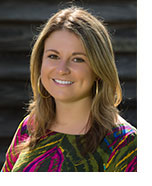 LAUREN KING
Position: Owner of Paisley Boutique, with two Cary locations
Age: 24
Proud of: Owning my own successful business.
Guiding philosophy: Always try your best, give back to your community, and live by the Golden Rule.
Fun fact: I was in Kappa Delta Sorority, at East Carolina University.
Advice to offer: If you can dream it, you can achieve it.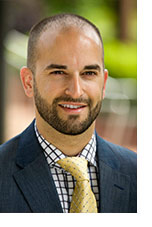 PATRICK MCCOY
Position: Founder and president of Whiteboard Creations & Review Primer; board member for Cary MacGregor Rotary Club and The Carying Place
Age: 33
Proud of: A few short years after starting Whiteboard, at age 28, I was student loan and car loan debt free, while also being able to buy my first home. I work hard every single day to accomplish this. I will never forget those feelings of personal success and joy.
Guiding philosophy: Abstain from negativity. Always hold myself to the highest level of integrity. Volunteer within the community to help those in need. Surround myself with good people.
Fun fact: I spent six years at three universities for one degree which led to zero jobs for my degree. However, I carved my own path and couldn't be happier every day.
Advice to offer: Go after anything and everything that makes YOU happy. Ask questions and absorb responses. Take calculated risks. Don't expect handouts. And maintain a tireless work ethic.
TYLER WATT
Position: Owner and founder of Pharmacy Bottle Beverage
Age: 36
Proud of: Being a part of bringing on old building back to life in Downtown Cary.
Guiding philosophy: Enjoy what you do and where you spend your time.
Fun fact: Prior to opening Pharmacy I spent close to a decade in Denver, working in corporate finance.
Advice to offer: There's nothing wrong with being outside your comfort zone if you are chasing a goal.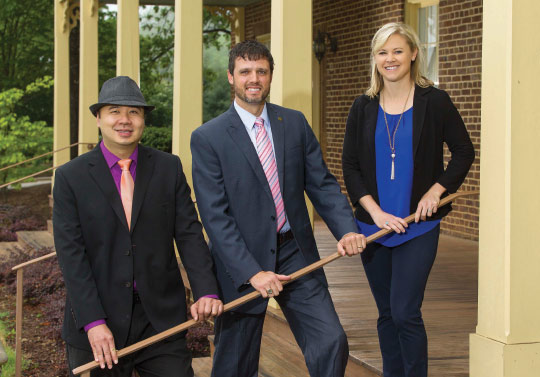 From left are Phillip Lin, Wesley Moyer and Lissy Wood.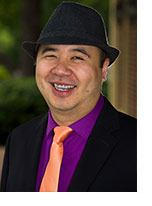 PHILLIP LIN
Position: Entrepreneur and owner of Catering By Design, The Spa at Stone Creek, and Maui Wowi
Age: 39
Proud of: Helping my employees to grow professionally, and being able to create jobs from my various companies for people I trust.
Guiding philosophy: There is an old saying that you have to be in the right place at the right time. Unfortunately you never know when the right time is, so I always put myself in the right place and wait for the right time to occur.
Fun fact: I enjoy watching WWE.
Advice to offer: Be patient and confident. Not many things are achieved overnight. You need to be confident in your ability and have the patience to wait for the result.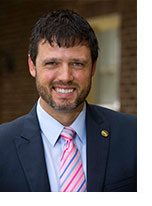 WESLEY MOYER  
Position: Financial representative for Modern Woodmen Fraternal Financial; member of Apex Town Council
Age: 34
Proud of: My family is my No. 1 accomplishment. Also, earning a scholarship to play Division I baseball at UNC-Chapel Hill, and most recently, being elected to the Apex Town Council.
Guiding philosophy: Colossians 3:23: Whatever you do, work at it with all your heart, as working for the Lord.
Fun fact: I married my high school sweetheart, and I'm a huge Eric Church fan. I also enjoy listening to bluegrass music.
Advice to offer: Be the change you want to see. Don't ever give up on your dreams and goals. My dad knew my dream to play baseball and he always told me growing up, "Somewhere someone is practicing; is that person you?"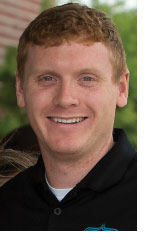 JONATHAN PIERCE
Position: Owner and operator of The Mason Jar Tavern, with two Wake County locations
Age: 26
Proud of: Providing jobs through our restaurants. As of May 2016, our company has provided 184 jobs in our communities. I love being able to give people a chance to provide for their families and helping them grow their own business. Also, to be working alongside my beautiful wife, Maggie, the best business partner I could ask for. She's a full-time engineer by day and helps run the restaurant by night. Our partnership is what makes our dream exciting!
Guiding philosophy: My faith in Christ guides my life and work. I have felt called to open a restaurant and be on mission within the communities we serve.
Fun fact: I know all the lyrics to "Ice, Ice Baby."
Advice to offer: Stay humble. I'm happy to jump in and help wash dishes, clean toilets, and do whatever it takes to make our business successful. Lead by example and people will follow.
LISSY WOOD
Position: Founder and head of school at Wake Academy; educator
Age: 38
Proud of: Opening a school for kids that meets the needs of gifted children.
Guiding philosophy: Always treat others like you want to be treated. Always try your hardest. Life is not perfect but you have to trust that it all happens for a reason.
Fun fact: I make my own syrup. And, we have a pet snake.
Advice to offer: If you never try, you will never know what could be. If you try, you have nothing to regret later. If you don't try, you might always wonder what could have been.