Cary performer enchants audiences of all ages
It's a magical night at Sassool, but then every Tuesday night at the restaurant is magical.
Roman Alexander, aka Magic Roman, goes from table to table, making objects vanish, guessing cards, bending coins, eliciting gasps and laughter.
A roving magician might seem quaint, but the families here are happy to be amazed, and Alexander is happy to oblige.
"It's the thrill of making other people happy; it's exciting, it's exhilarating. And to have that influence on someone is powerful," he said.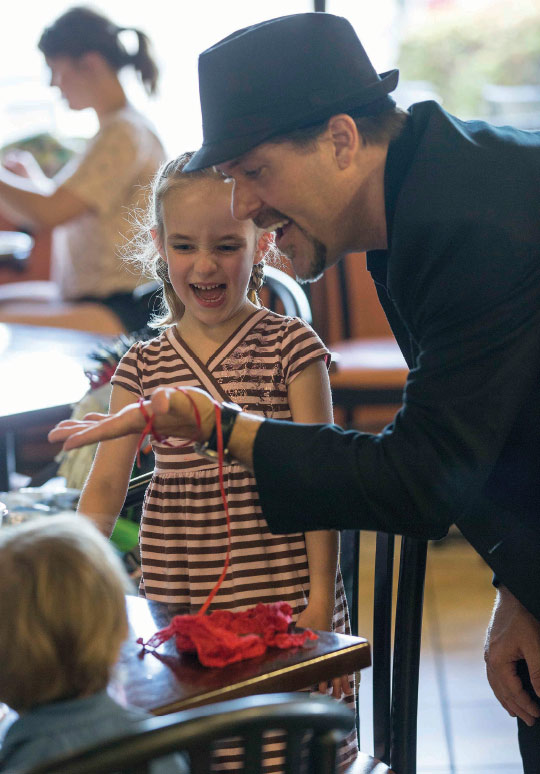 Roman Alexander entertains Madelyn Bekerman, 6, and her brother Joey, 4,  at Sassool restaurant in Raleigh, which hosts Magic Roman every Tuesday. "The adults enjoy being able to have a meal, and the kids are entertained," says Noelle Scott, the restaurant's general manager.
Alexander, who is from Cary, has been performing at the north Raleigh restaurant for two years, and Noelle Scott, the restaurant's general manager, says the success of its Tuesday family night has much to do with him.
"We wanted to give people a reason to come to family night besides the free kid's meal," she said. "Due to him, because he's awesome, it became such a big thing. There are so many children now, he's like crowd control, making sure they're entertained and not running around the store."
Quick thinking needed
Alexander also performs at private parties, awards banquets, trade shows and other business events. An office might be an odd place for a magician to show up, but Alexander says the magic brings people together. He tells of one show where he had to boost morale — quickly.
"I've done shows at offices where I'll go from cubicle to cubicle, or I'll stand in the lunchroom and do magic. So I'm doing that basic show for these employees, but the mood was awful," he said.
It turned out several employees had been laid off that day, and he had to entertain those who were left.
"I grabbed the bosses and the team leads, and brought them around with me. I won't call it making fun, but I had fun with them," he said. "I made the employees laugh at their bosses, and that made the bosses happy."
Magic also has cross-cultural appeal, and can smooth social interactions, he says.
In addition to his area performances,  Roman Alexander writes for The Linking Ring, a trade magazine for magicians, and is working on a documentary about life as a magician.
Recently SAS hired Alexander to perform at a meeting with the company's international partners, many coming from India and China. Although everyone could speak English, it was with varying fluency.
"I had to use the miming, the acting, the smiling and the body language to get some of these people to interact," he said. "I had to work not to bore the people who could speak English, and at the same time, not confuse the guys who may not know what an American coin looks like."
'I know how this one's done'
But sometimes magic can be a tricky business; not everyone likes to be deceived. Confusion is common and occasionally people will get angry, Alexander says. And then there are the hecklers.
"It's very common in the magic world for people to say, 'I know how this one's done,'" he explained. "There are fun hecklers, silly hecklers. My mom is a sweet heckler. She will say, 'Hey do the one …' and she'll spoil the trick by revealing the end."
The details of his tricks are easily found out thanks to YouTube videos, but the real magic lies in practice and preparation. Alexander's muscled, calloused hands attest to the hours he spends manipulating cards and coins.
"I practice every day, all day, pretty much everywhere I go," he said. "There are cards in my friends' cars. I leave cards and coins for practicing at restaurants. There are coins, pieces of string and rope, in my car. I practice with paper clips, with rubber bands. It's a constant, regular practice."
Because the profession demands years of work to gain proficiency, few young magicians are picking up the top hat and trick cards, says Alexander, this despite a common grade-school fascination with magic tricks.
Alexander didn't have Harry Potter to pique his interest, but he did have a talented uncle. Alexander remembers seeing his first trick when he was 6.
"My uncle Thomas Marsh took a block of wood, put it in my hand, wrapped his hands around mine — and made it vanish. I opened up my hands and the block of wood was gone," said Alexander, 46. "To this day, I'm not sure exactly how he did it."
A distastrous beginning?
That trick sparked his interest, and his first performance fanned the flames.
"At a talent show in middle school, I did a card trick and a vanishing egg trick," said Alexander. "They both went miserably, terribly wrong."
Dustin Williams, 5, is happy to help Magic Roman with a card trick during a Tuesday "kid's night" performance at the Raleigh Sassool. The Cary location will host the magician Monday, June 20.
At first, everything was fine. He found a volunteer's card, and made an egg disappear. Then a heckler broke his concentration; his nervous fingers let his props hit the stage, cards scattering, egg breaking, leaving him with a gooey mess and acute embarrassment.
But he did hoodwink some of his classmates.
"They came to me later, asking 'How did you make that girl pick the card you said she was going to pick?' and 'How did you make the egg vanish?' I couldn't believe I'd actually fooled someone."
The horrible performance didn't deter him; in fact it just egged him on. His delight in actually succeeding made him want to do more magic. More than 30 years later, this delight still fuels his work.
"It's nice to be paid to have fun," he said.