When it comes to classic treats to enjoy this season, it's hard to beat apple pie à la mode. After all, ice cream and fruited pastry make for an impeccable union.
We spotlight three local entrepreneurs who craft artisan desserts worth pairing and sharing — perhaps at your next summertime soiree.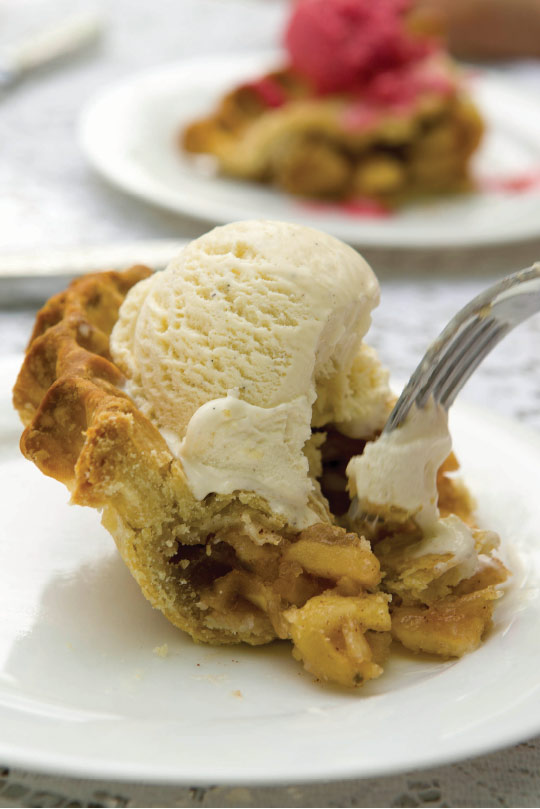 Apple pie from Slice Pie Company and vanilla ice cream from The Freezing Pointe in a classic summer combo. While the businesses aren't connected, the two owners are friends and agreed to meet for some yummy pairings.
The Freezing Pointe
Andia Xouris, who founded The Freezing Pointe two years ago at her kitchen table, draws inspiration from her humble upbringing. Her father developed a successful food distribution business, and she's following in his footsteps.
"I'm the only child of immigrants who came here for a better life," said Xouris, who was born in Cyprus and now lives in Cary.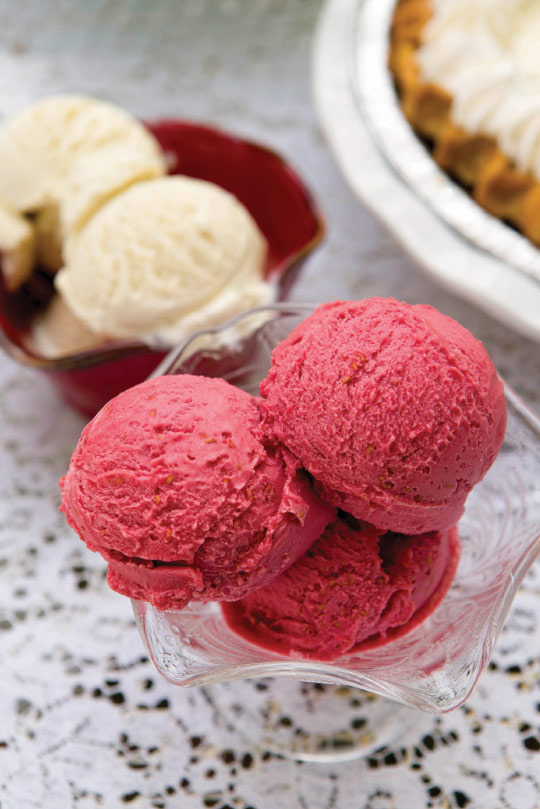 Andia Xouris founded The Freezing Pointe two years ago and now churns out flavors such as dark chocolate raspberry truffle, mocha macchiato and salted caramel.
Largely a catering and special-event enterprise, The Freezing Pointe was birthed after Xouris and her husband, George, an account executive at an RTP firm, earned certification from the Frozen Dessert Institute and traveled to several ice cream schools to learn the creation process.
More than 40 flavors, like dark chocolate raspberry truffle and mocha macchiato, come out of Xouris' 1,000-square-foot production kitchen, but salted caramel reigns supreme.
"People come looking for it," Xouris said with a smile.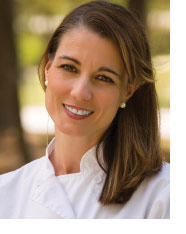 An onsite showroom allows for private tastings, and a membership club features a flavor of the month that people can purchase in quarts.
The Freezing Pointe, which sources fruit from the Raleigh Farmers Market, often sets up sundae bars at weddings, parties and corporate events. The company's baklava ice cream is available at Chapel Hill's Kipos Greek Taverna and Gussy's Place in Durham. Business has expanded into concessions spaces at the Raleigh Convention Center and Red Hat Amphitheater.
As a small business owner, Xouris understands the importance of fostering relationships with customers.
"It's challenging to find time to accomplish everything, but I take satisfaction in knowing I can help make people's special events memorable," she said. "Ice cream makes everyone happy."
10207-C Chapel Hill Road, Morrisville
(919) 901-8560
thefreezingpointe.com
Slice Pie Company
Before she was old enough to see over the kitchen countertop, Kristen Cleve began helping her father, Michael Mullins, bake scratch-made pies from cherished family recipes.
Soon neighbors in her community near Swift Creek began receiving by-the-slice goodness. Their wildly enthusiastic response ultimately led Cleve to launch Slice Pie Company in 2014.
Today, the pies are turned out daily from a commercial kitchen in a detached garage at Cleve's childhood home.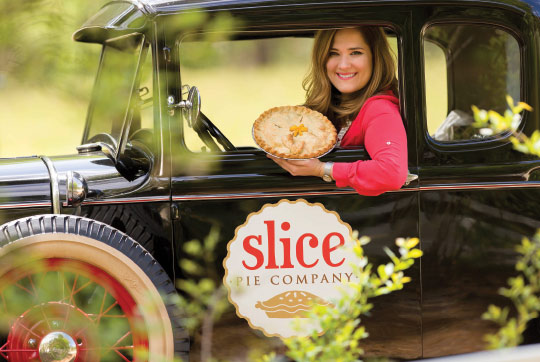 Kristen Cleve, founder of Slice Pie Company, delivers desserts, such as her signature apple pie, below, in a restored 1931 Ford Model A coupe.
"We offer more than 20 varieties, but we can also make custom pies using other people's recipes," said Cleve, also known as The Pie Lady, wife of software engineer John Cleve and mom to 5-year-old Eliana.
The signature apple pie, a tangy, tried-and-true classic, won a blue ribbon when Cleve's father entered it in the North Carolina State Fair competition back in 1997.
"Our pecan pie has a religious following," said Mullins, who along with other family members, helps bake pies and fill orders. Whether you choose key lime or dark chocolate truffle, lemon meringue or strawberry rhubarb, you can't go wrong.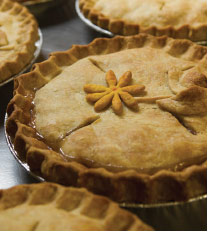 What makes these pies so distinctive? The irresistible, tawny crust.
"Since it's dairy-free, egg-free, soy-free and nut-free, it's essentially vegan as long as someone doesn't have trouble with granulated sugar," said Cleve.
Pies are available by ordering online, and Slice ships nationwide. You can find them locally at The Butcher's Market,  Rey's Restaurant, and Oak City Meatball Shoppe in Raleigh. Cleve even makes local deliveries in a beautifully restored 1931 Ford Model A coupe named Rosie.
"In addition to selling our pies, we donate to local charities, because we believe in giving back to the community," said Cleve.
Cleve wants to show Eliana that it's possible to be a good mother and a passionate entrepreneur.
"I want to give my daughter all the love and attention she needs, but at the same time I want to empower her to succeed in life."
(919) 349-8499
slicepiecompany.com
Mama Bird's Cookies + Cream
Several years ago Lesley Richmond bought a small ice cream maker. Her husband and daughters loved the homemade treat so much they shared it with friends.
"People kept telling me how good it was and encouraged me to find a way to sell it," Richmond  said.
As a trial run, Richmond had several vintage carts custom produced and began selling ice cream, cookies, popsicles and other treats. She named the business Mama Bird's after the nicknames of her youngest daughter, Averi, and oldest daughter, Taylor.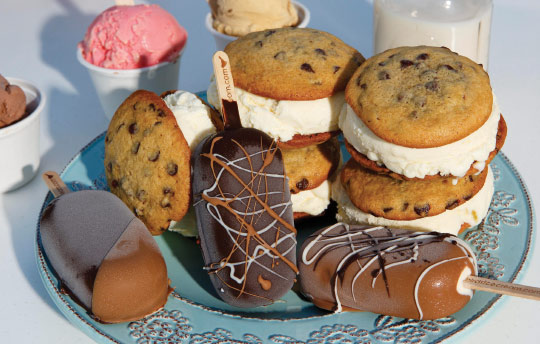 Business is good enough that Richmond plans to open a storefront near downtown Holly Springs by this summer.
"It's scary to start a brick-and-mortar place, but we hope to be open Thursdays through Sundays at first," said Richmond, who has teamed up with Sludge Coffee Roaster in the endeavor. She plans to make cinnamon rolls on Sundays.
Mama Bird's ice cream starts with a rich custard base, adding flavors like chocolate three ways, banana cream pie and maple bacon.
"We'll have various flavors of cookies, so people can customize their ice cream sandwich," said Richmond, who also works full-time as outreach coordinator for Meals on Wheels of Wake County. Richmond believes Holly Springs, the town where her husband works as a firefighter, is the perfect spot to open her shop.
Lesley Richmond, founder of Mama Bird's Cookies + Cream, sold treats from several vintage carts when she started her business. She plans to open a shop in Holly Springs this summer.
"Everybody here has been extremely supportive of me," she said, "and I want to repay that kindness by giving a portion of my proceeds back to charitable organizations in the community."
304 N. Main St., Holly Springs
(919) 698-9854
mamabirdsicecream.com