Talented cooks may churn out treats all year long, but during the holidays they pull out all the stops: Gallons of caramel corn, dozens of pound cakes, and plates of peanut-butter fudge, all given away to lucky friends and family.
For recipients and givers alike, the season wouldn't be the same without these delicacies, and it's not just about the food. It doesn't matter if it's an heirloom recipe or a contemporary favorite. These makers carry on traditions that connect Christmases past, present and future — wrapped in a sweet, yummy bundle.
"Crack corn"
"Popcorn has always been around in my family," said Barbara Mooty Vinson, who has been making and giving away caramel popcorn for more than 20 years.
At the holidays, the Iowa native and her family would string popcorn garlands, and her paternal grandmother, Sarah Mooty, would make caramel popcorn.
Vinson was living in Los Angeles when she took on her grandmother's tradition. She would pack the treat in gallon tubs and send it to her far-flung family at Christmas. When she moved to the Triangle in July 2002 to take a job in Morrisville, she continued making the corn, adding friends and coworkers to her growing list of recipients.
"I've never been able to find my grandmother's recipe, so I've probably modified it," she said. "My secret is I don't scrimp on ingredients."
She starts making caramel corn in October, handing out bags to neighborhood children at Halloween. By mid-December when the corn-making slows down, Vinson will have gone through nearly 25 pounds of popcorn. Special events, such as baby showers, during the rest of the year are also celebrated with caramel corn.
Fans of the treat, which they have dubbed "crack corn," have urged her to sell it commercially. But Vinson, who now works as a real estate agent, has no desire to go into the food business.
"This is a labor of love," she said. "I'm a Realtor with Allen Tate. I'm not at home making popcorn."
Vanilla pound cake
Pat Guess' mother was a renowned baker who would whip up cakes and pies for neighbors, the elderly, or anyone else who needed cheering.
She didn't measure her ingredients, Guess says, so she had to watch carefully how her mother made things. There was plenty of time for observation, as Guess and her sister helped frequently in the kitchen, hand-mixing the cakes to fluffy heights.
"On Christmas Eve, we would deliver cakes and pies to everyone," said Guess. "Her coconut cake was a favorite. But you couldn't buy frozen coconut, so Daddy would crack the coconut open. He'd get the meat out, and we would have to grate it by hand. And then she would give this cake away!"
The hard work became part of the tradition, and now Guess is the one baking for friends and family. During the holidays she'll bake several cakes a week, sometimes taking a whole day to bake one cake after another.
"At Christmas time, that's just what I like to do, bake cakes and have some here for the people to eat," she said. "They come by to visit and ask: 'Where's the cake?' So, I'll slice it and freeze it. If somebody drops by, I can take out a couple of slices, add some fruit, and it's a quick dessert."
Guess and her husband, Charles, raised their two daughters in Morrisville, on a two-acre property that became part of Brier Creek Country Club. Their house in Raleigh is now the gathering place for siblings, in-laws, children and grandchildren.
"Christmas time is a full house," said Guess, who bakes with her three granddaughters. Chocolate chip cookies, not pound cakes, are their specialty.
Vanilla Pound Cake
By Pat Guess
Serves 10 to 12
2 sticks (1 cup) butter, softened
½ cup shortening
3 cups sugar
5 large eggs, at room temperature
3 cups all-purpose flour
1 teaspoon baking powder
1 cup milk, at room temperature
1 teaspoon vanilla
1 teaspoon lemon extract
Preheat oven to 325 degrees F. Grease and flour 12-cup tube or Bundt pan. Set aside.
Cream together butter, shortening and sugar until pale and fluffy. Add eggs one at a time, beating well after each addition. Beat for 10 minutes.
Sift together flour and baking powder; add to butter mixture alternately with milk, beginning and ending with flour mixture. Add vanilla and lemon extracts, beating just until blended. Pour batter into prepared pan.
Bake until golden brown and a skewer inserted in middle of cake comes out with a few crumbs adhering, about 1 hour and 20 to 30 minutes. Cool cake in pan on a rack 10 to 15 minutes. Remove from pan, and cool completely on a wire rack. When cake is completely cool, spoon on vanilla glaze, if desired.
Vanilla Glaze
2 cups powdered sugar, sifted
1 teaspoon vanilla
3-4 tablespoons milk
Stir together sugar, vanilla and 3 tablespoons milk. Add additional milk, up to 1 tablespoon, for desired consistency.
Double Good Fudge
Susie Oliver makes eight or 10 batches of fudge during the Christmas season, so the busy retiree appreciates that the recipe is quick and easy.
"It's a microwave fudge, and I've probably been making it 25 years or so," she said. "It's a combination of chocolate and peanut butter. It's wonderful. My husband says it's got the two food groups."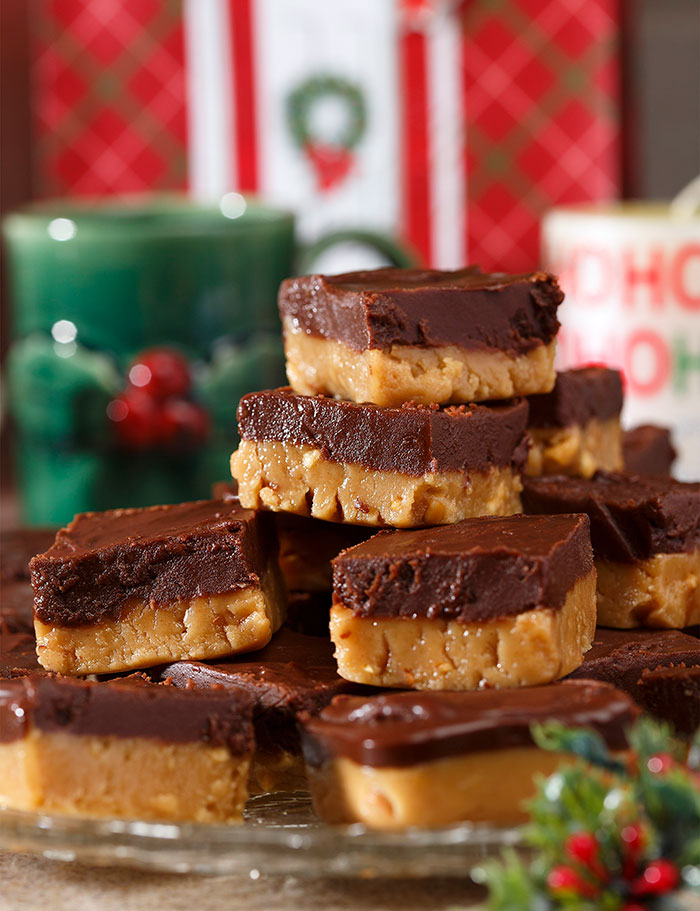 The Raleigh resident grew up in Cary and still attends Good Shepherd United Church of Christ, where her fudge is a staple.
"I always take it to some of the church events," said Oliver. "Usually I take it to some of the shut-in people, friends. Sometimes I give it to my neighbors, people in my garden club."
She got the recipe from her sister-in-law sometime around 1990, when people started experimenting more with the appliance.
"Now it's common to have a microwave in your house, but back then people didn't have microwaves all the time," Oliver said. "It was really a neat thing to make fudge easily instead of having to boil it, and do all that complicated stuff.
"I tasted it for the first time, and it was so good. It tasted like some of the fudge that is much more complicated to make."
Double Good Fudge
By Susie Oliver
Serves 12 to 16
Peanut butter layer
Cooking spray
1 pound powdered sugar
1 cup crunchy peanut butter
¼ cup plus 2 tablespoons milk
½ teaspoon vanilla
Spray 9-inch square pan with cooking spray. Line bottom of pan with waxed paper and spray again. Set aside.
Combine powdered sugar, peanut butter and milk in microwave safe bowl. Stir well. Add vanilla. Cover with waxed paper and microwave on high 2 to 3 minutes, stirring once or twice. Spoon into pan.
Chocolate layer
½ cup butter or margarine
1 pound powdered sugar
½ cup cocoa
¼ cup milk
½ cup chopped peanuts (optional)
1 teaspoon vanilla
Place butter or margarine in microwave safe bowl. Microwave on high 1 minute or until melted. Stir in powdered sugar, cocoa and milk. Cover with waxed paper and microwave on high 2 to 3 minutes, stirring once or twice. Stir in peanuts and vanilla.
Spoon this mixture over peanut butter layer. Cool, cut into squares and store in airtight container.