It's quite a production, getting that bird on the table at the holidays, roasted golden brown and stuffed just right.
But yummy holiday traditions aside, turkey is becoming a bigger deal in the food world, with trendy new takes for every meal of the day and plenty of family-friendly recipes — like these — to prove it.
Citrusy marinades, spicy rubs, turkey tacos and even pizza are hits. You can take the taste of turkey on a Mexican bent, or off to Asia or the Mediterranean.
"One of the reasons turkey has grown in popularity is its versatility. Turkey is the ideal canvas for whatever flavor you want to showcase," said Keith Williams, communications and marketing vice president for the National Turkey Federation. "It's becoming the change-up item on shopping lists, from lean turkey breakfast sausage and ground turkey to turkey meatballs and turkey burgers."
Chef Tony Seta of Garner-headquartered Butterball says it's no surprise to him that turkey consumption has more than doubled in the U.S. since 1970.
Holiday turkey help:
Now through Dec. 24, access Butterball's Turkey Talk-line via text at (844) 877-3456 or phone at (800) BUTTERBALL,
or (800) 288-8372.
"There are a number of things that contribute to that growth, but one is certainly the health aspect," Seta said. "Turkey has a good balance of protein but less fat, and the flavors it can take on means you can reduce calories and fat but still maintain flavor.
"For example, in my Italian family, I grew up on traditional Italian sausage made of pork. I recreated the recipe using the same formula, but with turkey. To get the same taste, I was able to use 60 percent less salt, and it was perfect. It's a win-win for flavor and healthy choices."
Turkey's lean protein punch, says the NTF, means a 3-ounce serving of boneless, skinless turkey breast contains 26 grams of protein and 1 gram of fat, or 8 percent more protein than the same size serving of boneless, skinless chicken breast.
Testing the trend
Not everyone is tickled over turkey just yet, however. Derek Wilkins, owner of The Butcher's Market with locations in Cary and Raleigh, says most of his customers still think of turkey for Thanksgiving, or as lunch meat.
Beef is the top-selling protein here, followed by chicken and pork. But as Wilkins works to stay ahead of trends — emu is one, believe it or not, as a red meat fowl — he recently updated The Butcher's Market marinated turkey tenderloins, which are popular in cilantro-lime or Jamaican jerk.
"We see an increase every year in orders for fresh birds at Thanksgiving," he said of the heritage breed turkeys he orders in May each year to be specifically produced for his shops, "but that's also reflective of our business growth."
For the holidays, Wilkins' customers are most likely to request brining for their turkeys, a 24-hour process that involves brown sugar, rosemary, juniper berries and more to infuse flavor and moisture, or spatchcocking, a form of butterflying that's used in open-fire cooking.
Whether or not Cary runs with it, industry experts say the push toward turkey will continue.
"You can use authentic ingredients and recreate delicious ethnic dishes like shawarma or bulgogi," said Chef Seta. "Turkey chili is a staple on my menus; my secret is in the turkey chorizo I add, and just a touch of cinnamon to give it a layers of flavor.
"Whether you're craving a burger, chili or tacos, there is almost always a way to incorporate turkey."
Butterflied Turkey Tenders & Peach Salad with Curried Pecan Vinaigrette
By Chef Vivian Howard, Chef & the Farmer, Kinston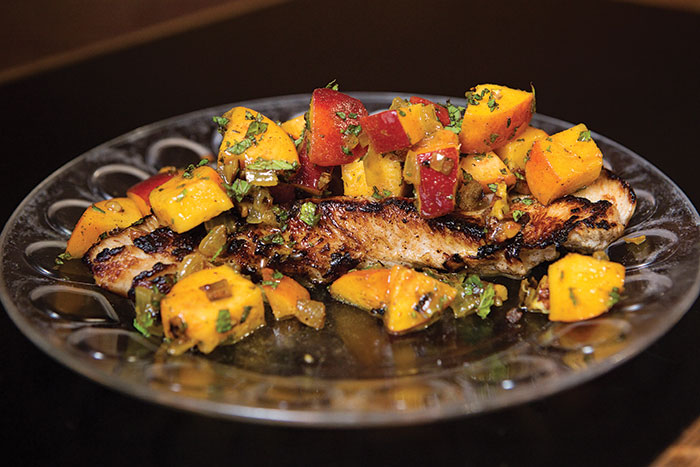 Turkey Brine
1 cup kosher salt
1 cup sugar
1 cup lime juice
1 cup orange juice
2-inch piece ginger, chopped
½ cup fresh sage, chopped
½ cup fresh mint, chopped
1 ½ pounds turkey tenders
Peach Salad & Vinaigrette
½ cup pecans
1 medium yellow onion, diced
1 tablespoon olive oil
1 tablespoon curry powder
2 teaspoons kosher salt
2 peaches, diced
1 tablespoon lime juice
2 tablespoons fresh mint, chopped
2 tablespoons olive oil
1 tablespoon kosher salt
Bring 4 cups water, salt and sugar to a boil over high heat in a medium stockpot until salt and sugar dissolve. Remove from heat. Add remaining brine ingredients to water mixture. Refrigerate, uncovered, until cold.
Lay the turkey tenders on a cutting board, flat side down. With the edge of your knife parallel to the cutting board, begin cutting down the length of the side of each tender. Carefully slice the tenders in half, almost to the other edge. Add tenders to brine, cover and chill for 2 to 3 hours.
In a medium saucepan over medium heat, spread pecans evenly over the surface. Keep the pecans moving for 3 to 4 minutes by shaking the pan to prevent burning. Pecans should become fragrant. Remove from heat. Allow to cool then roughly chop, and set aside in medium bowl.
In same saucepan over medium heat, sauté yellow onion in 1 tablespoon olive oil. Add curry and salt. Once onions are translucent and beginning to brown, remove from heat and transfer to medium bowl with pecans. Add peaches, lime juice and mint. Toss to combine, and set aside.
Remove turkey tenders from brine and rinse with cold water. With 1 tablespoon of salt, season each side of turkey.
In a heavy-bottomed large skillet over medium-high heat, add 2 tablespoons olive oil. Heat pan for approximately one minute. Carefully place each tender smooth side down in pan and sear for 4 to 6 minutes per side. Allow turkey to rest for 3 minutes.
Serve a generous spoonful of peach salad over top each turkey tender.
Carolina BBQ Turkey Sandwich
By Chef Tony Seta, Butterball
1 whole grain bun
2 tablespoons Dijonnaise
5 ounces Barbecue Pulled Turkey, recipe follows
2 slices honey peppered bacon
½ ounce slice of smoked Gouda cheese
2 ounces Carolina-style cole slaw, drained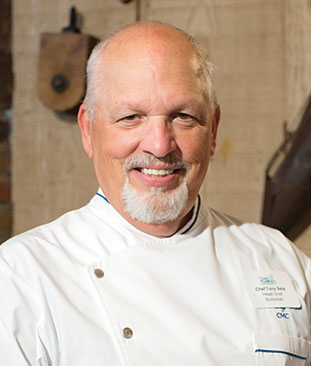 Open the bun and butter the top of the bun. Spread the bottom part of the bread with 2 tablespoons Dijonnaise. Arrange the barbecue turkey over the Dijonnaise. Cover with 1 slice of smoked Gouda.
Place the sandwich on a baking sheet in a 375-degree F convection oven to crisp the bun and melt the cheese, approximately 2 to 3 minutes.
Top with the cole slaw. Place the top of the bun over the slaw and serve.
Barbecue Pulled Turkey
3 pounds turkey pot roast, shredded
2 cups barbecue sauce; Chef Seta recommends Sweet Baby Ray's
2 tablespoons Dijon mustard
1 tablespoon fresh garlic, chopped
¾ cup apple cider
¼ cup honey
Combine the barbecue sauce, honey and apple cider and blend well in a small stainless steel bowl.
Place shredded turkey in a large stainless steel bowl, then blend with the apple cider barbecue sauce. Cover with foil, being careful the foil does not come into contact with the barbecue turkey. The sauce will have a reaction with the foil.
Bake 30 minutes in a 350-degree F oven. Place in a casserole dish and serve.
Grilled Breakfast Pizza with Turkey Sausage, Eggs, Potatoes & Arugula
From The Culinary Institute of America
Yield: 10 pizzas
Torn potato croutons, recipe follows
½ pound Boursin cheese
¾ cup turkey breakfast sausage, sliced
15 eggs, beaten
2 pounds arugula
1 ½ cups sun-dried tomatoes
¾ cup vinaigrette, your choice
Salt to taste
Pepper to taste
½ cup Parmesan cheese, grated
Prepare your favorite pizza dough recipe, roll out 10 discs and grill pizza dough.
Spread the grilled pizzas lightly with Boursin. Put the pizzas in the oven to melt the cheese.
Meanwhile, sauté the sliced turkey sausage until browned and crispy. Add the beaten eggs and scramble.
In a large bowl, mix the arugula, sun-dried tomatoes, torn potato croutons, olive oil and vinegar, salt and pepper.
Top the pizzas with the scrambled egg and turkey sausage mixture. Top this with the arugula salad and a dusting of grated Parmesan cheese.
Torn Potato Croutons
2 pounds Yukon gold potatoes
1 quart canola oil, for frying
Salt to taste
Ground black pepper to taste
Cook the potatoes in boiling salted water until tender and drain. Tap each potato with a mallet or the bottom of a small sauce pot until the potato cracks. Tear each potato into ½- to ¾-inch chunks with a craggy irregular shape. Set these aside to cool and steam dry. Your goal is to create tender pieces of potato with extra surface area.
Heat the oil in a medium pot to a temperature of 375 degrees F. Fry the potato pieces in batches until deep golden brown and crispy, about 3 minutes. Drain the potatoes on an absorbent towel and season with salt and pepper. Set aside.
Fried Turkey & Waffle Bites with Sriracha-Maple Drizzle
From PartiesThatCook.com
Makes 16
Buttermilk brine
1½ cups buttermilk
¼ cup hot sauce, such as Crystal or Tabasco
1½ tablespoons sugar
1 tablespoon salt
3 cloves garlic, minced
2 pounds skinless turkey thigh meat, cut into small pieces
Dredge for turkey
2 cups flour
2 teaspoons paprika
1 teaspoon salt, plus more for after frying
1 teaspoon black pepper
1 quart vegetable or rice bran oil
In a mixing bowl, add the buttermilk, hot sauce, sugar, salt, garlic and turkey. Let marinate for at least 1 hour.
Heat the oil in a skillet or other high-sided pan, until it reaches 350 degrees F. Line a sheet pan with a cooling rack. Put the flour, paprika, salt and pepper in a mixing bowl, and remove the turkey from the marinade. Dredge the turkey in the flour and line up on the rack to get ready to fry.
Carefully add the turkey to the hot oil, and cook about 3 minutes on each side, or until it is golden brown. Remove from the oil and put on a sheet pan lined with paper towels. Season with salt. Continue until all the turkey is fried. Set aside.
Waffles
1 ¾ cups all-purpose flour
3 tablespoons sugar
2 tablespoons cornmeal
½ teaspoon baking soda
½ teaspoon kosher salt
2 cups buttermilk
2 eggs
½ teaspoon vanilla
½ cup (1 stick) butter, melted
Heat the waffle iron. In a mixing bowl, combine the flour, sugar, cornmeal, baking soda and salt; mix. In a second bowl, whisk the buttermilk, eggs, vanilla and melted butter. Add the wet ingredients to the dry.
Carefully add batter, a little at a time, to the well-sprayed waffle iron. Close and cook for about 8 to 10 minutes. Repeat until all the batter is gone. Evenly cut the waffles into 16 squares. Set aside.
Sriracha-Maple Drizzle
½ cup maple syrup
1 tablespoon Sriracha
½ teaspoon salt
In a mixing bowl, add the maple syrup, Sriracha and salt. Stir to combine.
To serve: Top each waffle square with a piece of turkey, and drizzle with Sriracha-maple sauce.
San Antonio Red Turkey Chili
From The Culinary Institute of America
Yield: 8 to 10 servings
4 ancho chili peppers, stem and seeds removed
¾ cup hot turkey stock
4 ounces canola oil
6 garlic cloves, minced
12 ounces onions, diced
4 poblano peppers, seeded, deveined and diced
1 red pepper, seeded, deveined and diced
2 jalapeño peppers, seeded, deveined and diced
1 pound chorizo sausage, removed from casing
3 1/3 pounds skinless turkey thigh meat, cut into small pieces
2 bay leaves
2 teaspoons oregano
1 tablespoon cumin seeds, toasted
1 teaspoon crushed red chile pepper
1 cinnamon stick
2 tablespoons dark chile (pasilla) powder
2 teaspoons ground black pepper
12 ounces dark beer
2 ½ cups fresh tomatoes, diced
2 tablespoons tomato paste
2 tablespoons turkey or chicken stock
2 tablespoons masa harina, mixed with 2 tablespoons water
4 cups black beans, cooked
Salt to taste
In a stainless steel bowl, cover the ancho chili peppers with the hot turkey stock and soften for 15 minutes. Purée in food processor for 30 to 45 seconds.
In a heavy-duty pan, heat oil over medium-high heat. When oil is hot, add the onions and cook for 2 minutes. Add the garlic and sauté for 15 seconds.
Add the poblano, red pepper and jalapeño peppers and sauté for 2 minutes. Add chorizo and cook for about 1 minute. Add diced raw turkey and blend into mixture. Add tomato paste. Add bay leaves, oregano, cumin, crushed chili pepper, cinnamon stick, pasilla powder and black pepper, blend in, and continue cooking for 1 minute.
Add diced tomatoes and dark beer, and bring to a boil. Add stock and masa harina and bring to boil, then allow to simmer for 45 to 60 minutes, until turkey is tender. Add more stock as needed.
When turkey is tender, add the cooked black beans and add salt if needed. Serve with shredded cheese, diced green onions and fresh corn chips.