See Santa
To learn more, visit Ambassadors OfChristmasCheer.com.
What do you call four Santa Clauses with ukuleles and Hawaiian shirts?
No, it's not the Don Ho-Ho-Ho Show. It's the Ambassadors of Christmas Cheer!
"One of the guys is the real Santa, but I'm not going to say who," said Jim Hastings, the tallest of the ukulele-playing ambassadors.
The white-bearded performers sing carols, crack corny jokes, and enthusiastically entertain about three dozen people gathered in the dining room of Brookdale MacArthur Park in Cary. Three female companions, who cheerfully answer to "Mrs. Claus," join in on percussion and autoharp.
Even when the holidays are months away, the sounds of Christmas fill the room. After the set, residents of the retirement community pose for photos, and one impishly tugs on Santa's beard.
The singing Santa act is the brainchild of Ron Campbell, who has portrayed St. Nick since 1965. The Cary resident has been Santa at Cary's Winterfest for the last 15 years, and is best known as the star of the Raleigh Christmas parade.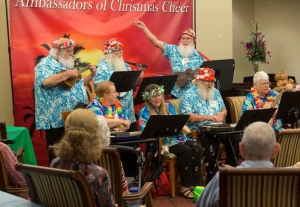 A ukulele workshop at a July 2016 Santa convention sparked his imagination. Six months later, after the holiday rush, Campbell recruited his wife, Paulette, and invited a few fellow Santas and their wives to join his merry band.
Hastings agreed to play along, as well as Billy and Marsha Quinton, and Duane and Peggy Reaugh.
"When you're Santa, you're by yourself," said Hastings. "But with the group, you can play one Santa off another one — poke fun at one and he'll poke back. It's almost like you and your brothers and sisters."
It's clear the ambassadors enjoy each other's company, and the shows are an opportunity to interact with people, to entertain, and to spread some cheer all year.
The group hopes to perform once a month in the off season. Even though their shows are free, Campbell says scheduling the singing Santas in the spring and summer can be a challenge. Most people want to see Santa Claus and sing Christmas carols in November and December, but that's when the brothers in red are busy working.
"I truly love being Santa," said Billy Quinton. "When Ron came up with the idea that we would get together and play ukuleles and sing, I thought, 'Oh my word, this is the craziest thing I've ever heard of.' But I have to admit, I have enjoyed it immensely."
Never off duty
Because of the men's distinct looks, it's sometimes a challenge to be out in public, so the group is a great way for the men to get together and have fun.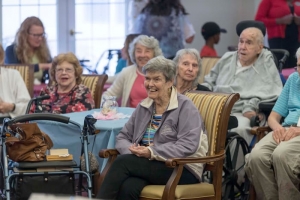 "When you have a real beard, you're Santa 365," said Campbell. "You're on all the time!"
The men try to keep a low profile because they want to preserve the mystery of Santa Claus, but every now and again the beard comes in handy.
"We were in a restaurant eating in Melbourne, Australia, and the waitress came over," said Duane Reaugh. "She said there was a table with two little girls, and they thought I looked like Santa. 'Could they get a picture?' And then Peggy reached into her bag and pulled out the Santa hat!"
After some laughter, his wife picks up the story.
"One of the little girls was hiding behind the waitress, poking her head out. The hat came out and Duane put it on his head, just grinning. It was everything you'd want on Christmas morning," said Peggy. "The little girl came running over, and the whole restaurant went berserk."
This ability to spread joy and add a bit of magic to people's lives, says Quinton, is one of the most rewarding things about portraying Santa Claus.
"With all the negatives going on in the world, you bring some positives in there," he said.
Quinton, who lives in Angier, spends the Christmas season greeting kids of all ages at a mall in Woodbridge, N.J., outside of Manhattan. One of his favorite stories is about three brothers who have been coming to him for five years.
"Last year they were 59, 58 and 56, and it was their 50th consecutive year they have had their pictures made with Santa," he said. "Every year at Christmas, they fly from different parts of the country to meet in New York. The three of them go out to dinner, have their picture made with Santa, and that is their Christmas present to their mother every year. I think that sums it all up, right there."
Labor of love
Many people think of Santa as part of the family and come back year after year, says Hastings, who lives in Durham and mostly appears at corporate events.
"I've had some college kids come back and say, 'I've got to get my picture taken with Santa, so I can give it to Mom at Christmas,'" he said.
Last year Campbell was in Macau, China, and several multigenerational families came to get their photos taken with Santa Claus. "For these folks, China has had governments come and go, empires come and go, but families are what is important," he said. "Christmas is all about families, and we get a chance to share that. It's love, it really is."