Christmastime is about spending time with family and friends, eating delicious food and giving to those you love. According to Wedding Wire — a website that helps couples plan their wedding — Christmas Day is also the most popular time to get engaged. Christmas Eve comes in third, behind Valentine's Day.
Now ladies, let's be real for a moment. We've all gushed over the stories on "How He Asked" and looked at endless engagement photos online, but how much thought have we given the diamond itself?
It's time we gave this symbol of love the attention it deserves.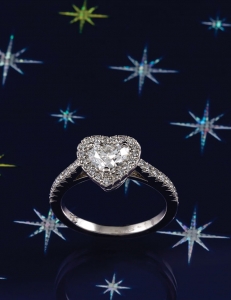 The Tradition
The wedding ring exchange began in ancient Egypt. The Egyptians believed that circles symbolized never-ending love, and the fourth finger on the left hand had a vein that connected it to the heart. Thus it came to be known as the "ring finger."
Fast forward a few centuries to 1477, when Archduke Maximilian of Austria was the first to propose with a diamond ring.
Trends
If you look around a group of newly engaged women, chances are quite a few of them have rose gold rings. Some of them may have mixed metal rings; those are popular now too. Just like everyday fashion, engagement ring trends change too, but the all-time favorite is a classic, round, brilliant-cut diamond set in white gold.
Trends are fleeting, but diamonds are forever. That's why Deborah Boatwright of Anfesa's Jewelers says you have to absolutely love your ring.
"You bond with it for some reason," Boatwright said. "They say diamonds are a girl's best friend, so I guess that's why."
What's New
Area jewelers say customizable rings remain quite popular. It's hard to find a jeweler that won't let you alter your ring in some way.
If you want more options than your local jeweler's inventory offers, you can personalize your ring by choosing every detail from the band material to the carat weight. This can be done online or in most jewelry stores.
"Making something unique for the customer — making it exactly what she wants — is a really special thing," said Carl Edwards of J.M. Edwards.
The customer can come in with a drawing, a photograph, or just an idea of what they want their ring to look like. It's the jeweler's job to make that dream a reality, all while staying within the customer's budget.
Perhaps the best piece of advice if you are looking to give the gift of an engagement ring this Christmas, is to make sure you love it. If you love it, your significant other surely will too.
J.M. Edwards
Founder: James Michael Edwards opened the Raleigh location in 1985.
Who we spoke with: Carl Edwards
Credentials: GIA graduate, went to FIT in New York, learned through the family business as well
What makes them special: Custom jewelry, local jeweler, family-owned
1137 Kildaire Farm Road, Cary
(919) 460-1048
jmedwardsjewelry.com
Pro Tips:
Don't know what kind of ring she wants? Take a trip to her jewelry box.
"Look at the other style jewelry she has. If she likes large, bulky jewelry versus if she likes dainty, delicate, antique-style jewelry. That can really drive you in one direction or the other."
Carl Edwards, J.M. Edwards
Make sure your stone is GIA certified, says Edwards.
The Gemological Institute of America is a nonprofit organization dedicated to the research and education of gems and jewelry. GIA's diamond grading reports are the top-rated verification and certification documents in the industry.
Johnson's Jewelers
Founders: Original owner L.E. Johnson sold the business to Noah Capps in 1968. Noah's son John is the current owner.
Who we spoke with: Brandon Capps
Credentials: GIA graduate
What makes them special: Custom jewelry, local jeweler, family-owned
136 E. Chatham St., Cary
(919) 467-9431
johnsonsjewelerscary.com
Pro Tip:
Have a budget in mind. Diamond experts should be able to find something you like within the parameters of your budget.
"If you have a budget, you want to try and stay on that. Because (with) diamonds and jewelry, it's very easy to get in over your head and spend way more than you intended to."
Brandon Capps, Johnson's Jewelers
Anfesa's Jewelers
Founder: Anfesa Matthews opened the store in 1994
Who we spoke with: Deborah Boatwright and Meredith Eiseman
Credentials: DCA Diamontologist
What makes them special: Large selection in-house, custom jewelry, DCA Diamontologists, family-owned
205 New Fidelity Court, Garner
(919) 773-0013
anfesasjewelers.com
Pro Tip:
Don't know her size? Offer to have her current jewelry cleaned and have it sized then. If she wears that jewelry on her non-dominant hand, note that the hand she uses the most will typically be a half size larger.
Diamonds Direct
Founders: Began as a diamond manufacturing company based out of Israel and the United States 30 years ago; opened its first location in Charlotte in 1995
Who we spoke with: Megan Farrell and Melissa Garrison-Staats
Credentials: Learned about diamonds through the business and experts
What makes them special: Large in-house selection, custom jewelry
4401 Glenwood Ave., Raleigh
(919) 571-2881
diamondsdirect.com
Pro Tip:
Look before you go. Whether it's on Pinterest or the hands of your engaged friends, it's good to have an idea of what you want in an engagement ring.
"Get some ideas, take some pictures, come in – bring those with you. We love it when someone comes in and they have an idea of what they think they like, and we can find the item, put it on their hand and see how they feel about it when they see it in real time."
Browse for and purchase your diamond in person.
"I think it's really important for anyone beginning the process to understand the difference between really coming and doing the footwork and seeing a diamond with their own two eyes, versus just simply shopping characteristics through a computer screen."
Melissa Garrison-Staats, Diamonds Direct
Ring Styles
Solitaire: A single diamond, the most traditional type of ring
Halo: A single, larger diamond, surrounded with a halo of smaller diamonds
Three-stone: A solitaire ring with two smaller stones on either side
Tapered baguette: The ring contains rectangular diamonds called baguettes; found in a lot of vintage-style rings