For many Cary gardeners, hybrid tulips are must additions to the spring bloom season. So, every year at this time, copious quantities of these bulbous beauties are dutifully planted in area landscapes. And this ritual will be repeated every fall until we run out of falls.
Most hybrid tulips, while gorgeous, are fleeting flowers in the Southeast — one-shot wonders that grace the garden for only a single spring. This because, in our region, there are usually not enough days in the winter of extended cold to stimulate tulip bulbs into flowering spring after spring.
However, exceptions exist, and one particularly pretty example is the lady tulip (Tulipa clusiana), variously described as a botanical, species, heirloom or miscellaneous tulip. Although humble in height — only about a foot tall — and with smallish flower heads, it can still be a real cutie in the spring garden. And a definite plus the lady tulip has over bigger, fancier hybrids is that, true to its temperate East Asian origins, it doesn't need the chill of winter to wake up its inner flower power.
In short, with just a little care, lady tulips can become reliable repeat performers in the spring garden, even naturalizing — thriving rather than just surviving to the point of actually spreading by way of stolons or offsets.
Lady tulips love full sun, and they should be planted in neutral soil, which can be easily pH-balanced by dusting their growing sites with lime every year or two. Good drainage is essential, but this only means these springtime dazzlers are great additions to raised beds, rock gardens and even containers.
If deer are a problem in your area, stay vigilant — Bambi could munch on these pretties. Want to get sneaky? Interplant lady tulips with summer snowflakes (Leucojum aestivum) that bloom about the same time in the spring and are more deer-resistant.
There are many lady tulip variations. For starters, 'Lady Jane' is a real charmer with its bicolor coat of outer red and inner white petals, an appealing look that is echoed by the similar, well-named 'Peppermint Stick.'
'Tinka' has comparable colors, but it blushes more, having its rich red contrasted with a pale yellow. For a real zinger though, go with the popular 'Cynthia,' a sassy selection that combines stop sign red on the outside of the petals with taxi cab yellow on the inside.
Although an odd tulip, the lady tulip will not be that hard to find. I have even spotted 'Cynthia' bulbs at local big-box garden shops. There are, of course, online avenues, and three good e-retailers to check out are:
Timely Tip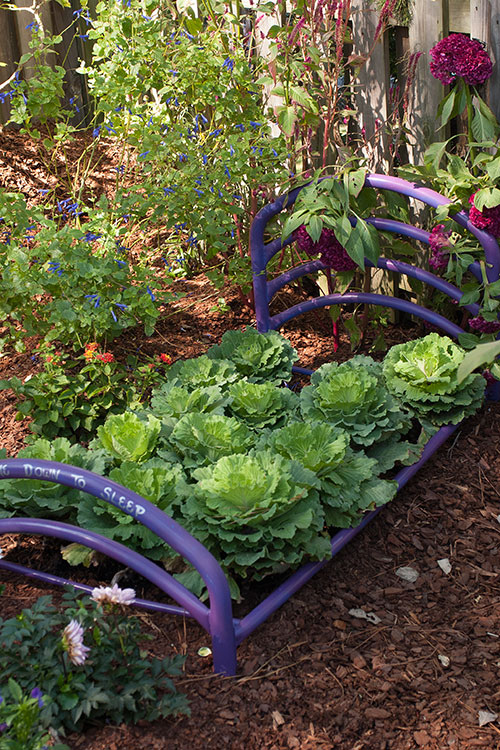 With the growing season winding down, now is a good time to take a walk through the garden and search for areas where permanent features can be added to enhance visual interest year-round.
There are plenty of conventional choices when it comes to such constant focal points, including vases, statuary, fences, benches, walls, a greenhouse, arbors, sundials and bird baths.
But if you like to recycle and enjoy perpetuating a playful state of unexpected whimsy in your garden, opt for the unusual, such as a wildly painted mail box to store hand tools, a claw foot bathtub for water-loving marginal plants, a crusty wood stove converted into a planter, or even an old metal bed frame to define a planting area, making it, ahem, a planting bed.
To Do in the Garden
November
Kentucky bluegrass and fescue lawns will benefit from being fertilized at a rate of one pound of nitrogen per 1,000 square feet of lawn this month.
Landscape to conserve energy? You bet, especially if you plant evergreen trees and shrubs on the northern and northwestern sides of your house to help block heat-robbing effects of the coldest winter winds, which usually come from the north.
Black spot on roses is a soil-borne fungus, so to help break up its life cycle in the ground, rake up all spent flowers and leaves as well as any surrounding summer mulch and toss away. Then add a fresh, clean layer of mulch to protect roots through the winter.
A jade plant will survive indoors in low light, but in order for it to thrive, the more direct sunlight it gets, the better it will look.
December
If you cranked up a compost pile this fall, cover it with black plastic to speed decomposition and prevent winter rains from chilling the internal heat that keeps the pile working.
African violets might look crowded in their tiny pots, but they like it that way — and flower better in confined containers — so resist giving a four-dollar plant the elbow room of a $40 pot.
Still want to pamper your African violets? Once a month, wash the rims around their pots, which will often become encrusted with fertilizer salts that can burn and curl the undersides of the leaves.
The pleasures of the past summer garden can brighten up holiday settings with home-grown wreaths and garlands woven from evergreen foliage, grapevines, onion and garlic stalks, corn husks and dried chilies.
If you want to add more homegrown interest to winter floral decorations, look no further than the dried blooms on your hydrangea.