Best new business (non-restaurant)
Pura Vida Studio
Rush Cycle
TIE: Adventures in Bloom / Omni Yoga Studio
Best new clothing
Swagger Boutique
Holl & Main
Pink Magnolia
Best resale shopping
Dorcas Thrift Shop
Peterson's Consign & Design
The Perfect Piece
Best florist shop
Preston Flowers
Flower Cupboard
English Garden
Best home furnishings and décor
The Perfect Piece
Coopers Furniture
Ivy Cottage Collections
Best garden center
Garden Supply Company
Fairview Garden Center
Apex Nurseries
Best gift store
Swagger Boutique
Ivy Cottage Collections
Adventures in Bloom
Best jewelry store
Johnson's Jewelers
Holland's Jewelers
J.M. Edwards Jewelry
Best shopping center
Park West Village
Streets at Southpoint
Waverly Place
Best specialty foods store
The Butcher's Market
Fresh Market
Capri Flavors
Best wine store
Triangle Wine Company
Chatham Street Wine Market
Great Grapes
Best bottle shop
Pharmacy Bottle & Beverage
Triangle Wine Company
HighCraft Beer Market

Pura Vida Studio
Best New Business (non-restaurant), honorable mention for Best Track-Out or Summer Camp
Alicia Jurado has been teaching yoga and aerial yoga for six years and opened Pura Vida Studio at Parkside Town Commons in January 2019.
The name and the resolve to open the business came to her during a trip to Costa Rica. The studio where she had taught for years had abruptly closed, and she was unsure what to do next. Her fiance encouraged her to take the leap into entrepreneurship, and when a tour guide wished them, "Pura vida!", she knew that would be the name of her business. The wish for a simple, happy life, seemed to sum up her goals for the studio.
Yoga practitioners of all ages and experience levels are welcome, and classes are focused on safety, wellness and mindfulness.
Not many yoga studios offer camps and classes for young students, but Jurado says she loves teaching kids, because they are so fearless and eager to learn. Last summer she led a five-week aerial yoga and mindfulness camp for roughly 50 children aged 6 to 14.
"It was teaching them yoga and mindfulness and helping them learn how to be mindful with their breathing, taking those techniques out into the world into their daily life," she said. "It was probably one of the best things I can say I've ever done. It was so rewarding as a teacher, to help them with what they can do with mindfulness in life."
Celebrate Pura Vida's one-year anniversary at an aerial dance performance — featuring instructors and students showing off their skills through partner acrobatics, trapeze, silks and more. 5:30 and 6 p.m., Jan. 4; 2:30 and 3 p.m. Jan. 5. $10-$20.
Garden Supply Company
Best Garden Center
More than two decades ago, Keith Ramsey started a landscape and design firm in Cary. Over the years, Garden Supply Company has become the place in Western Wake to find garden supplies, plants of every type, landscaping services, home décor and unique gifts.
Fans appreciate the friendly and knowledgeable gardeners, saying the shop's customer service is what keeps them coming back every season.
Don't miss "In the Garden with Keith Ramsey," a new podcast which features the Garden Supply owner talking about topics related to gardening and landscaping. Find it on the website!
The Perfect Piece
Best Home Furnishings and Décor, honorable mention for Best Resale Shopping
Since it opened in 2012, The Perfect Piece has become the place to find a unique gift or a "perfect" room accessory.
Owners Betty Haskell and Rebecca Ennis stock their store with up-to-date home trends and upscale consignment pieces, creating a showroom in the center of the store. Lining the walls of the 11,000-square-foot space are independent vendor booths featuring vintage goods, jewelry and locally made products. Outside, in what was once a bank drive-through, outdoor furniture and décor are displayed.
FOLLOW THEM!
The inventory changes frequently, so check out the latest offerings on Facebook or Instagram. @theperfectpiececary
Pharmacy Bottle + Beverage
Best Bottle Shop
Located in the former Mitchell's Pharmacy building, this downtown Cary hangout has been a popular spot to enjoy a favorite beverage or taste something new since it opened in 2015.
Pharmacy Bottle + Beverage offers 16 mostly local craft beers and at least one cider on tap. The choices are all displayed on a large chalkboard. Wine is also available by the glass or by the bottle. Or, if you're looking to take something home, peruse the shop's huge selection of beer, cider and wine from all over the country.
"We are always rotating and don't have any devoted handles," said proprietor Tyler Watt, who also owns Postmaster Restaurant & Bar in downtown Cary. "At any given moment, whatever is hot and seasonal is what we bring in."
When the weather is nice, patrons can camp out at picnic tables in front of the building or grab a seat near the large sliding storefront windows. Or if you'd like something to do while you socialize, the shop hosts weekly events like craft nights and wine tastings.
Dorcas Thrift Shop
Best resale shopping
1968
Year Dorcas Ministries was founded as Christian Community in Action
2008
Year Dorcas Plaza was purchased off of High House Road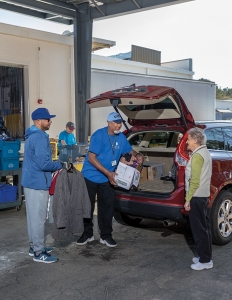 36
Local partner churches
7
Types of services offered — emergency financial assistance, a food pantry, job training, childcare, camp scholarships, education support and affordable health care
600
Volunteers in 2018
93,000
Hours that volunteers worked in 2018
24,000+
Clients served in 2018
$1.5 million
Amount distributed in client assistance and food in 2018
6
Maggy Awards for Best Nonprofit