Best new restaurant
Alex & Teresa's pizzeria & Trattoria
Osha Thai Kitchen & Sushi
Der Biergarten
Best appetizers
Ruckus Pizza, Pasta & Spirits
Rudy's Pub & Grill
Tazza Kitchen
Best cocktails
SideBar
Tazza Kitchen
Rudy's Pub & Grill
Best bakery
La Farm Bakery
Once in a Blue Moon Bakery
Great Harvest Bread Company
Best barbecue
City Barbeque
(Big Mike's) Brew N Que
Danny's Bar-B-Que
Best breakfast
Brigs Restaurants
First Watch
La Farm Bakery
Best burger and fries
Bad Daddy's Burger Bar
Five Guys
Abbey Road Tavern & Grill
Best dessert
Andia's Homemade Ice Cream
Goodberry's Frozen Custard
FRESH. Local Ice Cream
Best date-night restaurant
Rey's
Lucky 32
Tazza Kitchen
Best coffee house
The Wake Zone Espresso
Crema Coffee Roaster & Bakery
BREW Coffee Bar
Best seafood
Bonefish Grill
The Full Moon Oyster Bar
Shuckin' Shack Oyster Bar
Best steak house
Rey's
Angus Barn
Ruth's Chris Steak House
Best pizzeria
Johnny's Pizza
Ruckus Pizza, Pasta & Spirits
Salvio's Pizzeria
Most kid-friendly restaurant
Ruckus Pizza, Pasta & Spirits
Chick-fil-A
Rudy's Pub & Grill
Best Asian restaurant
Sushi-Thai
Taipei 101
Osha Thai Kitchen & Sushi
Best Mediterranean restaurant
Sassool
Neomonde
Bosphorus Restaurant
Best Italian restaurant
Daniel's Restaurant & Catering
Lugano Ristorante
Ricci's Trattoria
Best Indian restaurant
Cilantro Indian Café
Nazara Indian Bistro
Kababish Café
Best Mexican/Latin American restaurant
Mi Cancun
Totopos Street Food & Tequila
Gonza Tacos y Tequila
Best specialty diet
Sassool
Clean Juice
TIE: B. Good / Core Life Eatery
Best healthy dining
Diced Gourmet Salads & Wraps
Sassool
TIE: B. Good / Core Life Eatery
Best neighborhood bar
Crosstown Pub & Grill
Ruckus Pizza, Pasta & Spirits
Doherty's Irish Pub
Best outdoor dining
Ruckus Pizza, Pasta & Spirits
Tazza Kitchen
Lucky 32
Best craft brewery
Bond Brothers Beer Company
Southern Peak Brewery
Fortnight Brewing Company

Johnny's Pizza
Best Pizzeria
Since the first Johnny's Pizza opened in 2005, the mini-chain has built a reputation for tasty pies, wings, pastas and subs. The real star of the menu is the Brooklyn-style pizza.
"You'll be able to taste the quality," said owner Johnny Pavlik. "It's just really natural. There aren't a lot of flavors, covering up flavors. People always say to me, 'I can taste the crust. I can taste the sauce. I can taste the cheese. I can taste the meat.'"
The customer experience is as important as the food, he says. And if a customer has a bad experience, he will pester them on social media until he can make it right – refunding their money or giving them a replacement meal.
"I don't sleep well at night thinking that I've taken somebody's hard-earned money for an experience that wasn't anything less than stellar," he said. "I am very good at putting my best foot forward on a person who had a bad experience and making them a loyal customer. I look at it as an opportunity."
This personal approach and his company's vigorous social media marketing have been key to his success, Pavlik says.
"Social media is really what I see as the future," he said. "It has a viral effect to it, the more you post the more you get known. You kind of snowball into this thing that loses control, but losing control is kind of a good thing."
If you'd like to check out more good things at Johnny's Pizza, there are locations in Apex, Cary, Wake Forest and — coming in 2020 — Fuquay-Varina.
johnnyspizzacary.com
johnnysapex.com
You can say that again!
"I always knew the restaurant business was where my heart was."
— Johnny Pavlik, owner
Crosstown Pub & Grill
Best Neighborhood Bar
Crosstown Pub & Grill offers an approachable, come-as-you-are atmosphere. Since it opened in 2015, the pub has steadily built a loyal following, winning honorable mentions in this category for two years before winning the top Maggy this year.
"The Cary Theater opened right before we did. We were one of the first ones to open," said owner Sheila Ryan of the downtown Cary scene. As more businesses, restaurants and attractions have opened, she says more folks have discovered the Crosstown Pub.
"The more you bring to downtown, the better. On the weekend, there were so many people walking around – even just in the Downtown Park – it was such an awesome thing to see," said Ryan, who runs the business with her sons, Sean and Brendan Ryan.
In addition to the famous French onion soup, the pub menu includes favorites like hand-pattied burgers, grilled Reuben sandwiches, and beer-battered fish and chips.
Early this year, the Ryans expect to open Daybreak, a traditional breakfast spot with a Tex-Mex flavor, in the adjacent building.
Andia's Homemade Ice Cream
Best Dessert
Winner of Best New Business in 2018, Andia's Homemade Ice Cream returns to the Maggys with a win for Best Dessert. George and Andia Xouris opened their Cary shop in the summer of 2017 and received a warm welcome from the community.
"We have such a loyal customer base, and George and I are so grateful for all of the community support that we have," she said. "It's just incredible."
This month, those customers will have more cold, creamy deliciousness to enjoy when the couple opens their second Andia's Homemade Ice Cream, in southeast Cary. The new shop, at 1008 Ryan Road, is conveniently located near Cary High School and will have plenty of inside seating.
"Because we are open year-round, we definitely want to have an environment where it's comfortable to come enjoy a cold ice cream in the winter," said Andia Xouris. "Honestly, it's funny to see how many people love ice cream even in the winter months."
Make Mine a Monster
Look for the bi-monthly Monster Shake, an outsized concoction served in an overflowing Mason jar. In December, Andia Xouris partnered with Morrisville baker Djamila Bakour of La Recette Patisserie to create the Crazy Cake Shake, topped with rainbow cake and cotton candy.
Bond Brothers Beer Company
Best Craft Brewery
2016
The year Bond Brothers Beer Company opened in downtown Cary
5,000+
The number of attendees at the Bond Brothers Grand opening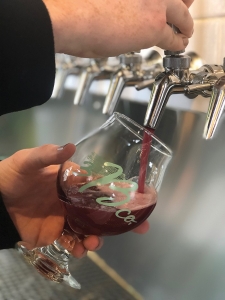 2017
The year Bond won USA Today's Best New Brewery in the country
18
The number of beers on tap
9,000
Size in square feet of brewery, taproom and beer garden at Cedar Street location
3
Number of locations (Cedar Street (original), Chatham Street (opening soon), RDU (opening January 2020)
2,878
Number of members in the Bond Brothers Run Club
233
Number of different beers produced since opening
$25,000
amount raised for charity at the 2019 Bond Brothers 5K
147
Number of charities donated to in 2019
Alex & Teresa's Pizzeria & Trattoria
Best New Restaurant
The owners of Alex & Teresa's Pizzeria & Trattoria pride themselves on their authentic Neapolitan cuisine. Teresa Russo and her husband, Alex Greco, opened the restaurant in January 2019 with family friend Alberto Di Somma as the executive chef.
Greco says don't miss the Linguini alla Scoglio, with clams, mussels, shrimp, calamari and cherry tomatoes — it's his favorite dish. He offers a taste of what else makes the restaurant unique.
What makes your food and your restaurant unique?
All the employees are Italian— the chef is from Italy, I'm Italian, my wife is Italian, the servers are all Italian. We do the fresh homemade pasta: cavatelli, tagliatelle, ravioli, gnocchi. That makes a big difference from other Italian restaurants. All of our dishes are homemade — from our fresh bread baked daily and desserts like the Italian grandma cake, cannoli, tiramisu, babà, profitteroli to our fresh, hand-pulled mozzarella.
Have you owned other restaurants?
I ran my family's Trattoria and Pizzeria Da Pulcinella in Naples, Italy, for 15 years. Then when we came to America seven years ago, I co-owned another trattoria-pizzeria in Red Bank, N.J.
How did you land in Cary and decide to open a restaurant here?
My wife and I decided to relocate our family to Cary, because the quality of life is much better for our daughter here. We decided to open a restaurant, because we truly love and enjoy bringing our authentic Italian recipes to all of our clientele, who we consider part of our family.
SideBar
Best Cocktails
The cozy, neighborhood bar in downtown Cary is known for its stylish environment, knowledgeable bartenders and seasonal cocktails. It's no wonder the watering hole found favor with Maggy voters.
"People identify — I know I do emotionally — to times of the year as well as flavors and smells, and the cocktail really wraps all that together," said Matt Bettinger, Sidebar co-owner.
"I think seasonal drinking is really important. One of the common questions I get as a bartender is, 'What's your favorite cocktail?' And my answer is always — for a really long time it's been the same — I think there's a right drink for every occasion."
DICED
Best Healthy Eating
It's no wonder this local salad emporium won top honors in this new category. With a menu packed full of ingredients like organic veggies, grass-fed filet, hormone-free chicken, and homemade dressings, DICED is the place to go for a meal that is good for you AND tastes good.
Fun Fact 1
Founder Michelle Woodward worked as a physical therapist before opening the first DICED on Kildaire Farm Road in Cary.
Fun Fact 2
Woodward was a top college cheerleader at the University of Louisville.
3
Number of Triangle locations, two in Cary and one in Raleigh. All are owned by the Woodward family.
From the Menu
More than just salads, DICED serves up wholesome wraps and grain bowls, too! One popular offering is the Harvest Crunch, with shaved Brussels sprouts, roasted beets, cucumber, chickpeas, sweet potatoes, mushrooms, broccoli and sunflower seeds. Yum!