Let this sink in for a moment: James Beard Award-winning chef Andrea Reusing has owned and operated her esteemed Lantern restaurant in downtown Chapel Hill for more than 17 years. In a time when eateries come and go quickly, Reusing's culinary resilience is remarkable.
A New Jersey native, Reusing first made a name for herself at Raleigh's renowned, but now defunct, Enoteca Vin. She then teamed up with her brother, Brendan Reusing, to open Lantern in 2002. The siblings enjoyed childhood excursions to New York City's Chinatown, so they purposefully chose to serve Asian-inspired cuisine using local, seasonal ingredients.
From day one, Reusing's fervent commitment to hyper-local sourcing and ethical farming practices have endeared her to the pro-sustainability community. It also doesn't hurt that she churns out sublime dishes such as the now-legendary tea-smoked roast chicken that has gained nationwide media attention. Gourmet magazine included Lantern on its list of America's Top 50 Restaurants.
"We try not to be total purists with the farm-to-table concept," said the self-taught chef during a recent conversation. "As soon as we get locally sourced items, we put them on the menu and simply take something else off. But we still bring in incredible wasabi from the Pacific Northwest, great truffles from France and consistently good citrus from Louisiana."
Currently, thanks largely to Locals Seafood, Reusing has reliable access to quality fish and shellfish from the North Carolina coast.
"It's great to get sheepshead, croaker and black drum, which are more interesting and delicious than typical fish like grouper and flounder," she said.
No wonder a coriander- and jalapeño-infused salt-and-pepper shrimp starter tastes so fresh you'll contend it was hauled in from the Atlantic earlier the same day.
If you're planning a visit, consider getting several small-plate choices and sharing them with your tablemate. Try the rewarding bento box appetizer featuring sake- and tea-cured Alaskan sockeye salmon, house-pickled ginger, red cabbage, miso mayo, sticky rice and nori. Piquant Korean fried chicken with pickled radish also will not disappoint.
Among the stellar entrees you're likely to see on the menu include a Japanese steakhouse-style grass-fed New York strip amid crispy spinach, ponzu sauce and green-tea sushi rice;
roasted Moulard duck alongside white sweet potato and pickled apple; and curry-infused wok-seared scallops with fresh turmeric, toasted cashews and spicy grapefruit salad. If it's available, order the fork-tender 16-ounce coconut-braised pork shank surrounded by roasted peanuts, lemongrass, jasmine rice and spicy green papaya salad.
Reusing adds that many of her kitchen staffers hail from Mexico and Central America, which provides opportunities for a Latin inflection in the food.
"We have a spicy aguachile Mexican dish with cucumbers, chili peppers, salt and olive oil that has incredible layers of flavor," she said.
Once you've enjoyed the savory selections, finish your outing with a distinctive dessert like chestnut crème caramel with poached pear, ginger ice cream or warm cake made with artisan chocolate from Raleigh's Escazú or Asheville's French Broad.
Reusing says Lantern's diverse wine list focuses on "vineyards that treat wine as an agricultural product." Bright, crisp, varieties of red and white are available by the bottle or glass.
While the inventive gastronomy may be what lures most guests through Lantern's front door, the friendly, attentive waitstaff enhances the dining experience.
"Our staff is diverse as far as age, race and background, but we hire based on personality," Reusing explained. "We look for people who love to work and like to have fun."
All told, some 45 staff members help keep Lantern burning bright. That includes key back-of-house workhorses like Miguel Torrez, chef de cuisine and business partner, and pastry chef Yadira Martinez.
Lantern's cozy main dining room décor gives off a decidedly minimalistic vibe with sage green walls, black tables and hanging light fixtures of various shapes and sizes. Down a narrow back hall, a red-and-black hued bar serves up produce-driven cocktails with high-intensity flavors.
The airy Lantern Table room features high ceilings, large windows and an open kitchen to offer plenty of space for private dining, cooking classes and other special events. An ivy-laden outdoor patio called Lantern Garden provides intimate seating for about 15 people.
As to what Reusing finds most rewarding, it's knowing that she's making a positive impact on the lives of local suppliers such as Chapel Hill Creamery, where she sources pork.
"We like to buy from select local purveyors," Reusing said. "Instead of spending hundreds of dollars with a lot of farms, we spend thousands with fewer farms because that really helps those growers."
These days, Reusing splits time between Lantern and The Durham, located inside The Durham Hotel, where she serves as executive chef. The restaurant features a seasonally changing menu focusing on elemental American fare.
"It was never my intent to operate food and beverage in a hotel," she said. "The ownership group trusted me to put together a small, focused menu that represents North Carolina food well. We don't do chocolate-dipped strawberries or a melon plate, but we do lots of pickling and preserving."
It goes without saying that Reusing stays busy, but she relishes the time she's able to spend with musician husband, Mac McCaughan, and their two children.
"Our kids are 11 and 15, so as long as they still want to hang out with me, I treasure those moments together," she said.
Somehow Reusing also finds time to work on a second book to follow her 2011 release "Cooking in the Moment." Then there are endeavors like Lantern's Kitchen Patrol project for kids and serving on the boards of the Center of Environmental Farming Systems and Chefs Collaborative.
"Every day is different," she said with a smile, "but life is short, and I still really enjoy cooking and being in the kitchen."
Lantern is open Monday through Saturday for dinner. Reservations are strongly recommended.
Lantern
423 West Franklin St., Chapel Hill
(919) 969-8846
lanternrestaurant.com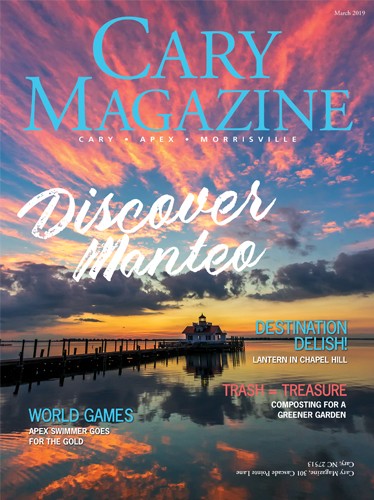 Worth the Drive: Lantern in Chapel Hill