Fount Coffee + Kitchen, near Morrisville's Perimeter Park, is an inviting space to meet friends or linger over coffee while you answer email.
The café serves Durham's Counter Culture Coffee alongside a substantial menu of smoothie bowls, salads, open-faced toast "stacks," baked goods and small plates. Fount's dishes are gluten-free and made with ingredients that are natural, nutrient-dense and wholesome. The drink menu also includes Cary-based Tribucha Kombucha and a rotating offering of wine and seasonal craft beer.
Katie Kilgore, who grew up in Apex, launched the café in December with her husband, George, a Raleigh native. They partnered with Shawn and Kristen Preissner, who is also from Raleigh. Recently Katie Kilgore took a moment to discuss coffee, the unique menu and creating a gathering place.
Why a coffee shop/healthy cafe?
The four of us love coffee — specifically coffee that is grown, roasted and served in a way that maintains and honors the integrity of the coffee itself — celebrating origin, natural tasting notes and the many hands it has passed through to go from seed to cup. We also appreciate the art and science that goes into the final pour and presentation of a given coffee.
We value whole foods — foods that are clean, naturally-derived, sourced sustainably and supportive of local farms. We love that we are able to offer a menu that is 100 percent gluten-free and filled with vegan, vegetarian and allergen-friendly options that all taste delicious.
However, while we value the coffee and food offerings, our business' primary aim is to love, serve, appreciate and celebrate the people in our community. The universal language of sipping coffee and sharing a meal is a powerful instrument for unity and hospitality, which our world needs more of.
We have high standards for the space and the service to carry this mission out, because we believe the product you serve as well as the way you serve it reflects the value you place on an individual.
What's been the biggest challenge as entrepreneurs?
While the challenges are many, and the learning curve is sharp as entrepreneurs, our greatest hurdle is simply finding the time to work on the business — strategically and administratively — versus just in the business.
What's great about your location? Did it help that three of the partners were familiar with the area?
We are incredibly grateful for our space and its close proximity to Research Triangle Park and numerous thriving residential neighborhoods in Morrisville. Being right on Chapel Hill Road and adjacent to two major interstates is also a blessing as it allows people to access us conveniently — making Fount a great meet-up spot. We were drawn to this location in particular because of the diversity, innovation and the overall emerging culture of the area with so many new individuals and families putting down roots here.
Because three of us grew up in Wake County, we experienced firsthand the rapid growth that has taken place in the Triangle as well as the small businesses that have opened and flourished here. We see our presence in this community as a privilege, and seek to contribute to the quality of life in this area by providing a gathering space for professionals, families, students and everyone in between.
What's been the best aspect of owning a business?
The best part of owning this business has been the ability to build relationships with customers — learning faces, names, orders, stories — and to provide meaningful work and a healthy workplace culture for our team members.
What is your favorite item on the menu?
We've loved serving the curried chicken skewers. We marinate and skewer organic tenders in a scratch-made coconut-curry sauce and serve them hot off the grill over a honey lime yogurt sauce. We also love the avocado smash and how it's grown to have a significant fan base. It's fun crafting and customizing this toast to make it exactly the way guests want it.
What's behind the quote, "Come as you are"?
It is our way of saying to this community, "Our door is open, and there is a seat for you at our table. We exist to serve everyone — and that includes you — just as you are." We see ourselves at Fount as offering more than a product, but also providing opportunities to remind individuals they are seen, heard, valued and cared for. Our mission statement is to always serve in a way that is excellent, intentional and joyful — knowing our efforts bear lasting impact.
Fount Coffee + Kitchen
10954 Chapel Hill Road.,
Suite. 107 & 109, Morrisville
fountcoffee.com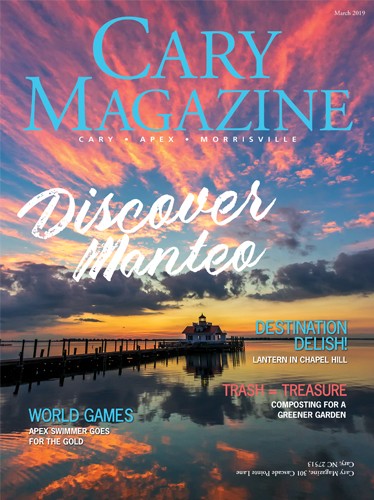 Small Business Spotlight: Fount Coffee + Kitchen