It might be tempting to overlook Carrboro in favor of its bigger, brasher neighbor Chapel Hill. But if you are looking for delicious restaurants, interesting bars and a downtown vibe that's more artistic than academic, bypass the ivory towers and spend the day exploring Carrboro. Not sure where to begin? We offer a few highlights of the town named one of the Best Art Towns in America.
CrossTies Barbecue
Executive chef and owner Drew Moore, who has cooked in kitchens in Manhattan and Boston, pays homage to Carrboro's small-town history while showcasing inventive, globally-inspired menus at his four local eateries.
Housed in the old Carrboro Railways Station, CrossTies Barbecue may have the most unique location of Moore's establishments. Seating is in two renovated train cars which overlook operational railroad tracks. Lucky diners may experience the train rumbling by during their meal. Between the vintage train cars sits the restaurant's bar, with soaring ceilings and a wall of glass windows. The bright modernity of this central terminal contrasts beautifully with the cozy dimness of the train cars.
Moore also brings a contrast of old and new into his menu of inventive Southern favorites. Don't expect just standard North Carolina-style barbeque — though you will find plenty of slow-smoked options, all cooked in-house. There are plenty more to be had, such as Texas-style brisket, smoked portobello mushrooms and smoked tofu.
Try the pork belly pastrami with red cabbage sauerkraut and pumpernickel crackers, a CrossTies interpretation of the Reuben sandwich. Or marvel at the impressive pork shank served on a bed of pot liquor rice grits. For the dish, rice is ground to resemble grits and cooked in the flavorful liquid left after cooking collard greens.
Other dining spots to try: Elevated comfort food at Venable Rotisserie Bistro or melting-pot American fare at nearby Tandem.
Carrboro Farmers' Market
The Carrboro Farmers' Market is a showcase of local farms and artisans, as anything offered must be produced within 50 miles. The market requires that an owner of each business be present each week, giving customers the chance to meet, mingle and get to know the producers. More than produce, you'll find pasture-raised meats, farm-fresh eggs, cheese, bread and handcrafted items.
Recent renovations added a fenced-in playground and on-site restrooms. The market is open Saturday mornings year-round and Wednesday afternoons from April to November.
Cat's Cradle
A must-stop venue for performers and fans alike, the Cat's Cradle has hosted live music for more than 40 years and has helped shape the town into a music-centric destination. Past performers include bands as diverse as Nirvana, John Mayer, Joan Baez and Iggy Pop. With a capacity of 750, shows at the Cat's Cradle offer an intimate setting and a chance to catch many up-and-coming artists.
WomanCraft Gifts
At this one-stop shop for gifts, jewelry, art, greeting cards, decor items and more, everything is handmade by local artists and craftswomen. With a wide range of styles and disciplines, it's the perfect place to see local art, pick up a unique gift and meet the creators.
"We are a true co-op," said Janie Galloway, painter of decorative glassware. "The members run the store."
WomanCraft has 26 members who display their handcrafted wares; each artisan also works weekly shifts in the shop and helps handle business tasks like ordering supplies, organizing the displays and reviewing new members.
"Carborro has always been a community of artists and students," said Douglas Odom, standing next to her display of longleaf pine baskets, which can take up to 12 hours each to complete.
Formed in the 1970s, WomanCraft moved to its current Carrboro location about five years ago. Karen Graves, creator of the popular Chapel Hill Toffee, was an original member.
Need a pick-me-up? Gray Squirrel Coffee Company, a small-batch coffee shop and roastery, is next door.
La Boutique Lane
Another great shopping destination is Carr Mill Mall, with several boutiques, cafés and offices under one roof. One of the prettiest shops is La Boutique Lane, an upscale home décor and gift boutique. Among the locally made gifts and jewelry are owner Sandra Deschamps' popular paintings. Customers also appreciate her well-trained eye for finding home accessories and furnishings that are fresh and colorful.
While you're at Carr Mill, check out Sofia's Boutique for clothes, shoes, accessories and gifts.
Krave
Experience the free-spirited side of Carrboro at Krave Kava Bar & Tea Lounge, which serves kava. The little-known beverage is made from pulverized roots that grow in tropical islands like Fiji and Hawaii.
In these Polynesian islands, drinking kava with friends and visitors is a special honor, says owner Elizabeth Gardner. Kava imparts a sense of relaxation and lifts the mood of its drinkers, she says, and can be consumed as an alternative to alcohol – but with a lower risk of overconsumption. The feel-good effects of kava have amassed a following of loyal regulars.
But this is not a beverage one drinks for the taste, which is similar to … well, dirt. Gardner and Josh Pardue, the bar's operations manager, have created several blended "cocktails" to make the drink more palatable. The popular Krush uses pineapple juice as a base.
Friendly staff are happy to educate newcomers about kava and the many herbal teas on sale at Krave.
Vecino Brewing
For a more traditional N.C. experience, head over to Vecino Brewing Co., where you'll find seasonal beers brewed on site and a rotating selection of N.C. craft brews and ciders. Sit outside and try the creative farm-to-bar food menu's Cup O' Bacon or Beef and Mac Sandwich with braised short ribs and macaroni and cheese.
Still thirsty? Steel String Brewery is also worth a visit.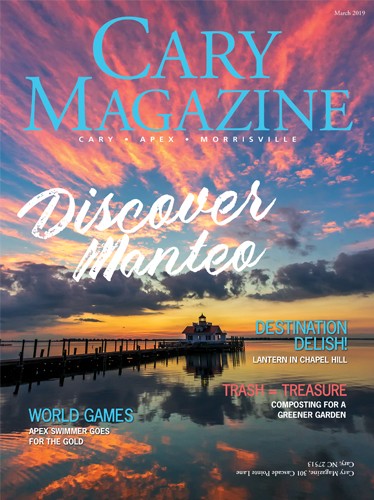 Explore Carrboro: Small-town Southern Meets Hippie Chic